Finders Keepers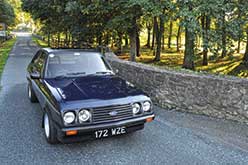 The fact that this highly-original 1979 Ford Escort RS2000 has remained with its current owner for all but one of its 36 years makes it a very desirable car in its own right, but it's also an important one in Irish classic Ford circles for another reason.
Hedge Fund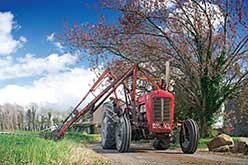 It's not every day you come across a complete and functioning Bomford Avon hedge trimmer from the 1960s, but the one on these pages must be unique, as both it and the tractor it's attached to have been in the same family ownership since 1964.
Top of the Class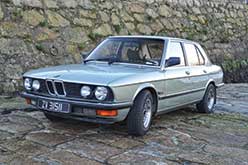 This 1982 BMW 525i is one of the earliest versions of the second generation Five-Series, codenamed the E28. However, not only that, it also stands out for its absolute originality, and has made an excellent fi rst classic for its owner.
Quick Learner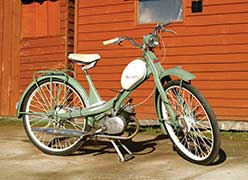 Although it was hardly the fl ashiest or fastest thing on two wheels even in its day, the Quickly scooter was one of the motorcycling success stories of the fi fties and did much to cement NSU's position at the top of the sales charts. Today they are highly collectable, as Thomas Cahill will attest.
Bus Trip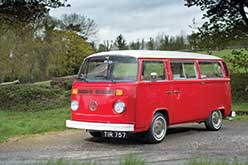 A long-seated enthusiasm for air-cooled VWs saw Darren O'Beirne pick up this original Irish 1977 VW minibus fi ve years ago, and after a whole lot of work it's now the classic family hauler he dreamed of.

SHOW REPORTS….COUNTRYWIDE
South Donegal Vintage & Heritage Club Annual Show

MAAC All-American Car, Truck & Bike Show 2016

Cortina Owners Club of Ireland's Spring Rally

Cortina Enthusiasts Ireland 'Cobweb Run'

Five Mile & District Vintage Club Run

COVOC Norman Pratt Run 2016

Kiltulla & District Vintage Show

Jumpstart 2016
Regulars
News & Events The latest developments from all over Ireland and abroad.
Diary Dates The most comprehensive list of upcoming events in Ireland.
Club Scene A dedicated section open to every club in Ireland to promote itself and its events.
Your Letters Have your say and get it off your chest; this is your place to say what you really think.
Laid to Rust A monthly pictorial of vehicles that are rusting away in the peace of our countryside.
Past Times Ireland's best-known motoring historian, Bob Montgomery looks back at motoring and motoring events in the early days.
Model Scene News from the ever-growning world of model collecting.
Gerry's Gems Motoring historian Gerry Barrett's monthly look at some of his vintage and classic favourites.
Retrospect A page of old and nostalgic motoring photos sent in by our readers.
Classifieds Looking for a classic? Well this is Ireland's only dedicated marketplace.
Behind the Wheel Dick Byrne looks back at his memories of motoring in the last century.