Star Performer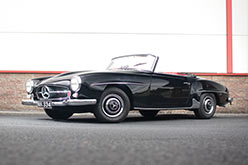 You could be forgiven for assuming that the title of this story refers to this stunning Mercedes-Benz 190SL, but in fact it more accurately describes the legendary Irishman that sat aloft it upon his triumphant return from the Melbourne Olympics in 1956
German Gem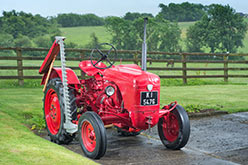 Allgaier tractors are rare, even more so than their Porsche-badged cousins, but to come across an original Irish one that's been in the same family for sixty years is unique. Here's the story of the Shanahans' AP22.
'02 Degrees of Separation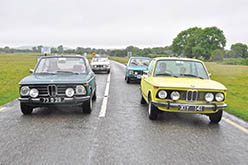 The small but perfectly-formed BMW '02 managed to win the hearts and minds of many motorists in Ireland when it was new, but its appeal today as a classic is even stronger. We brought together some of the best examples on the island to help mark the 50th anniversary of the original 'sports saloon'.
Syd's Suzukis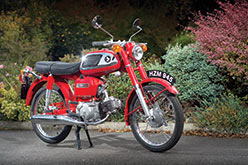 The mid seventies saw the pinnacle of two-stroke development for motorcycles, and of the big four, Suzuki clung to the format longer than all the others. Richard 'Syd' McCoy is a big fan, with a T500 and GT550 at his disposal.
Bedford Memories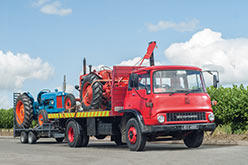 It might be a 56-year design, but this Bedford TK is kept 'on the button' by its owner and is always ready to take in a show, road run or just a sunny Sunday spin, and never fails to perform.

SHOW REPORTS….COUNTRYWIDE
Carlow Classic Motorcycle Show

VJMC Classic Motorcycle Show

RIAC Pioneer Run

Shane's Castle May Day Steam Rally

Thurles Lions Club Vintage &

Classic Car Show

Carlow VCMC Duckett's Grove Show

7th Annual Clonmel Veteran, Vintage & Classic Car Show

Ballymoney Old Vehicle Club Vintage Rally

South Donegal Vintage & Heritage Club Fundraiser

Irish Jaguar & Daimler Club's 27th National Weekend in Scotland

Western Veteran & Vintage Motor Club's Pre-'55 Run

Shamrock Car & Machinery Club Vintage Show

The Irish Gordon Bennett Classic Car Run
Regulars
News & Events The latest developments from all over Ireland and abroad.
Diary Dates The most comprehensive list of upcoming events in Ireland.
Club Scene A dedicated section open to every club in Ireland to promote itself and its events.
Your Letters Have your say and get it off your chest; this is your place to say what you really think.
Laid to Rust A monthly pictorial of vehicles that are rusting away in the peace of our countryside.
Past Times Ireland's best-known motoring historian, Bob Montgomery looks back at motoring and motoring events in the early days.
Model Scene News from the ever-growning world of model collecting.
Gerry's Gems Motoring historian Gerry Barrett's monthly look at some of his vintage and classic favourites.
Retrospect A page of old and nostalgic motoring photos sent in by our readers.
Classifieds Looking for a classic? Well this is Ireland's only dedicated marketplace.
Behind the Wheel Dick Byrne looks back at his memories of motoring in the last century.