Continental Confort
A continuation of the great line of big, innovative Citroens that started with the Traction Avant back in 1934, the CX was groundbreaking and genuinely advanced even today. This month we compare two beautiful examples of the breed – an Athena saloon and LWB Prestige.
Perfect Porsche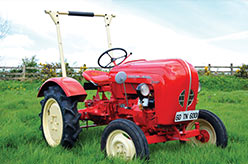 Porsche tractors are always popular at shows, not least because of the novelty of association between a rather exclusive sports car and a much more basic tiller of the fields. John Bowman's 1960 Junior, however, is as appealing in appearance as any classic sports car.
Rarity Rescued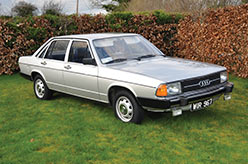 Having sat idle and covered in moss for some 25 years in Co. Offaly, this rare and classy 1979 Audi 100 C2 has been rejuvenated by a classic enthusiast and is now enjoying the limelight it deserves on both the large and small screen.
Green Tourism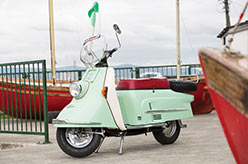 In the world of classic scooters the Heinkel Tourist has long been held as the most luxurious and durable of the lot, thanks to its build quality and excellent design. This mint green beauty has just recently been restored, but has already brought its owner plenty of smiles.
Shake 'N Bake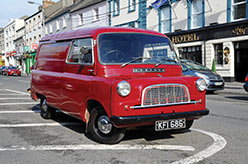 Although anachronistic in appearance nowadays, the Bedford CA was one of the commercial success stories of its time, being hugely popular in a variety of roles in the fifties and sixties. This panel van has been dispensing goodies and treats all its life, and today is a treasured part of a Tipperary family business.

SHOW REPORTS….COUNTRYWIDE
CVVMC Indoor Classic & Vintage Motor Show
Carlow Classic Motorcycle Show
Newcastle Indoor Show
IVVCC Festival of Transport
Swords Classic Car Show, Sale & Autojumble
Tipperary Vintage & Custom Rally
Regulars
News & Events The latest developments from all over Ireland and abroad.
Diary Dates The most comprehensive list of upcoming events in Ireland.
Club Scene A dedicated section open to every club in Ireland to promote itself and its events.
Your Letters Have your say and get it off your chest; this is your place to say what you really think.
Laid to Rust A monthly pictorial of vehicles that are rusting away in the peace of our countryside.
Past Times Ireland's best-known motoring historian, Bob Montgomery looks back at motoring and motoring events in the early days.
Model Scene News from the ever-growning world of model collecting.
Gerry's Gems Motoring historian Gerry Barrett's monthly look at some of his vintage and classic favourites.
Tales from Over the Water Clare-man PJ Francis shares with us his old vehicle adventures in the United States.
Retrospect A page of old and nostalgic motoring photos sent in by our readers.
Classifieds Looking for a classic? Well this is Ireland's only dedicated marketplace.
Behind the Wheel Dick Byrne looks back at his memories of motoring in the last century.