Perchance to Dream
It was a fervent wish, and at times a dream, of Pat Finnerty's that one day he would own a Ford Consul Capri GT, a model proclaimed as being the rarest of all the British-built Fords. Persistence, though, pays dividends, and today Pat not only owns a pristine example, but also its four-door Consul Classic saloon sibling.
Mass Production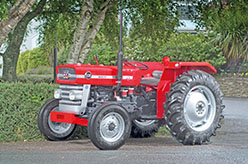 Tackling a restoration is meant to be enjoyable, but many of us tend to do it alone for the most part. The Killarney Valley Classic & Vintage Club however turned the restoration of this classic MF135 not only into a charity fundraiser, but also into a fun social event.
Battle of the Classic Estates
In the '80s and '90s, they were the default choice of the 'antique dealer' set or well-off professionals with large families, but in recent times the Volvo 240 and Mercedes W124 estates have acquired huge appeal as practical, modern family classics. But how do they shape up today?
Moped Memories
Unlike the youth of today, who tend to plump straight for cars when starting out on their driving careers, in the post-war decades up to the seventies many cut their motoring teeth on mopeds and small motorcycles before graduating to four wheels. Tom Maher's memories of this time have resulted in an interesting collection.
Concrete Concept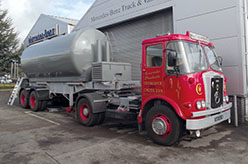 It is quite unbelievable that this fine combination of tractor unit and tanker trailer would never have existed had it not been for a cement manufacturers strike in Northern Ireland way back at the end of the seventies. Now in its 37th year of ownership with the Chambers family, we also learn how Alan Chambers was determined to find an identical Atkinson Borderer to the model his father used back in 1980 to haul the cement tanker.

SHOW REPORTS….COUNTRYWIDE
Ballymoney Old Vehicle Club Vintage Rally

Cortina Owners Club of Ireland Spring Weekend Rally

WVVMC Pre-'55 Run

South Donegal Vintage & Heritage Club Field Day

The 20th Innishannon Steam & Vintage Rally

The 38th Ring of Kerry Run

Principal Insurance VJMC Motorcycle Show 2017

IVVCC Statham Pre-War Run

The 26th Irish Classic & Vintage Motor Show

Shamrock Car & Machinery Club Vintage Festival

Retromobile 2017
Regulars
News & Events The latest developments from all over Ireland and abroad.
Diary Dates The most comprehensive list of upcoming events in Ireland.
Club Scene A dedicated section open to every club in Ireland to promote itself and its events.
Your Letters Have your say and get it off your chest; this is your place to say what you really think.
Q&A Each month we pitch a motoring question at Irish Vintage Scene's regular contributors.
Laid to Rust A monthly pictorial of vehicles that are rusting away in the peace of our countryside.
Past Times Ireland's best-known motoring historian, Bob Montgomery looks back at motoring and motoring events in the early days.
Model Scene News from the ever-growning world of model collecting.
Gerry's Gems Motoring historian Gerry Barrett's monthly look at some of his vintage and classic favourites.
Tales from Over the Water Clare-man PJ Francis shares with us his old vehicle adventures in the United States.
Retrospect A page of old and nostalgic motoring photos sent in by our readers.
Classifieds Looking for a classic? Well this is Ireland's only dedicated marketplace.
Behind the Wheel Dick Byrne looks back at his memories of motoring in the last century.