The Gentlemanly Jensen
Fast and luxurious but controversially styled and wildly expensive when new, only 500 examples of the Jensen CV8 were built between 1962 and 1966, so you're not exactly tripping over them at classic shows today, no matter what part of the world you're in. So, when offered an autumnal spin in Justin Furnell's beauty, I jumped at the chance.
Narrow Margins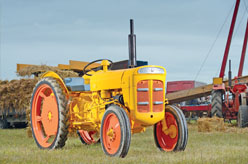 We'd spotted photos of this very unusual Fordson Dexta from a number of vintage events around the country this year, and at the National Ploughing Championships in September we were delighted to finally meet up with its owner, Joe Clancy, to find out just what it was, and how it came about.
Smooth Operator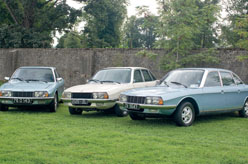 On paper, the NSU Ro80 had it all, and more – twin-rotor Wankel engine, semi-automatic gearbox, a hugely-capable chassis and a spacious, aerodynamic body that instantly looked decades more modern than the competition. Yet, the 1968 European Car of the Year was doomed to failure. Fifty years after its introduction, we look at its unique story.
The Power of Three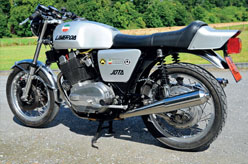 A now rarely-seen model from an extinct manufacturer, the Laverda Jota once lived in the limelight as one of the fastest roadgoing motorcycles you could buy. Today, its memory is kept alive by enthusiasts like Stefan Watkins.
Transit Authority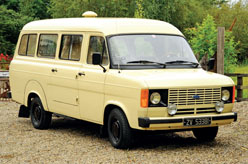 The Mk2 Transit is like one of those noises that's constantly with you for a while, until you realise too late that silence has returned. They were ubiquitous vans, one on every street corner, but nobody really noticed them fading from the scene. So, when you encounter a beauty like this it's like meeting up with a long-lost friend, as its cheerful countenance beams back at you.

SHOW REPORTS….COUNTRYWIDE
Opel Display at the Irish Classic & Vintage Motor Show

Golden Anniversary Ulster Festival of Steam & Transport

Strabane & District Old Vehicle Club Show

North Galway Vintage & Heritage Club Show

Practical Classics Classic Car & Restoration Show

"Ford Factory Recall" Vintage Road Run
Blessington VCMC Run
Breff ni Vintage Club Annual Memorial Run
Cultra Hillclimb
South Donegal Vintage & Heritage Club Run
Kilbroney Vintage Show 2017
Ford 100 Fest
Cortina Owners Club of Ireland at Charleville Show
Regulars
News & Events The latest developments from all over Ireland and abroad.
Diary Dates The most comprehensive list of upcoming events in Ireland.
Club Scene A dedicated section open to every club in Ireland to promote itself and its events.
Your Letters Have your say and get it off your chest; this is your place to say what you really think.
Q&A Each month we pitch a motoring question at Irish Vintage Scene's regular contributors.
Laid to Rust A monthly pictorial of vehicles that are rusting away in the peace of our countryside.
Past Times Ireland's best-known motoring historian, Bob Montgomery looks back at motoring and motoring events in the early days.
Model Scene News from the ever-growning world of model collecting.
Gerry's Gems Motoring historian Gerry Barrett's monthly look at some of his vintage and classic favourites.
Tales from Over the Water Clare-man PJ Francis shares with us his old vehicle adventures in the United States.
Retrospect A page of old and nostalgic motoring photos sent in by our readers.
Classifieds Looking for a classic? Well this is Ireland's only dedicated marketplace.
Behind the Wheel Dick Byrne looks back at his memories of motoring in the last century.