Straight-Six Stunner
Not all MGBs were 1.8s or V8s; the short-lived and relatively unpopular six-cylinder MGC of 1967 only ran for two years, and fifty years after its introduction it's one of the rarest of all MG variants. This Dublin registered example took home a trophy from the Terenure classic show this year, and it's easy to see why.
Ross's Rig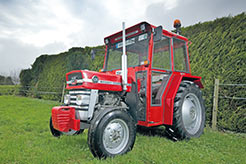 He might have not even been born when his dad, Richard restored this very fine Massey Ferguson 135, but 11-year-old Ross Harding is very much angling to be the custodian today, and is as enthusiastic a fan of the model as you could find.
Sixty Years of Fun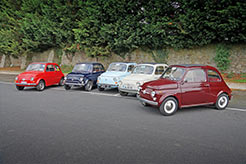 In the history of motoring there have been very few cars that have captured the public imagination as much as the Fiat 500. It celebrates its sixtieth anniversary in 2017, so we held an impromptu 500 gathering in Dublin to examine the reasons for its success.
Operation Transition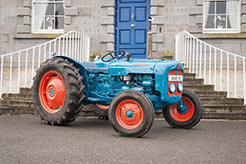 In late 2016 we were contacted by Edward Wright, a pupil at Wilson's Hospital School in Multyfarnham, Co. Westmeath, to let us know that a group of transition-year students were taking on a school project of a different kind – the restoration of a classic Fordson Dexta. This month we are delighted to show you the results of their hard work.
Stroke of Genius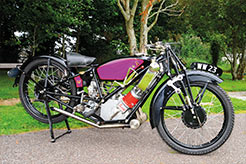 Billy Donegan from Fenagh in Co. Limerick has many fine attributes, two which are his unquestioned abilities in restoration and the fact that he is one of nature's gentlemen. The first caused him to bring a very rare Scott Flying Squirrel back to life, while the second led him to invite us along to witness its first run.
Three's a Charm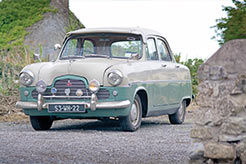 On our travels around the country for the magazine we've discovered one clear fact – very few of us old car buff s have just the one in the garage, and indeed most of us would probably keep adding to our collections indefinitely, given the space and the funds. However, Michael Tierney tells us that he's perfectly content with the three he has now.
Ute Worker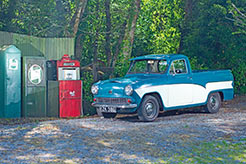 It's oft been said that the once humble commercials are now the rarest classics of all, driven into the ground in their working lives and seen as not worth saving by the general motoring populace. This Austin A60 pickup, however, has been lucky in its owners and remains in impressively original condition today.

SHOW REPORTS….COUNTRYWIDE
GOIVCC Liam Kelly Memorial Run

Killucan Vintage Club Road Run

Kilkenny Motor Club Classic & Vintage Show

Carlow Vintage & Classic Motor Club Show

IVETA National Indoor Show & Autojumble

The 30th Annual Clontibret Vintage Rally

Spirit of Dunboyne

Charleville Vintage Show

Dromcollogher Vintage Rally

Clonoulty David Brown Day

The 53rd National Steam Rally

Knockbridge Vintage Club Show
Regulars
News & Events The latest developments from all over Ireland and abroad.
Diary Dates The most comprehensive list of upcoming events in Ireland.
Club Scene A dedicated section open to every club in Ireland to promote itself and its events.
Your Letters Have your say and get it off your chest; this is your place to say what you really think.
Q&A Each month we pitch a motoring question at Irish Vintage Scene's regular contributors.
Laid to Rust A monthly pictorial of vehicles that are rusting away in the peace of our countryside.
Past Times Ireland's best-known motoring historian, Bob Montgomery looks back at motoring and motoring events in the early days.
Model Scene News from the ever-growning world of model collecting.
Gerry's Gems Motoring historian Gerry Barrett's monthly look at some of his vintage and classic favourites.
Tales from Over the Water Clare-man PJ Francis shares with us his old vehicle adventures in the United States.
Retrospect A page of old and nostalgic motoring photos sent in by our readers.
Classifieds Looking for a classic? Well this is Ireland's only dedicated marketplace.
Behind the Wheel Dick Byrne looks back at his memories of motoring in the last century.