Gran Designs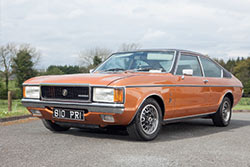 Even though the Granada name-plate has been out of production for almost 25 years now, Ford's most luxurious model of its time still holds a special resonance today, not least because it was never convincingly replaced. The Mk1 Coupe is the rarest of all, and Davey O'Connor's been through the mill to preserve this Irish example.
Canadian Classic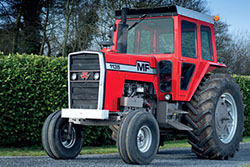 In tractors as in everything else, North America just builds them bigger. In Ireland in the late 1970s, tractors didn't come much bigger than the Canadian-built Massey Ferguson 1135. This 1977 beauty was restored ten years ago, but looks just as sharp today as it did then.
Cadillac Man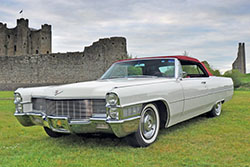 Cadillacs have always been well known for their generous proportions and luxurious leanings, but this 1965 De Ville Convertible, regarded by many as the high water mark of the US carmaker's sixties designs, is the fulfilment of a dream for serial Cadillac owner Nick Stratta.
The P3 and the Fergie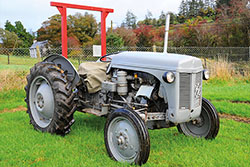 Sometimes it happens that, when visiting an owner to view one particular machine, he opens the shed and there lies another of equally great interest. This was the case when we visited Denis Corbett of Ballydesmond recently, for not only did he have the wonderfully-restored French-built MF25 featured in our December issue, but a Ferguson TE20 with an original Perkins P3 conversion kit fi tted.
The Mysterious Monty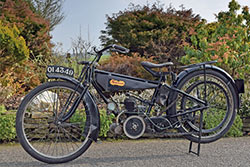 The 1924 Montgomery 150 we feature this month is somewhat of a rarity. In fact, the owner would like to hear from anyone that can shed more light on this long-defunct marque. This particular example has returned to the owner's family after a long absence, and is a cherished keepsake of his grandfather.
The Wee Double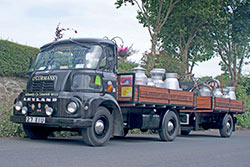 Thanks to the same reliability, economy and practicality that made it such a sales success in its long lifetime, the Leyland FG is today a big hit with classic lorry enthusiasts all over the country. While you'll come across a few at most events, you won't see another quite like John O'Gorman's.

SHOW REPORTS….COUNTRYWIDE
Carole Nash RIAC Classic Car Show

Lismore Silage Exhibition

DeCourcey Harvest Working Day

Upperchurch Tractor Run

McKibbin Bros. Working Day

Lancaster Insurance NEC Classic Motor Show
Regulars
News & Events The latest developments from all over Ireland and abroad.
Diary Dates The most comprehensive list of upcoming events in Ireland.
Club Scene A dedicated section open to every club in Ireland to promote itself and its events.
Your Letters Have your say and get it off your chest; this is your place to say what you really think.
Q&A Each month we pitch a motoring question at Irish Vintage Scene's regular contributors.
Laid to Rust A monthly pictorial of vehicles that are rusting away in the peace of our countryside.
Past Times Ireland's best-known motoring historian, Bob Montgomery looks back at motoring and motoring events in the early days.
Model Scene News from the ever-growning world of model collecting.
Gerry's Gems Motoring historian Gerry Barrett's monthly look at some of his vintage and classic favourites.
Tales from Over the Water Clare-man PJ Francis shares with us his old vehicle adventures in the United States.
Retrospect A page of old and nostalgic motoring photos sent in by our readers.
Classifieds Looking for a classic? Well this is Ireland's only dedicated marketplace.
Behind the Wheel Dick Byrne looks back at his memories of motoring in the last century.