Small is Beautiful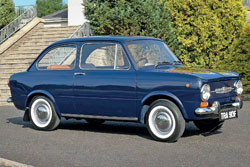 Classics come in all shapes and sizes, but there's a particular aff ection shown to the tiny, rear-engined saloons produced by Fiat from the 1950s up to the 1970s. Of these, the 850 was the most commodious, and this highly-original example rescued from a tumbledown garage in the UK shows us its charms.
Bull's Eye
In the pioneering days of the first decades of the twentieth century many tried their hand at creating the most effective tractor design. The three-wheeled, one-wheel-drive Whiting-Bull was one of the most bizarre, but nonetheless one with a strong Irish connection.
Lights, Camera, Action!
How many of us will ever have the chance to spend time in the company of a fi lm star? Few will become so well acquainted with a star of the big screen that they know every detail about them. However, classic fan Gerry Anketell from Banbridge, Co. Down is one of those few.
Water Threshing on Richardstown Farm Blue
Although threshing is a process thankfully recreated by hardworking vintage clubs at events throughout the country, there were other ways of doing it than hitching a wheeled mill up to the belt pulley of a steam engine or tractor. From the mid-1850s Richardstown Farm in Ardee was home to a Morton thresher that was powered not by steam or combusting fuel, but water, and it's still in place today.
Memories of the Curragh
Recently, I had the pleasure of meeting up with Ivor Webb who, although hailing from north London, competed at the Curragh at the final annual motorcycle race there in 1960. He's treasured the memories since then, and still has the photos (and the tiny trophy) from the day.
Dutch Courage
Produced for over twenty years, famed for its reliability and fondly remembered by thousands of hauliers to this day, the DAF 2800 series was one of the iconic trucks of the seventies and eighties. They've faded from view in recent years though, so this beautifully-restored example is always well received whenever it makes an appearance.

SHOW REPORTS….COUNTRYWIDE
CRV Truck Show

Classic & Old Skool Easter Show

Mercedes-Benz Club Kerry Run

Norse Tools Wicklow Raid

Loughrea New Year's Day Run

Rathcormac Vintage Club 12th Annual Road Run

The 3rd Annual Kiltulla & District Vintage Show

Classic Car Sale, Show & Autojumble, Swords
Regulars
News & Events The latest developments from all over Ireland and abroad.
Diary Dates The most comprehensive list of upcoming events in Ireland.
Club Scene A dedicated section open to every club in Ireland to promote itself and its events.
Your Letters Have your say and get it off your chest; this is your place to say what you really think.
Q&A Each month we pitch a motoring question at Irish Vintage Scene's regular contributors.
Laid to Rust A monthly pictorial of vehicles that are rusting away in the peace of our countryside.
Past Times Ireland's best-known motoring historian, Bob Montgomery looks back at motoring and motoring events in the early days.
Model Scene News from the ever-growning world of model collecting.
Gerry's Gems Motoring historian Gerry Barrett's monthly look at some of his vintage and classic favourites.
Tales from Over the Water Clare-man PJ Francis shares with us his old vehicle adventures in the United States.
Retrospect A page of old and nostalgic motoring photos sent in by our readers.
Classifieds Looking for a classic? Well this is Ireland's only dedicated marketplace.
Behind the Wheel Dick Byrne looks back at his memories of motoring in the last century.