Time Healeys All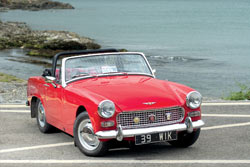 If Ger Lane had a euro for every time someone's called his Austin Healey Sprite an MG Midget, he'd probably have enough money to buy himself a second one. However, having owned this beauty since 1985, and restoring it twice in that time, this one could never be replaced in his affections.
Hit for Six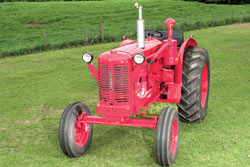 Sam Kennedy was brought up on a farm in Aghadowey, near Coleraine, and, like many young lads in the 1950s, he learned to drive a tractor in those halcyon days when power farming was the emerging alternative to the farm horse. These were exciting times for a boy keen to learn the skills that went along with the new technology, in his case, a David Brown Cropmaster.
Complex State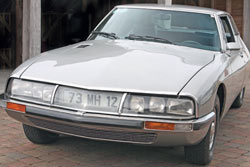 Brilliant, baffling and bold, the Maserati-powered Citroen SM of 1970 looked like it came from 2070, but only lasted in production for five years due to a host of obstacles. Today though, it's lost none of its impact.
The Green Generation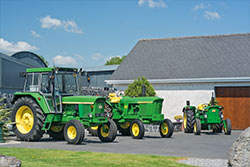 This year, John Deere celebrate 100 years in the tractor business, and in their first fifty years championed solely two-cylinder engines. The company finally broke with their two-cylinder tradition in 1960 with the 'New Generation of Power' 10-Series, to create a massively-successful family line that would span subsequent decades, and this restored trio show us the attraction.
Low Flyer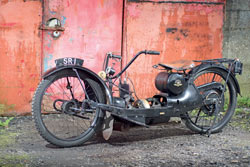 As rolling proof that there's nothing new under the sun, this Ner-A-Car boasts hub-centric steering and a continuously variable transmission– not bad for 1921! What's more, this example is a true family heirloom, as itwas bought by Austin Ryan's father, Seamus more than 45 years ago.
A Tank Full of Memories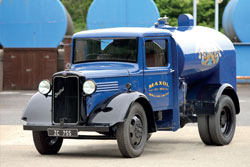 When military vehicles reach the end of their service and are auctioned off , many are never seen or heard of again. However, this 1937 Bedford WLG has survived the last eighty years and today is a beautiful promotional vehicle for a well-known fuel brand.

SHOW REPORTS….COUNTRYWIDE
Shane's Castle May Day Steam Rally

RIAC Pioneer Run

Limerick Classic Car Show

The 7th Malahide Classic & Vintage Car Show

Principal Insurance VJMC Classic Motorcycle Show

Techno Classica Essen
Regulars
News & Events The latest developments from all over Ireland and abroad.
Diary Dates The most comprehensive list of upcoming events in Ireland.
Club Scene A dedicated section open to every club in Ireland to promote itself and its events.
Your Letters Have your say and get it off your chest; this is your place to say what you really think.
Q&A Each month we pitch a motoring question at Irish Vintage Scene's regular contributors.
Laid to Rust A monthly pictorial of vehicles that are rusting away in the peace of our countryside.
Past Times Ireland's best-known motoring historian, Bob Montgomery looks back at motoring and motoring events in the early days.
Model Scene News from the ever-growning world of model collecting.
Gerry's Gems Motoring historian Gerry Barrett's monthly look at some of his vintage and classic favourites.
Tales from Over the Water Clare-man PJ Francis shares with us his old vehicle adventures in the United States.
Retrospect A page of old and nostalgic motoring photos sent in by our readers.
Classifieds Looking for a classic? Well this is Ireland's only dedicated marketplace.
Behind the Wheel Dick Byrne looks back at his memories of motoring in the last century.