Rewriting a Legend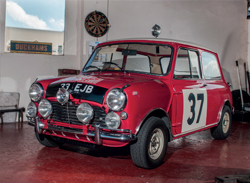 "Although we go to press before the fi nal results of the Monte Carlo Rally are known it seems certain that Paddy Hopkirk and Henry Liddon have won the rally in their works Mini-Cooper S." This announcement was made at the bottom of page 81 in the February 1964 issue of Motor Sport magazine. By the following month everyone was talking about Paddy, Henry and "33 EJB". Fifty-five years later, the legend endures.
Trail Blazer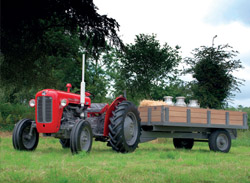 Having a beautifully-restored tractor is one thing, but putting an equally well-done trailer on the back is surely the cherry on top. Galway's John McGann has been widely noted for his concours-winning tractors over the years, and has recently completed a Ferguson Mk2 tipping trailer for the collection.
Executive Edge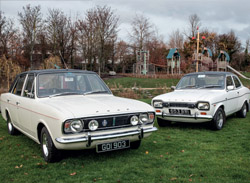 In the sixties and seventies an 'E' badge on your Ford saloon marked you out from the crowd, with wood trim, vinyl roof and chrome embellishments fitting of the 'Executive' moniker. Today these precursors to the Ghia range are particularly collectable, and Dublin's Rory Dooley is lucky enough to own two matching Irish examples.
Fancy-Dress Ferguson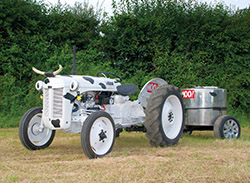 Continuing with our impromptu series of unique Ferguson 20s, this month we look at a TVO built up from spare pieces of other tractors that's been given a makeover to take part in a charity fancy-dress road run.
Ninety Degrees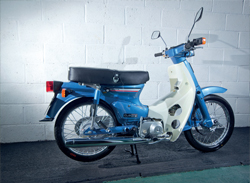 Conceived as an inexpensive, basic form of transport, why is it that enthusiasts of the Honda Cub pour so much time and money into rebuilding them back to new condition? Well, in the case of Eddie Madigan's 1986 C90, its restoration was driven by fond memories of his father.
Operation Transformation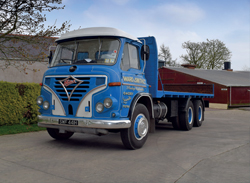 As the old saying goes, 'when one door closes another one opens'- that is what is sometimes said when an opportunity arises as a consequence of something ending. As a twist to this, it was more of a need arising for transportation of vintage tractors that led to the acquisition of this Foden lorry by Arnold Charters.
SHOW REPORTS….COUNTRYWIDE
CRV Classic Truck Show
Motorfest Ireland
VJMC Classic Motorcycle Show
Classic Wheels Ireland Vintage & Classic Car/Bike Event
IVETA Vintage Show & Autojumble
Regulars
News & Events The latest developments from all over Ireland and abroad.
Diary Dates The most comprehensive list of upcoming events in Ireland.
Club Scene A dedicated section open to every club in Ireland to promote itself and its events.
Your Letters Have your say and get it off your chest; this is your place to say what you really think.
Q&A Each month we pitch a motoring question at Irish Vintage Scene's regular contributors.
Laid to Rust A monthly pictorial of vehicles that are rusting away in the peace of our countryside.
Past Times Ireland's best-known motoring historian, Bob Montgomery looks back at motoring and motoring events in the early days.
Model Scene News from the ever-growning world of model collecting.
Gerry's Gems Motoring historian Gerry Barrett's monthly look at some of his vintage and classic favourites.
Tales from Over the Water Clare-man PJ Francis shares with us his old vehicle adventures in the United States.
Retrospect A page of old and nostalgic motoring photos sent in by our readers.
Classifieds Looking for a classic? Well this is Ireland's only dedicated marketplace.
Behind the Wheel Dick Byrne looks back at his memories of motoring in the last century.