Globetrotting Beetle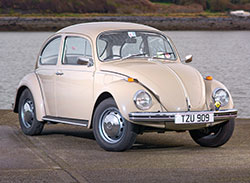 Assembled in Ireland in 1969 using parts shipped from Wolfsburg in Germany, this cherished VW Beetle will shortly embark on a journey to the other side of the world. But, it's still staying in its original family.
Home Turf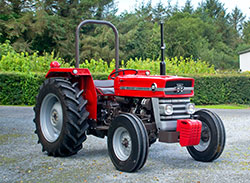 Although picked up cheaply as the basis for a turf tractor and light restoration project, this 1969 Massey Ferguson 135 ended up turning into a nut-and-bolt restoration that has impressed all that have seen it since its completion a few months ago.
Sparking the Change?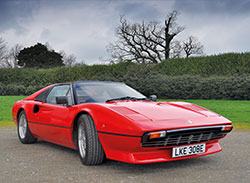 Amidst the now-constant chatter about hybrid and electric vehicles, there are enthusiasts thinking ahead as to how they might convert their classics to electric propulsion. One Irish startup is going a step further, with big plans for the years to come.
Blue-Blooded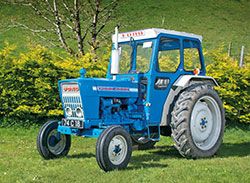 1964 was a hugely important year for the tractor industry, as it saw two giants of the sector – Massey Ferguson and Ford – launch complete new line-ups intended to take the companies into the decades that followed. Fifty-fi ve years after the introduction of the Ford 1000-Series, we pop into one West Cork owner to chat about his 4000, which he's owned for over thirty years.
The CB-Jeebies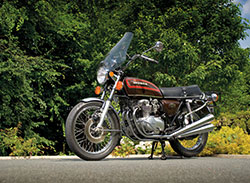 Having grown up on the smaller variants of Honda's infamous CB range of motorcycles, Gerry Woolhead couldn't resist when he spotted a totally original 1977 CB550 for sale with only around 1,500 miles on the clock. The only problem was, it was in Washington…
Commercial Success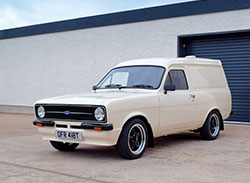 Like their larger truck brethren, light vans are part and parcel of our roads, ferrying countless products and tradespeople about their business. Ford's Escort saloon lent itself well to such use, and the earlier generations of these are now sought after by enthusiasts as restoration projects. Conor Kelly's is one of the nicest we've come across in a while.
SHOW REPORTS….COUNTRYWIDE
Louth County Show 2019
Breffni Vintage Club Memorial Run
Norman Pratt Run  Eyrecourt Vintage Rally
InnishannonSteam & Vintage Rally
The 8th Malahide Classic & Vintage Show
Kiltulla & District Vintage Club Show
Clonmel Veteran,Vintage & Classic Car Club Show
Carlow VCMC Duckett's Grove Show
Cortina Enthusiasts Ireland Spring Run
VBOA International 2019
Regulars
News & Events The latest developments from all over Ireland and abroad.
Diary Dates The most comprehensive list of upcoming events in Ireland.
Club Scene A dedicated section open to every club in Ireland to promote itself and its events.
Your Letters Have your say and get it off your chest; this is your place to say what you really think.
Q&A Each month we pitch a motoring question at Irish Vintage Scene's regular contributors.
Laid to Rust A monthly pictorial of vehicles that are rusting away in the peace of our countryside.
Past Times Ireland's best-known motoring historian, Bob Montgomery looks back at motoring and motoring events in the early days.
Model Scene News from the ever-growning world of model collecting.
Gerry's Gems Motoring historian Gerry Barrett's monthly look at some of his vintage and classic favourites.
Tales from Over the Water Clare-man PJ Francis shares with us his old vehicle adventures in the United States.
Retrospect A page of old and nostalgic motoring photos sent in by our readers.
Classifieds Looking for a classic? Well this is Ireland's only dedicated marketplace.
Behind the Wheel Dick Byrne looks back at his memories of motoring in the last century.