Keeping the Promise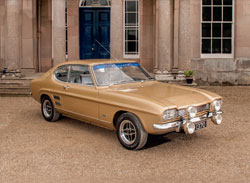 Fifty years ago something very fresh arrived on the motoring scene when, in early 1969, Europe's motoring journalists left the cold winter behind and travelled to Cyprus for their first encounter with Ford's newest arrival. Would they warm to the new Capri? History tells us that they did.
Royal Blue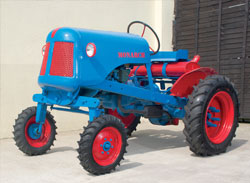 If you've never seen or heard of a Monarch tractor before, don't be too hard on yourself; only 550 were built between 1951 and 1956, as a four-wheeled descendant of the even more rare and unusual threewheeled OTA tractor. There are only a small handful in this country, and Tommy Hayes has owned his for more than forty years.
Sheer Luxury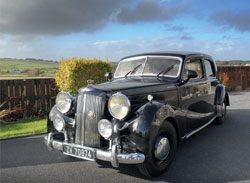 Like its sibling, the Princess, the Austin Sheerline was billed as the British luxury car of choice for those who liked the finer things in life, but not at the cost of a Bentley. This 1948 A125 is still going strong, having returned to its previous owners after a forty-year absence.
Last of the Line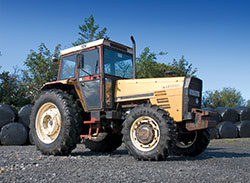 You have often heard and read statements like "this is the only one in Ireland", "the only model left," "one of only a few in that colour" and so on. Well the Marshall 126 tractor you see here is one of those, as it's believed to be the only one of its kind.
Low Flyer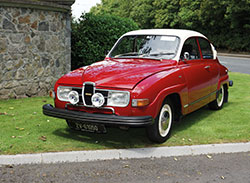 Built using the engineering principles learnt from their aircraft manufacturing, classic Saabs are unlike anything else on the road, and enjoy a relatively small but nonetheless fervent following. This Saab 96 has been through a lot of restoration work, but is now cutting a unique dash on the road.
Tourist Attraction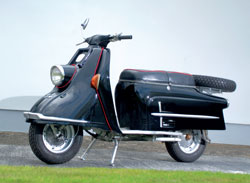 Classic scooters enjoy a following all of their own, and alongside the archetypal Vespas and Lambrettas is a model that was built using aircraft engineering philosophies to produce a uniquely effi cient and durable form of transport. The Heinkel Tourist is an object of desire now, and this one's been beautifully rebuilt.
A Labour of Love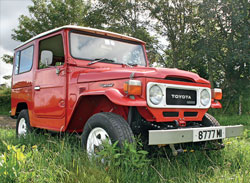 Some vehicles take time to earn their status as classics, but when it comes to the Toyota Land Cruiser BJ40 you could almost tell from the day it first rolled off the production line in Japan that it had earned its stars straight away. Neil Kavanagh's first classic restoration has produced a beautiful result, and all in time for his own wedding.
SHOW REPORTS….COUNTRYWIDE
The 28th Irish Classic & Vintage Motor Show
WWCVVC Trip to Wales
Picnic in the Park
Gordon Bennett Irish Classic Car Run
IVETA National Rally
Sunrise Vintage Club's 3rd Vintage Show
Opel Scene Ireland at Terenure
Regulars
News & Events The latest developments from all over Ireland and abroad.
Diary Dates The most comprehensive list of upcoming events in Ireland.
Club Scene A dedicated section open to every club in Ireland to promote itself and its events.
Your Letters Have your say and get it off your chest; this is your place to say what you really think.
Q&A Each month we pitch a motoring question at Irish Vintage Scene's regular contributors.
Laid to Rust A monthly pictorial of vehicles that are rusting away in the peace of our countryside.
Past Times Ireland's best-known motoring historian, Bob Montgomery looks back at motoring and motoring events in the early days.
Model Scene News from the ever-growning world of model collecting.
Gerry's Gems Motoring historian Gerry Barrett's monthly look at some of his vintage and classic favourites.
Tales from Over the Water Clare-man PJ Francis shares with us his old vehicle adventures in the United States.
Retrospect A page of old and nostalgic motoring photos sent in by our readers.
Classifieds Looking for a classic? Well this is Ireland's only dedicated marketplace.
Behind the Wheel Dick Byrne looks back at his memories of motoring in the last century.