Opel Obsession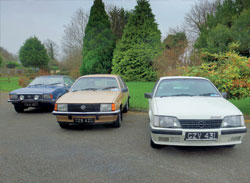 Large Opels are often underestimated, and many have found their way to premature ends in the hands of breakers. Father and son team Eddie and Edward J Connally have long recognised the merits of these now-uncommon cars.
In The System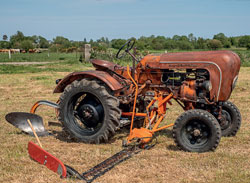 Mention an Allgaier A-111 tractor to many people and you'll be greeted with a blank look, but the all-important Porsche System badge on the nose will begin to fi ll in the pieces for most. This 1956 example is one of the last of its kind built, and has survived to today in impressively original condition.
Respect Your Adlers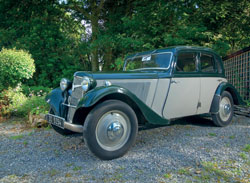 Low slung and front-wheel-drive, the little Adler Trumpf Junior was a very diff erent animal to the more traditional small cars of the time like the Ford Model Y and Austin Seven. You don't see many about nowadays as the Adler company ceased producing cars after WW2, but this 1936 example is a rare survivor of their Irish operations.
Triumph Take Two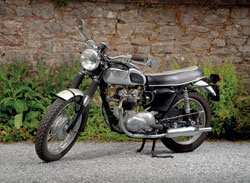 Only those with very complete collections of Irish Vintage Scene will recognise this Triumph T100P, as it featured way back in issue 5 in October of 2006. Shortly after that article it was torn apart for restoration, which was only completed a couple of years ago. This month, we drop back in to see it in its revised form.
Bedford Rules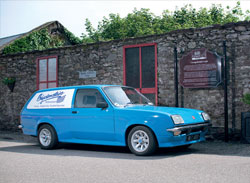 We've often said it, but the Bedford Chevanne is living proof that light commercials survive in far lower numbers than their saloon brethren, with less than twenty believed to survive in their native UK, and this beauty may be the only one in the Republic.
Regulars
News & Events The latest developments from all over Ireland and abroad.
Diary Dates The most comprehensive list of upcoming events in Ireland.
Your Letters Have your say and get it off your chest; this is your place to say what you really think.
Q&A Each month we pitch a motoring question at Irish Vintage Scene's regular contributors.
Rusty Staples William Carson's bi-monthly trawl through his classic magazine collection.
Laid to Rust A monthly pictorial of vehicles that are rusting away in the peace of our countryside.
Past Times Ireland's best-known motoring historian, Bob Montgomery looks back at motoring and motoring events in the early days.
Model Scene News from the ever-growning world of model collecting.
Gerry's Gems Motoring historian Gerry Barrett's monthly look at some of his vintage and classic favourites.
Tales from Over the Water Clare-man PJ Francis shares with us his old vehicle adventures in the United States.
On The Spanners A look at the restoration projects going on in sheds all over the island.
Retrospect A page of old and nostalgic motoring photos sent in by our readers.
Classifieds Looking for a classic? Well this is Ireland's only dedicated marketplace.
Behind the Wheel Dick Byrne looks back at his memories of motoring in the last century.