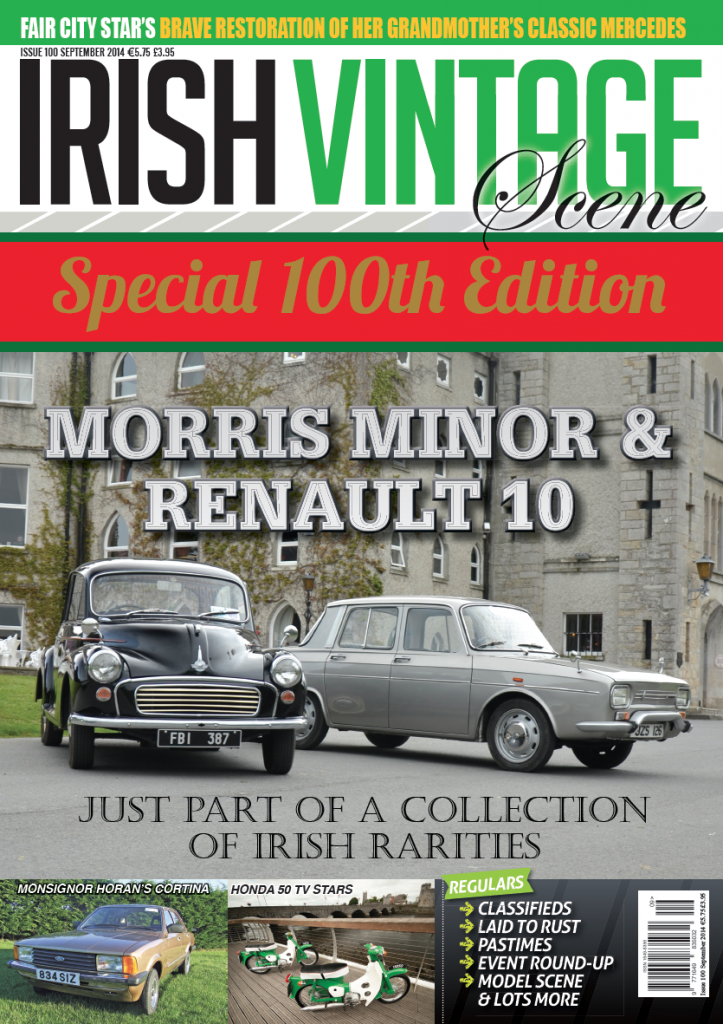 The September 2014 issue of Irish Vintage Scene is on sale now, and in case you haven't noticed it yet, it's something of a milestone as it's our 100th issue! That's right; it's been 100 months since the first issue of Irish Vintage Scene hit the shelves in June of 2006, and we're proud to say that we've come a long way since then. To celebrate, we have a rather special magazine for you this month boasting a gatefold cover and some feature vehicles linked to people in the public eye, including a Mercedes restoration project belonging to actress Clelia Murphy (Niamh Cassidy from TV's Fair City), a Ford Cortina that first belonged to Monsignor James Horan of Knock Airport fame and a unique Triumph Herald that appeared on one of the most famous album covers of all time.
Don't worry though; we still have our regular great features too, with our cover story this month looking at an amazing collection of cars belonging to a father and son from Kingscourt in Co. Cavan. Elsewhere in the magazine we look at two great tractors – a beautifully original Fordson E1A Major tractor and a nicely-restored Ursus C-335 – while our commercial feature looks at one of the old favourites of the classic truck scene: the Leyland TK. Our motorcycle feature brings us the story of two more celebrities – the two green Honda 50s immortalised on the small screen by their appearance in the popular 11850 adverts.
We're doing our best to keep up with the massive amount of events that have taken place over the past couple of months, and in this issue our reports range from Classic Car & Motorcycle Live at Mondello Park to the Irish Vintage Society All-Ireland Rally in Riverstown, Co. Sligo, and also include the Shane's Castle Steam Rally, Limerick Classic Car Show, the IVVCC Spring Run and the Lakeland Vintage Club Annual Show & Autojumble, plus plenty of others besides. All of the usual favourites are in there too, so you won't want to miss the September 2014 edition of Irish Vintage Scene; get yours at any good newsagents today or by ordering right here!

.
THE LONG ROAD HOME
Many of our readers will recall Dick Byrne's musings about how so few Irish assembled cars are left, due to the neglect they suffered back in their "working days" so when Shane Cranney stumbled upon some in a large collection of cars going back to the 1930s, Irish Vintage Scene were keen to get a closer look.
.
TOP PERFORMER
The E1A Fordson Major made a huge impact on farming here when it was launched in late 1951, as it brought with it a whole host of improvements over its predecessors. The New Performance Super Major is the most desirable of these, and the one we feature here is a real beauty.
.
GOLDEN WONDER
It could be argued that the Ford Cortina Mk5 that graces these pages once played an important role in the infrastructural development of this country, particularly in the West of Ireland, as this vehicle was the last car owned by the late Monsignor James Horan, that far-seeing man with vision who spearheaded the idea of establishing an airport in Knock, a place of pilgrimage today for many Christians.
.
NEED A HONDA, NIFTY?
Not all Honda 50s are the same, and the two we feature this month are sure to be instantly recognisable to most readers. The famous 11850 Hondas are a rolling monument to their builder, who tragically passed away earlier this year.
.
TAKE FIVE
The long-running Bedford TK was such a hugely common truck in its day that it was pretty-much guaranteed to achieve classic status in later life, and that it certainly has, as Seán Keoghan will attest.
.
……………………………………………………………………………………….
Show reports… countrywide
Clonmel VVCCC Curraghmore Run

Beaulieu Spring Autojumble

Cortina Owners Club of Ireland Spring Run

Courtbrack Vintage Society Annual Run

Bandon Vintage Club Show & Family Day

Classic Car & Motorcycle Live

IVVCC Spring Run

Limerick Classic Car Show

Shane's Castle Steam Rally

Malahide Classic Car Show

Irish Vintage Society All-Ireland

Lakeland Vintage Rally & Autojumble

WVVMC Pre-'55 Run

Cortina Enthusiasts Ireland at Limerick Classic Show
……………………………………………………………………………………….
Regulars
News & Events The latest developments from all over Ireland and abroad.
Diary Dates The most comprehensive list of upcoming events in Ireland.
Club Scene A dedicated section open to every club in Ireland to promote itself and its events.
Your Letters Have your say and get it off your chest; this is your place to say 
what you really think.
Laid to Rust A monthly pictorial of vehicles that are rusting away in the peace
of our countryside.
Past Times Ireland's best-known motoring historian, Bob Montgomery looks back at motoring and motoring events in the early days.
Model Scene News from the ever-growning world of model collecting.
Tales From Over the Water The often offbeat stories of our roving overseas reporter, Roger Hamlin.
Retrospect A page of old and nostalgic motoring photos sent in by our readers.
Classifieds Looking for a classic? Well this is Ireland's only dedicated marketplace.
Behind the Wheel Dick Byrne looks back at his memories of motoring in the last century.