Polo Mint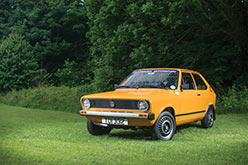 It might have been a popular supermini back in the seventies and eighties, following its introduction as the Audi 50 in 1974, but today the VW Polo Mk1 is a surprisingly rare commodity. Jack Giff has shared many memories with his '79, including some motorsport exploits.
Fearsome Ferguson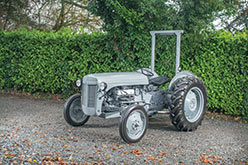 Revolutionary, beloved, iconic; Harry Ferguson's most famous off spring could be called many things, but fearsome isn't one of them. At least, not until this eight-cylinder, fourlitre creation rolled out of Danny McGeeney's garage…
Austin Attachment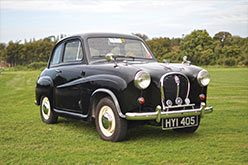 The Austin A35 may not have been as enduringly popular as the Morris Minor or the Mini, but the practicality, reliability and cheeky charm of this instantly-recognisable car has ensured its place in one Dublin family for almost fifty years.
Fighting Bull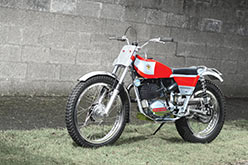 Although a formidable force in competition motorcycles in the sixties and seventies, today the Bultaco brand is familiar only to those ardent fans of trials and off – roading. Brian Turner's recently rebuilt the Sherpa 250 he bought in 1969, and it's a stunning job indeed.
Pedigree Pickup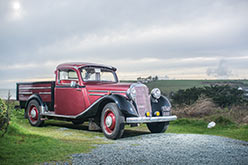 Mercedes-Benz recently unveiled their plans to launch a pickup truck, but while this has been treated with great surprise by many, as we can see from the 1953 170D here, it's something that the company have plenty of previous experience in.

SHOW REPORTS….COUNTRYWIDE
Castledermot Steam & Vintage Rally
IVVCC Brass Brigade Run
Ferguson Word Record Attempt
The GOIVCC 'Garden of Ireland' Run
Moynalty Steam Threshing
Mk1 Golf Owners Club Ireland Tour
Crosshaven Veteran, Vintage & Classic
Motor Club Charity Weekend
The 6th Gerard Murphy Classic Car
Show & Memorial Run
Cortina Owners Club of Ireland Autumn Weekend Rally
Regulars
News & Events The latest developments from all over Ireland and abroad.
Diary Dates The most comprehensive list of upcoming events in Ireland.
Club Scene A dedicated section open to every club in Ireland to promote itself and its events.
Your Letters Have your say and get it off your chest; this is your place to say what you really think.
Laid to Rust A monthly pictorial of vehicles that are rusting away in the peace of our countryside.
Past Times Ireland's best-known motoring historian, Bob Montgomery looks back at motoring and motoring events in the early days.
Model Scene News from the ever-growning world of model collecting.
Gerry's Gems Motoring historian Gerry Barrett's monthly look at some of his vintage and classic favourites.
Retrospect A page of old and nostalgic motoring photos sent in by our readers.
Classifieds Looking for a classic? Well this is Ireland's only dedicated marketplace.
Behind the Wheel Dick Byrne looks back at his memories of motoring in the last century.