Rover initially found fame in the late 1800s as an innovative manufacturer of pedal bikes, followed by motorcycles at the turn of the century. After switching their attention to automobiles post-1904, the company soon became a byword for solid yet conservative engineering, making the release of their then-radical P4 range in 1949significant on many levels.
Industrial Relations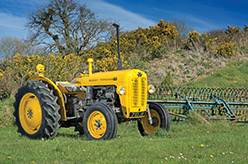 In a fi eld full of other Massey Ferguson 35s, an Industrial variant will stand out easily for its bright yellow colour. However, there are other differences too, which can make them more difficult to restore. Nevertheless, James O'Neill was determined to do this one justice, as it's been in his family for almost forty years.
State Saloon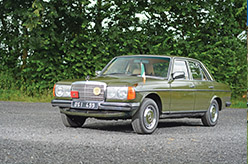 The Mercedes W123 is one of the most legendary of all models built by the German manufacturer, and they are a popular choice on the classic scene here in Ireland. However, this ex-Irish government car from 1982 has a unique history, and today is cared for by a group of military vehicle enthusiasts.
Sunstroke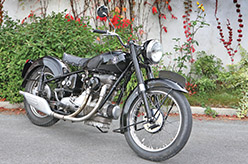 The swansong of a once-great manufacturer, the Sunbeam S7 and S8s were underdeveloped by the factory yet highly distinctive, even radical for their time, and nowadays their foibles have been mitigated by technology and caring owners.
Samba Beat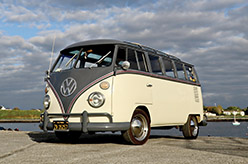 When launched at the end of the 1940s the Volkswagen Type 2 van, known as the, Transporter, Bus, Microbus or Camper, depending on the market being supplied, opened up a whole new marketing challenge for its main competitors. Since then it has become a transportation icon, leading enthusiasts like Eddie McNally to restore and cherish them.

SHOW REPORTS….COUNTRYWIDE
Carole Nash Irish Motorbike & Scooter Show 2017
Spring Tractor World, Malvern
Carlow Vintage & Classic Motor Club Anniversary Meet
Ford Cortina Enthusiasts Ireland Cobweb Run
Rathcormac Vintage Club Annual Run
Fingal Vintage Society MF Commemoration
London Classic Car Show
Regulars
News & Events The latest developments from all over Ireland and abroad.
Diary Dates The most comprehensive list of upcoming events in Ireland.
Club Scene A dedicated section open to every club in Ireland to promote itself and its events.
Your Letters Have your say and get it off your chest; this is your place to say what you really think.
Laid to Rust A monthly pictorial of vehicles that are rusting away in the peace of our countryside.
Past Times Ireland's best-known motoring historian, Bob Montgomery looks back at motoring and motoring events in the early days.
Model Scene News from the ever-growning world of model collecting.
Gerry's Gems Motoring historian Gerry Barrett's monthly look at some of his vintage and classic favourites.
Tales from Over the Water Clare-man PJ Francis shares with us his old vehicle adventures in the United States.
Retrospect A page of old and nostalgic motoring photos sent in by our readers.
Classifieds Looking for a classic? Well this is Ireland's only dedicated marketplace.
Behind the Wheel Dick Byrne looks back at his memories of motoring in the last century.