As most of our readers will know, our flagship event, Classic Fest was the largest vintage & classic vehicle show in Ireland again this year, and followed on from the huge success of the 2022 event. On the day there were well over 1,000 vintage and classic cars, tractors, commercials, army vehicles, tractors and steam engines on display on the grounds of Galway Racecourse, alongside live music, a food village, children's entertainment and many trade stalls. Blessed with fine weather, Classic Fest proved to be one of the best family days out in Galway for the summer of 2023. We would once again like to extend our sincere thanks to all of the vehicle and exhibit owners that turned out in such massive numbers, as well as the members of the public and all that supported the running of the event in any way, for making it another unforgettable day in the west.
This year's Classic Fest benefactor was the Parent Accommodation Fund of the Neonatal ICU Unit in University Hospital Galway, who at a recent presentation at the Oranmore Lodge Hotel received a cheque for €10,000 from event organisers Thomas and Pauline Heavy of Irish Vintage Scene, based in Oranmore. The success of this Parent Accommodation Fund means that parents of critically ill or premature babies who are not from Galway will have their accommodation needs supported during their stay in Galway. Unfortunately there is no accommodation available for this unit in the hospital, so it's all private, paid-for accommodation that's used, and the donation from Classic Fest will help those families at this very stressful time in their lives.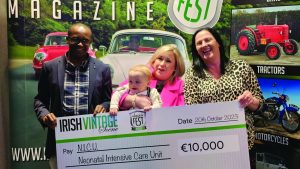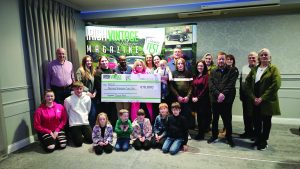 The cheque was present to Dr Johannes Letshwiti, consultant neonatologist and Irene Glynn, clinical nurse manager of the Neonatal ICU Unit. On presenting the cheque, the event organisers thanked everyone who made Classic Fest so memorable, adding: "We, both as a family and company, are delighted to be able give something back to the NICU unit in Galway, where miracles happen. Our grandchild, Kai Naughton, spent his first six months of life in the NICU unit, where he received the best care anyone could ask for. We as a family were lucky that we lived close by, but with babies coming to the unit from as far away as Donegal, others have the added stress of finding accommodation. We are delighted to be helping those families with this donation from Classic Fest '23."
The big news this month is that the date has been set for Classic Fest 2024. Once again, Galway Racecourse will be the place to be on Sunday the 30th of June, so be sure to add it to your diary for next year, and we sincerely hope to welcome you on the day. For further updates over the coming months, keep an eye on our Facebook page or see www.irishvintagescene.ie.