By Tom Heavey, Managing Editor
Well the mornings might be getting dark as well as the evenings, and the weather is just not that favourable right now, but there's still lots to do on the vintage and classic scene, and this weekend proves that. There are at least four events I'd love to be going to this weekend, but alas the family have other plans, which I also look forward to.
The weekend kicks off with the Toy & Model Auction on Saturday the 7th in the Castle Arms Hotel in Durrow, Co Laois, which is a great chance to add to your model collection. Organiser Kevin Finlay has some superb lots lined up for this weekend, and for sure I'd be bidding if I were there!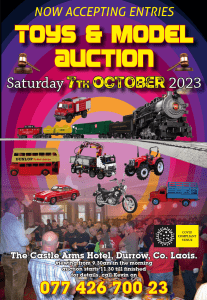 If miniatures are your thing, then there is more for you to look forward to this weekend as Brian Collins will host the Collectables Fair in the Carlton Hotel near Dublin Airport on Sunday the 8th, which is another great event and always boasts a fine offering of models and related items for sale. At the other end of the country, Sunday will also see Donie Lucy and his team hold the Millstreet Vintage Club's Model Show in Millstreet, Co Cork.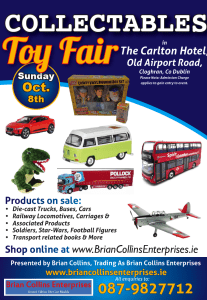 If motorcycles are passion, then the best show of the year for you takes place in Leopardstown Racecourse in Dublin this Saturday, hosted by the Irish Veteran & Vintage Motor Cycle Club. This brilliant event features some of the country's best bike restorations on display, vying for prestigious trophies, as well as an autojumble that is the Mecca for bike owners.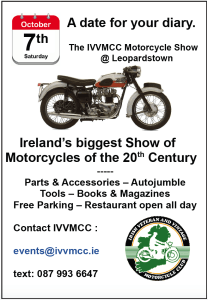 On the note of autojumbles, there are two to choose from on Sunday. The Irish Vintage Engine & Tractor Association will hold theirs at their headquarters, the fabulous Swallow's Quarters in Donaghmore in Co. Laois, while over in Moynalty in Co. Meath there will be another autojumble on the grounds of the Moynalty Steam Threshing Museum. The museum itself will also be open on the day, which will be another bonus if heading to Meath.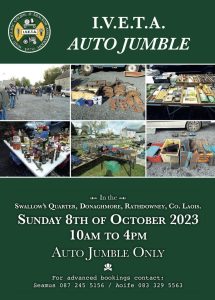 Lastly but definitely not least, and one of the events I'd certainly be attending if I were available, is the Ballinasloe & District Vintage Club's vintage display on the streets of the Co. Galway town on Sunday the 8th, as part of the Ballinasloe Horse Fair. This started off a number of years ago as a small club display, but has grown and grown and is now a superb event in its own right that is well worth a visit this Sunday.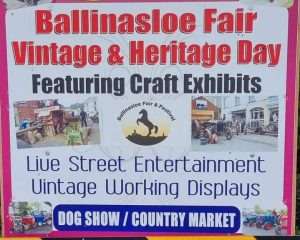 8th October: Ballinagree Vintage Club tractor and car run from Ballinagree, Macroom, Co. Cork; for details, call Johnny on 086 1931773 (for car) or Billy on 087 6757447 (for tractors).
8th October: Moynalty Steam Threshing annual autojumble and outdoor event at Moynalty Museum, Moynalty, Co. Meath, A82 C6K7; for more info, call Willie on 087 2962772 or Sean on 086 3433750.
8th October: Killarney Valley Classic & Vintage Club Car Run; for details, call Tom Leslie on 087 238 3809.
8th October: Ballinasloe & District Vintage Club's annual vintage street display with special marquees, working arena, French market, dog show and more; for info, email bdvcvintage@gmail.com or call 089 4440418.
8th October: Wicklow Vintage Club's Terence Dunne Threshing & Old-Time Farm Day at Dunne's Farm, Muskeagh, Tinahely, Co. Wicklow, in aid of South Wicklow Hospice Home Care; for more info, call Terence on 087 2794761.