Damien Buggy wasn't searching for a project car when he heard about a two-door BMW 318i that had been sitting in a doctor's garage for almost a decade, having been bought new by him in 1986. The original Irish E30 found its way to Damien's garage in Co. Laois four years ago, and has come in for a subtle makeover since.
Words by Suzanne Keane, Photos by Andrew Pollock
Launched in 1982, and originally slated for its conservative styling, the Claus Luthe-designed BMW E30 soon became a firm favourite for those on the lookout for a sports car in the guise of a more practical passenger saloon. Originally available only as a two-door saloon (like its E21 predecessor), a four-door arrived only one year later, and was quickly followed by a cabrio and wagon (Touring). Almost thirty-five years later this 1980s icon is still a popular choice, mostly due to the fact that they are just such fun to drive. While the M3 version may be the most sought-after model, it's a pleasure to be behind the wheel of even the most basic versions of this rear-wheel-drive classic.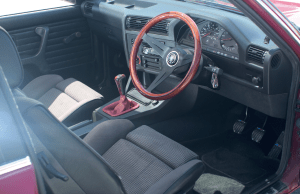 The red 1986 318i you see here had just one owner prior to Damien Buggy's purchase, a doctor who had originally bought the car at Capital Motors in Tullamore, Co. Offaly for the sum of fourteen thousand pounds. It was in regular use by him and his family for twenty years, until a dodgy clutch condemned it to the shed. After eight years of being parked up, the doctor's wife decided that the car was taking up too much space in their garage and it would have to go. Following a tipoff from a friend who wasn't really into BMWs, Damien went for a look – when he set eyes on the neglected E30 the brakes were stuck, the clutch master cylinder had given up and the engine wouldn't start, but a rust-free, pre-facelift two-door shell was just too tempting to turn down, especially as it was an original Irish car.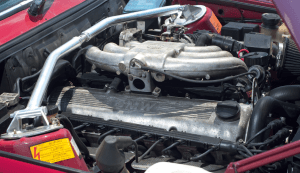 Thankfully the starting problems could be attributed to a perished petrol hose, and once the Three-Series was trailered home the work began on the restoration. Damien was brought up around a garage and has a two-post lift to complement his mechanical skills, so he was in an ideal position to say yes when he was offered the most of a rusty E30 for spare parts for the project. At the time he hadn't yet decided what way he wanted to go with his 318's restoration, but the donor 325i soft top he was offered came without its hood but provided the ideal donor engine and running gear to transplant into the project E30 for a little extra fun on the road. Once the engine bay had been fitted with the 2.5-litre lump and the rest of the 325i running gear, an E46 purple-tag power-steering rack was added to improve the steering response, along with a polished strut brace under the bonnet. Originally Damien fitted lowering shocks and springs to his project E30, but he wasn't happy with the stance so decided on some BC adjustable damping coilovers instead, which make the car sit just right.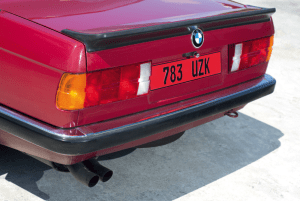 On the outside, a few cosmetic touches such as an M-Tec boot spoiler and a "Jimmy Hill" chin spoiler gave a more sporty look without going over the top, and the corroded steel wheels were replaced with 15" Ronal alloys wrapped in Continental rubber. Rather than a respray, the faced and neglected red paintwork was instead polished to perfection. The front end was finished off with some retro yellow fog lights and a German-style pressed metal numberplate. Of course, the original garage sticker from Capital Motors in Tullamore remains in place on the rear window for that authentic touch.
Unsurprisingly the interior was looking a little tired after eight years of collecting dust in a shed, but rather than spending time looking for the perfect set of seats, Damien got lucky again when a friend purchased a leather interior for his own E30 and decided to sell his perfect set of Houndstooth sports seats. These were the ideal period choice to match the E30's sporty new engine and exterior look. Once the seats had been fitted, the carpets were dyed black to match and the interior was finished off with a classic Nardi wooden steering wheel. M-Sport pedals and a red gaiter on the gearstick add to the race-ready look, while a Pioneer head unit provides a little bit of modern convenience to the cabin of the E30 – but the overall feel of the interior is very retro.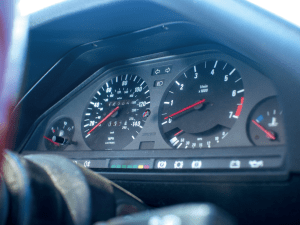 Reassembled and put back on the road earlier this year, the E30 almost passed its maiden NCT with flying colours – failing only on headlight alignment, which was quickly sorted out by Damien's friend Paul Kelly. A short retest later and the BMW was back on the open road, as good as new. A member of the E30 Owners Ireland club, Damien's car will be spending plenty of time at meets and shows with fellow BMW lovers, coupled with days out for a few local vintage rallies. However, this 2.5-litre six-cylinder E30 isn't just for display, and most importantly Damien says it's a joy to drive, so it seems the three years of hard work have been worthwhile. Of course, no project can be completed without a little help, and Damien would like to thank Daniel and Dave in Bilboa Motor Works, Carlow (Independent BMW Specialists) for all their help and advice along the way, as well as John McGrath for sourcing the 325i donor car. Damien is also the proud owner of an E21 323i, with which he is hoping to use to build a Group 2 racing replica in time.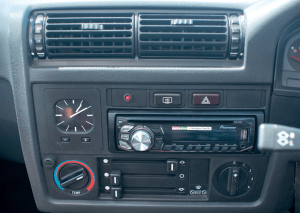 A project car is never really finished, and Damien has plenty of plans for his E30 in the future. First up on the wish-list is a six-branch manifold paired with a Scorpion exhaust system, which will be followed by a full exterior respray to freshen up the paintwork once his project car piggy bank has been replenished. For now, however, this BMW remains a shining icon of iconic 1980s style.
Words by Suzanne Keane, Images by Andrew Pollock
This article was originally printed in the October to December 2018 issue of Retro Classics Magazine; all information was correct at the date of original publication.