Well after last weekend's mammoth list of mainly runs, this weekend is a little bit more manageable on the events front. We have eight listed – there may well be more, but these are the ones we were notified of. If you are holding an event, please do email us at diarydates@irishvintagescene.ie to get it listed in the magazine completely free, and be listed here on the week of your event.
Highlights for this weekend kick off with a new event in Limerick this Sunday. The Greenmount Family Fun Day is being run by Limerick Motor Club, not to be confused with Limerick Vintage & Classic Car Club, who used to hold a show at the same venue at Limerick Racecourse. This new event is raising funds for the Motorsport Ireland Benevolent Fund, and while it will be motorsport themed it will also have a vintage and classic display as well as lots of live action on the day. It looks well worth checking out, and for more details you can find it on Facebook as Greenmount Motorsport Bonanza or call 087 25517501.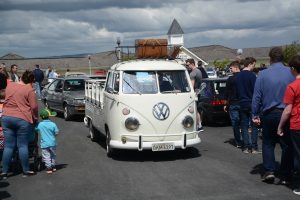 Malahide is the place to be if your on the East Coast as the highly regarded Malahide Classic & Vintage Motor Show will take place on the grounds of the Grand Hotel in Malahide this Sunday the 21st. The event is sponsored by Carole Nash Insurance and is ranked very highly among those that have attended in the past for the standard of its exhibits, so it's well worth checking out. Again, you'll find more details and updates on the show on its Facebook page or by calling Brian on 086 6087120.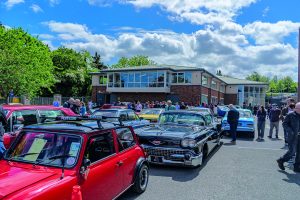 Aside from these two shows there are a number of runs taking place too, all of which we have listed below. Once again, all we can say is get out and enjoy our hobby as best you can, and we hope the sun shines on all this weekend's events.
20th May: Ulster Pre-War Austin Club pre-war car event in memory of Wesley Lamont, in the grounds of The Argory, 114 Derrycaw Road, Dungannon, BT71 6NA; for more info, call 0044 (0)77 23018061.
21st May: Western Veteran & Vintage Motor Club's Meals on Wheels Run, Galway; for details, call Neil Fraser on 086 8527786.
21st May: The 8th Annual Muff Vintage Show at Muff Community Park, Co. Donegal from noon to 5pm (exhibitors from 11am). Admission €5/£5, children free, no dogs permitted; for more details, call 074 9384572.
21st May: Limerick Motor Club Greenmount Family Fun Day & Car Show at Limerick Racecourse, Greenmount Park, Patrickswell, V94 K858 for details, call 087 2517501.
21st May: Malahide Classic & Vintage Motor Show, Dublin; for details, call Brian Dooley on 086 6087120.
21st May: Millstreet Vintage Club cars & coffee in Millstreet, Co. Cork from 10.30am to 2pm; for details, call Donie Lucey on 086 8545873.
21st May: Blessington Vintage Car & Motorcycle Club Spring Run, gathering from 10.30am at Russborough House, Co. Wicklow; for details, call 087 3890789 or see www.bvcmc.com.
21st May: Irish Austin Seven Club's 2nd Annual Run, assembling at the Armagh City Hotel at 10.30am for 11.15am start. All welcome; for more info, call William Cuddy on 086 8325769.
21st May: West Cork Vintage Club run, leaving Model Railway Village, Clonakilty at 11.3 for more info, see the club's Facebook page.