Another weekend, another tempting selection of events to take in! This year's August Bank Holiday Weekend runs quite late, from Saturday the 5th to Monday the 7th, but there are several events dotted around the country that are well worth considering if you're taking your classic out for a spin, or even just heading out with the family!
First off is the one and only Stradbally Steam Rally at Cosby Hall in Co. Laois on the 6th and 7th, a long-running event that needs little introduction to enthusiasts. With the resident steam train that gives rides through the estate, acres of display space, extensive autojumble and exhibits of all kinds, from steam engines to cars, tractors and more, either day of the Stradbally rally is always an interesting expedition for all ages – for more information, see www.irishsteam.net or their Facebook page.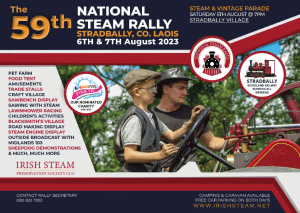 Not a million miles away, the 29th Inistioge Vintage Rally will take place in the picturesque Co. Kilkenny village on Sunday the 6th, another very well established event in a beautiful location on the banks of the River Nore that's very well supported by many enthusiasts. It's preceded this year by a tractor road run to the venue by the Slievenamon Vintage Tractor Club on Saturday the 5th, and the main event will feature plenty of family entertainment and proceeds will go in aid of the Carlow Kilkenny Homecare Team. For more information, see the event's Facebook page.
Moving a little farther north, the Breffni Vintage Club's annual vintage day in Bawnboy, Co. Cavan will kick off on Sunday the 6th of August (more information from Patrick on 087 2631580), while moving east, the streets of Baltinglass in Co. Wicklow will be lined with classic and vintage cars ahead of the West Wicklow Classic Club's annual run, with a static display in the town from 11am in advance of the main run at 2pm; more details are available from 089 2160673.
Down in the south of the country, the DeCourcey Vintage Club will hold their annual harvest working day at Artitege, near Ballinspittle in Co. Cork on Monday the 7th (call John on 087 2667296 for information), while on the same day the Nenagh Classic Car Club will host their annual show in Nenagh Showgrounds in Co. Tipperary alongside the Nenagh Agricultural Show, this year featuring a special display of cars that have turned thirty since 2020 – for more details, you can contact Brendan on 085 1387114 or see www.nenaghclassiccarclub.com.
For a full list of what's coming up, see below, or the current issue of Irish Vintage Scene, where you'll also find a comprehensive directory of events that are being held later in the year. We wish all event organisers the best of luck for the weekend and hopefully the sun will shine down. As always, we ask you to support these events where you can, as without them the hobby would be a less vibrant place.
6th August: Breffni Vintage Club Bawnboy Vintage Day in Bawnboy, Co. Cavan; for more info, call Patrick on 087 2631580.
6th August: Irish Austin Seven Club display at the Stradbally Steam Fair, Co. Laois; for more info, call William Cuddy on 086 8325769.
6th August: West Wicklow Classic Club's annual classic run, with car display on the streets of Baltinglass, Co. Wicklow from 11am before road run at 2pm; for details, call 089 2160673.
6th August: The 29th Inistioge Vintage Rally in Inistioge, Co. Kilkenny, preceded by the Slievenamon Vintage Club annual tractor run to Inistioge on Saturday the 5th; for more info, call 086 8137591.
6th & 7th August: Irish Model T Ford Club static display at Stradbally Steam Fair, Co. Laois; for info, call John Hendy on 087 2563428.
7th August: Nenagh Classic Car Club's annual show, Nenagh, Co. Tipperary, featuring a special display for all vehicles that turned 30 since 2020; for more info, call Brendan on 085 1387114 or see www. nenaghclassicarclub.com.
7th August: Wicklow Vintage Club annual display at Tinahely Agricultural Show, Fairwood Park, Greenhall, Tinahely, Co. Wicklow, Y14 KR88, with registration from 11am. All classic/vintage vehicles welcome; call James on 086 1030761.
7th August: DeCourcey Vintage Club's harvest working day at Artiteige, Ballinspittle, Co. Cork. Working combines must register prior to the event; for details, call John on 087 2667296.