There are lots of runs to choose from this weekend, but the two shows below are definitely worth a visit;if you're looking for a good show, either of these top the bill. Another thing happening this weekend is the online registration for Classic Fest closes on Sunday night, the 25th. The event itself is only days away now, and the interest shown has blown us away so far. It's going to be a big one for sure, so to find out more, to register or toget your tickets, go online to https://www.irishvintagescene.ie/classic-fest-2023-2/
Streete Vintage Show
This really popular event located in Co. Westmeath is always a really lovely day out, and is one weattended before Irish Vintage Scene even existed, so it's one of the reasons the mag began. A full vintage show with all types of old vehicles welcome, there are always some very special displays to enjoy. Again, it's one of the great shows that is about much more than just vehicles – there's a dog show, live music all day, autojumble,antiques, arts and crafts and so much more. This year's is the 21st anniversary event, so you won't be disappointedwith this one.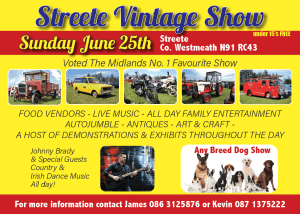 Kevin Byrne Classic & Vintage Car Show
If you have been around vintage and classic cars for a long time, and especially have attended shows on the east coast, you will have seen or known the cars of the late Kevin Byrne from Dublin, as he never missed a show, his car collection was amazing and his knowledge was encyclopaedic. This show in his memory takes place on the grounds of St Columba's College in Whitechurch, Dublin 16 and we have only ever heard good things about the event. We plan on taking a trip up there on Sunday if we can, as the proceeds always go to a great cause in the NCBI.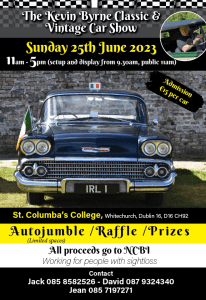 24th June: Muskerry Vintage Club's Past Members Memorial Run to Goughane Barra, starting from the Abbey Hotel, Ballyvourney, Co. Cork. Registration from 2pm for start at 3.30pm sharp; for more info, call Lar on 087 2268752.
24th June: Cobh Classic Car Club's Great Island Motors Cobh Classic Car Run through scenic east Cork. Charity to be announced; for details, call John on 089 6000151.
24th & 25th June: Irish Austin Seven Club trip to Rosscarbery, West Cork; for more info, call William Cuddy on 086 8325769.
24th & 25th June: Ulster Vintage Commercial Vehicle Club trip to Kelsall Steam Rally, Chester, England; for details, call Adrian on 0044 (0)78 66413023, Trevor on 0044 (0)77 11243134 or
Liam on 0044 (0)78 01771128.
24th to 26th June: Connacht Veteran & Vintage Motor Club's 37th Annual Rally, Westport, Co. Mayo; for details, call Sean on 086 7777383 or see www.cvvmc.ie.
25th June: The Kevin Byrne Classic & Vintage Car Show at St. Columba's College, Whitechurch, Dublin 16, D16 CH92 from 11am to 5pm (setup and display at 9.30am). Autojumble, raffles and prizes on the day; for more information, call David on 087 9324340.
25th June: Ballincollig Vintage Motor Club's 'Carfix' Road Run from Ballincollig, Co. Cork; for details, call 085 2087785 or 087 7937560.
25th June: Yesteryear Motor Club classic car run from Scanlon's Yard car park, Dungarvan, Co. Waterford. All welcome; for info, call Noel on 087 9700720.
25th June: Streete Vintage Club's 21st Anniversary Vintage Machinery & Classic Car Show at Streete Parish Park, Kilmore, Streete, Co. Westmeath, with live music. All stalls must be booked in advance on www.streeteanddistrict.ie; for more info, call Kevin on 087 1375222.
25th June: Ballyfin Vintage Club Annual Road Run, Ballyfin, Co. Laois; for details, call 087 7824481.