Often times you'll see a vehicle advertised for sale with an "interesting history". However, the story attached to the first owner of this Fiat 126 lives up to that claim far better than most…
A small car with big boots to fill, the Fiat 126 was first introduced in 1972 as a replacement for the iconic Fiat 500, sharing its predecessor's basic layout and chassis arrangement. Initially the 126 was powered by a two-cylinder air-cooled 594cc engine, mounted in the tail as on the 500, but this increased to 652cc towards the end of 1977, increasing the power output to about 24 horsepower. Although not a runaway success like the 500 the 126 was still popular, and various variants were also produced in several countries, most notably Poland. Throughout its lifetime of production (which only ended in Poland in mildly-updated form in 2000) in excess of three million units were produced, and more than a few 126s made it to our own shores here in Ireland over the years – in fact, the very first car ever driven by our editor Andrew was a 126, albeit an extremely rusty example used for tearing around the fields as a thirteen year old!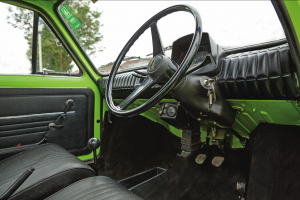 Anyway, back to the "interesting history" bit… The eye-catchingly green example you see here is now owned by Owen Shields from Derry city. Whilst Owen himself is of somewhat legendary status in his home city thanks to his association with classic cars, it is the 126's former keeper that, shall we say, provides the 'meat in the sandwich' of the story. I am referring to one Baron Amedeo Guillet, a famous figure who was an officer in the Italian Army and a descendant from a noble Italian family. Born in 1909, he became noted for his bravery in battle, particularly with his roles in the infantry and cavalry (he was one of the last men to command cavalry in wartime), and he became known as the 'Devil Commander'. He was famed for his courage, leadership abilities, tactical thinking and fearless advances into enemy territory, and was one of the most decorated people in Italian history – qualities I'm sure became handy whilst latterly commanding this little Fiat 126!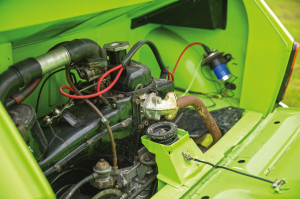 Following on from his exploits during wartime the Baron found himself occupied with a more sedate role in the diplomatic service, and at the end of his career himself and his wife, Beatrice found themselves living half the year in the more tranquil surroundings of Kentstown in Co. Meath, sharing their time between there and Italy from around 1974 onwards. It was while in Ireland that the Baron found himself becoming acquainted with his fellow born and bred countryman, one Fiat 126, which served as a loyal runaround before being put in storage in its latter years.
During the autumn of 2013, Owen was on a VW forum on the internet trying to flog a set of wheels for a beach buggy when he began chatting to his friend Rigsby, who, in turn, sent a Dublin gent up to Owen to purchase the wheels. During the course of the conversation the subject of Fiats came up, and the Dublin man was able to tell Owen that lying in an undertaker's yard in Meath were two Fiats. One was a 126 and the other a Fiat Giardiniera estate. It transpired that the 126 had belonged to Baron Guillet, and the rare estate to his wife, Beatrice, and had been removed from his estate following the Baron's death in 2010 at the ripe old age of 101. Owen, having previously owned a Fiat 500 anyway, was hooked by the story alone, and sure enough made the journey down south and purchased the 126. Incidentially, when down in the undertaker's yard Owen also saw a VW Variant and recognised it as one he had previously imported from Norway some years earlier – a small world indeed!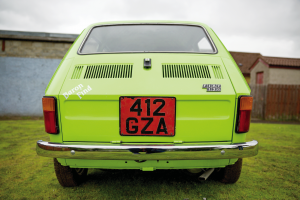 The 126 made its way up to its new home in the Maiden City where, like many a project before it, it was pushed into a corner whilst the restoration of a VW Beetle was finished. The 126 project wasn't started until March '14, and in-between times Owen also bought himself a Fiat 500. The 126 was in very original and complete order, but the inevitable rot had taken hold in several places and so it was completely stripped to a bare shell. The spot welds were drilled out in the relevant areas to find that, between the welded panels, no paint was present, nor had ever been. It's no wonder these little 'uns succumbed to the dreaded tinworm so readily given such lack of preparation from the factory. The complete front valance needed replacing, as did the front wings, sills and areas of the floors, and new panels were sourced from England with the help of www.club126uk.co.uk. As hands-on as they come, Owen does all the restoration work himself, much of it while wearing his trademark flip-flops! After all the welding and panelwork was completed, everything was zinc-primed, seam-sealed and stone-chipped where necessary, the car's underside was brush-painted in two-pack, and the overall shell was finally sprayed in two-pack in the Fiat's original lurid green colour. The brakes, suspension and steering were also completely refurbished – Owen's son Jordan was a big help here and with the engine refresh, as was Owen's friend Michael Stewart, who breathed fire into the 126's powerplant to kick it into life again. Well, to be honest, not so much fire as Easystart! Well, to be even more honest they had no Easystart to hand, so used Lynx deodorant instead – only the best for these boys!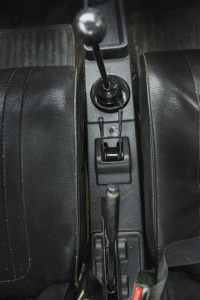 With the exception of a new headlining still to be sourced, the car was finished in July '14, with all the work including painting being completed by Owen and his son with a little help and encouragement from friends. The little Fiat made its guest appearance at the Legenderry show in September 2014 beside the Fiats of friend Rory Stewart (126) and Tony Gallagher (500), and has popped up at the odd other event since. However, not one to stand still, Owen has immersed himself in further projects since then, including the aforementioned 500 which is just about complete as we write. Baron Amedeo might have done a lot in his lifetime, but we reckon Owen could give him a run for his money in the restoration stakes…
---
1977 Fiat 126 – Quick Spec
Years Produced: 1972 to 1980 (Italian production)
Body: Unitary-construction two-door saloon
Engine: 594cc or 652cc air-cooled two-cylinder OHV
Output: 24bhp
Transmission: Four-speed manual, RWD transaxle
Front Suspension: Independent, leaf-spring
Rear Suspension: Independent trailing arm, coil-sprung
---
Words by Seamus O'Brien, Photos by Paul Doherty
This article was originally printed in the October 2015 issue of Irish Vintage Scene Magazine; all information was correct at the date of original publication.