Those looking for a sporty classic Ford are spoilt for choice, but there's one swoopy coupe that is often forgotten about. The dramatic-looking Consul Capri is a consummate retro cruiser, but was unfortunately something of a rare sales flop for Ford, making them highly-prized commodity today, if you can find one…
Words and photos by Andrew Pollock

This article ran in Issue 7 of Retro Classics Magazine in 2012; all information was correct at time of going to press.
Expensive when new, and produced for a scant three years from 1962 to 1964 it's perhaps no surprise that you don't come across more Consul Capris. This is a real shame though, as to today's eyes there's a whole lot going for this slice of pure sixties excess. The finned fastback styling was heavily influenced by transatlantic trends, coming complete with quad headlamps, pillarless side windows and a grille filled with five chrome stars, but was none the worse for this; quite the opposite in fact, as the overall shape is dramatic and highly distinctive. Under the skin McPherson-strut front suspension and proper telescopic shocks were top of the line, and the Capri and its saloon sibling, the Classic, were the first Fords to have front disc brakes fitted as standard. Propulsion came from 1,340cc and 1,500cc versions of the pre-crossflow OHV as fitted to early Cortinas, so the Consul Capri was just as good to drive as it was to look at. Unfortunately its high production costs, rather portly kerb weight and the introduction of the far cheaper Cortina meant that production ceased in 1964 after only around 20,000 Capris had been built, marking them out as a serious collector's item today.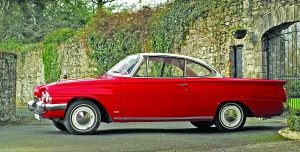 Bodywork
By far the most important consideration when buying a Consul Capri is the condition of the bodywork and outer chrome trimwork, the latter being only available second-hand at autojumbles or the like. The body structure is complex to repair and original replacement panels are also extremely rare. While some remanufactured panels are available from both the Ford Classic & Capri Owners Club (to members only) and Ex-Pressed Panels in the UK they aren't cheap, and being pattern parts they are said to need some extra work to fit perfectly. Despite being built from heavy 20-gauge steel the 116E is well able to rust, due mainly to the fact that minimal internal rustproofing measures were undertaken at the time of manufacture. The curved leading edge of the front wings is a common weak spot, as is the adjoining headlamp support panel and the rear edge of the wing by the A-pillar. Like other Fords of the time inner and outer sills and front inner wings and strut tops rot, as do the floors. The rear arches and lower rear wing corners are also prone to rust, as is the rear panel and boot floor. In short; check everywhere you can, and be prepared to budget some extra time and money if replacement panels are needed.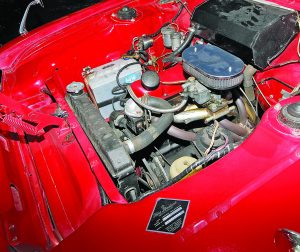 Engine
Under the bonnet things are less problematic. The very earliset versions were fitted with a 1,340cc version of Ford's pre-crossflow four-cylinder overhead valve, which only boasted three main bearings; this was replaced with a more powerful five-bearing 1500 later in 1962, which is far tougher. These engines are simple to work on, and parts are generally no problem although pre-crossflow internals are harder to come by than the later crossflow items. Nothing outside of the usual checks are needed, e.g. blue smoke, bottom-end rumbles, chattering valve gear, oil leaks and blown head gaskets. GT models featured a more powerful 1500 with a different cam, tweaked head and higher compression ratio; if you're buying, the easiest way to tell a GT engine externally is by checking that the carburettor is a twin-choke Weber and the exhaust manifold is a four-branch, although Fords being Fords both of these could have been uprated by now!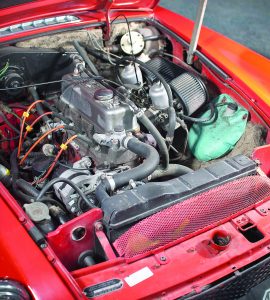 Transmission
Again, in typical Ford fashion the transmission is simple and fairly tough. The four-speed transmission boasted synchromesh on all forward gears, and both column and floor gearchanges were available. The column version is regarded as being one of the most positive of its kind and easy to use, but the floor shift is far more direct and sporty. An automatic is said to have been available, but this is extremely rare nowadays and probably less desirable than a manual to most owners. As usual, check for groans or drumming under acceleration or deceleration, as well as jumping out of gear on the overrun. The propshaft and rear axle are as simple as they come, and once the rear axle isn't noisy or covered in oil it should last another fifty years if minded.
Suspension/Brakes
McPherson front struts were a big deal on a Ford in the Capri's day, and these give generally excellent road manners once the dampers and coil springs are in good order. Upper strut bushings and track-rod ends are specific to the model, but thankfully are available from the owners' club (note that some of these are on an exchange basis, so don't throw the old ones out just yet!). The front anti-roll bar bushings also need to be in good condition. The rear axle is suspended on familiar semi-elliptic leaf springs, which just need good end bushings and decent shocks to do their thing effectively. The steering is by a recirculating-ball box, which can be adjusted if slack; however there's only so much adjustment you can make before the box needs to be rebuilt or replaced, so check this carefully. Standard discs up front were another big claim to fame for the time, and these need to be checked for sticking pistons on cars that aren't used very often. GT models were the only ones fitted with a servo.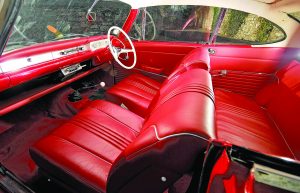 Interior
Some Capris had leather trim, but most had vinyl. While this is reasonable hard-wearing, the last fifty years will have taken their toll and these may need to be recovered. The front seat frames can also rust and sag, which can be a giveaway that the pillarless side window seals have been leaking and letting water into the cabin (something of an issue on the Capri throughout its life). Most of these rubber seals are available remanufactured, again for members of the owners' club. The inner trim panels can also suffer from water damage, although the board backing can be carefully replaced once the outer vinyl covering is ok. The rear seat is little more than a carpeted shelf, and so doesn't present much of an issue! Obviously, with a car as rare as this you need to make sure that the interior is as complete as usual if you're not to be trawling the autojumbles and classifieds, so check that the dashboard has its full complement of gauges, knobs and switches.
Clubs
While joining one of the many Ford clubs here in Ireland will no doubt help you access knowledge and some parts, signing up with the Ford Classic & Capri Owners' Club in the UK is pretty much essential in order to keep the car on the road with maintenance and repair parts; find them online at www.fccoc.org.uk.