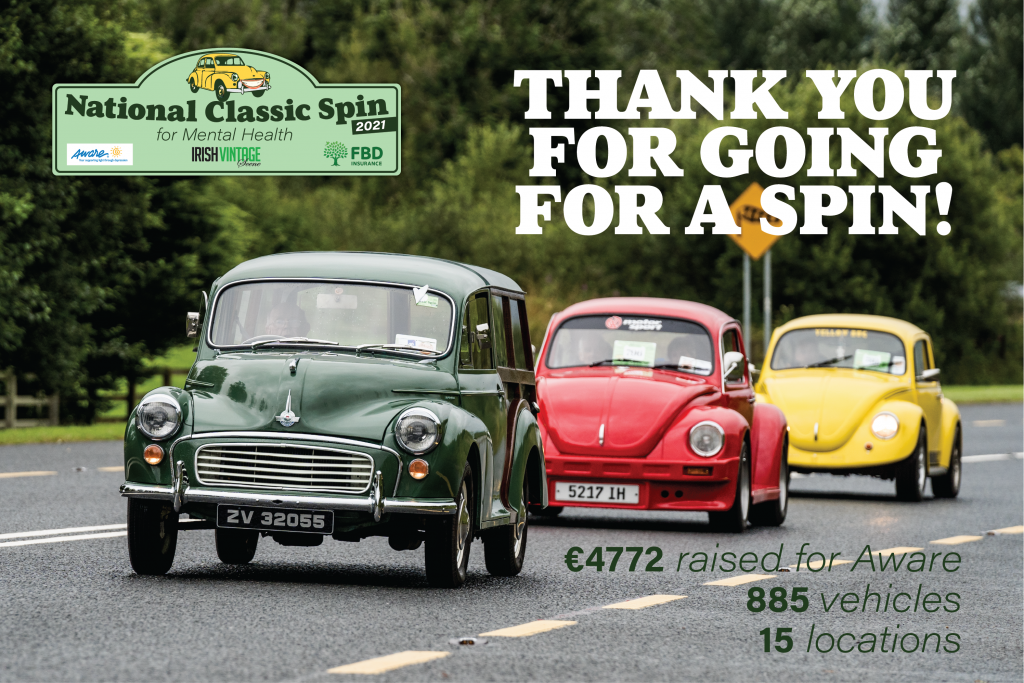 THE 2021 NATIONAL CLASSIC SPIN IS NOW BEHIND US!
The first National Classic Spin proved to be a great success when it got underway at 1pm yesterday, Sunday the 8th of August. There were classic vehicles on the move all over the country from early morning, brightening up the roads as they headed to one of fifteen designated points. There, photographers were waiting to capture them as they passed, in order to post up the images on our galleries and social media pages. Despite some showers the weather held up at most locations, with some great chats to be had where the participants pulled in for a coffee and a break after passing the photo points.
A fantastic 885 entries were received for this inaugural event, all of whom took in one of our fifteen photo point locations dotted around the country during their spin that day. The final tally to be presented to Aware is nearing €4772, thanks purely to the generosity of those that either took part or donated in other ways around the event, so our thanks to everyone who took part or supported or helped in any way.

We at Irish Vintage Scene would like to thank each and every participant for supporting this inaugural event, as not only did it get lots of classic beauties back out on the roads where they belong, but it also raised funds for Aware, a vital resource in combating mental health issues. Judging by the beeps, waves and laughter we saw, the vehicles themselves did their bit for mental health wherever they went too! The support of FBD Insurance is also much appreciated, as are all of the individual donations that were sent in on the day. It was a lovely day for a spin, and let's hope that next year the lack of Covid restrictions will allow even more social elements to be introduced to the event.
Castletownroche