While in Kerry for the Killarney Vintage Rally earlier this year [2008] I called to the picturesque village of Kilgarvan, where the Mitchell family run the Kilgarvan Motor Museum. Just like last month, I was amazed at what I found and will be back for another visit soon.
When John started out the collection he said he would be happy to have one Rolls-Royce; he has surpassed this figure a long time ago, with four now on display and a few more waiting to be restored. He has now rephrased it to "I would like one of each model!
It is most certainly a case of "don't judge a book by the cover", as from outside you couldn't imagine you were going to see so many cars inside. As I walked around the museum I spoke with John and Joan along with their son Trevor, who was able to rhyme off the history behind each car as we came to them. The main room has a corner allocated for a cup of tea or coffee if one wishes to take a break and savour their visit, and there are many pieces of literature left here for you to have a quick flick through. You also have a visitor's book to sign, which is a great idea, but what about a photo album of visitor's cars? This novel idea was produced as we had the coffee, and it created a great discussion as the Mitchell's remembered the people behind each car.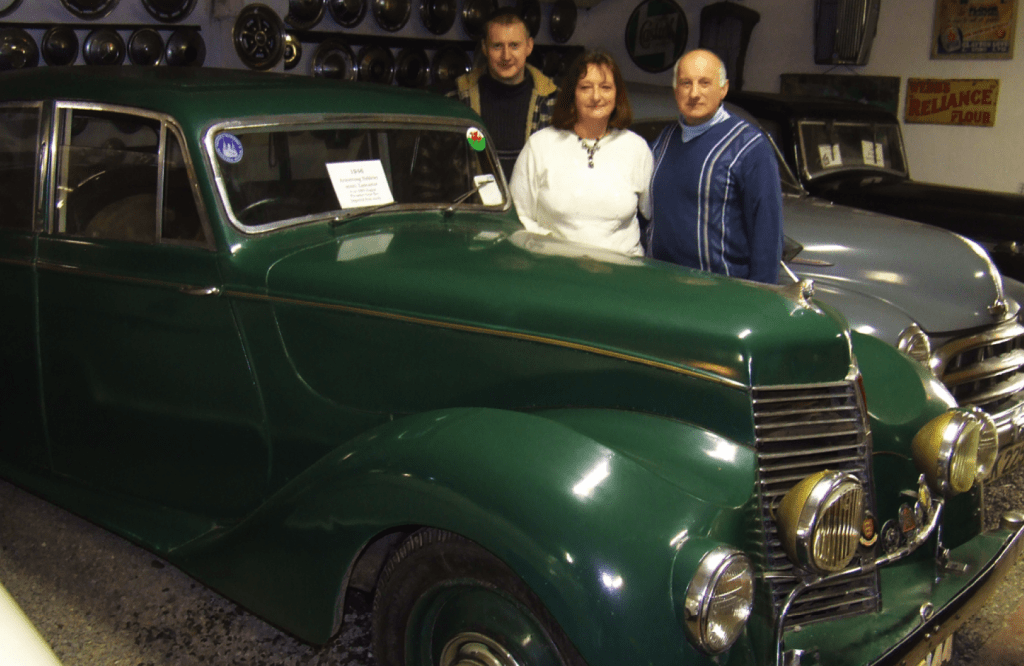 Asking John where it all began he told me "it started with a green Armstrong Siddeley, not long after we were married back in 1972. I saw it for sale in a yard near Cork, and it was dilapidated with broken windows, flat wheels, the usual for an old car no one wanted anymore". John, who has always had an interest in cars as he had a garage in the village, had a number of friends who were getting into collecting older cars and he also began to form an interest in them. He had been on the lookout for one when he found this 1946 Armstrong Siddeley. On his way home from Cork with it in tow, little did John realise that this would be the start of a life-long relationship with old cars that would result in him forming a motoring museum. The Armstrong Siddeley was bought new in Jersey by a lady who later moved to Cork in the sixties, bringing the car with her. She was often seen being chauffeur-driven around Cork. John restored the car completely himself, as they did with most of the 35 cars that are currently on display; I think this gives a great feeling to the collection, as more often than not you see collections where money is the main driver and the collector can buy whatever they wish in concours condition. Here in Kilgarvan most, if not all, arrive in a poor and sorry state and are brought back to life by the Mitchell family. This is a true family affair, and everything they do is aimed towards bettering the museum.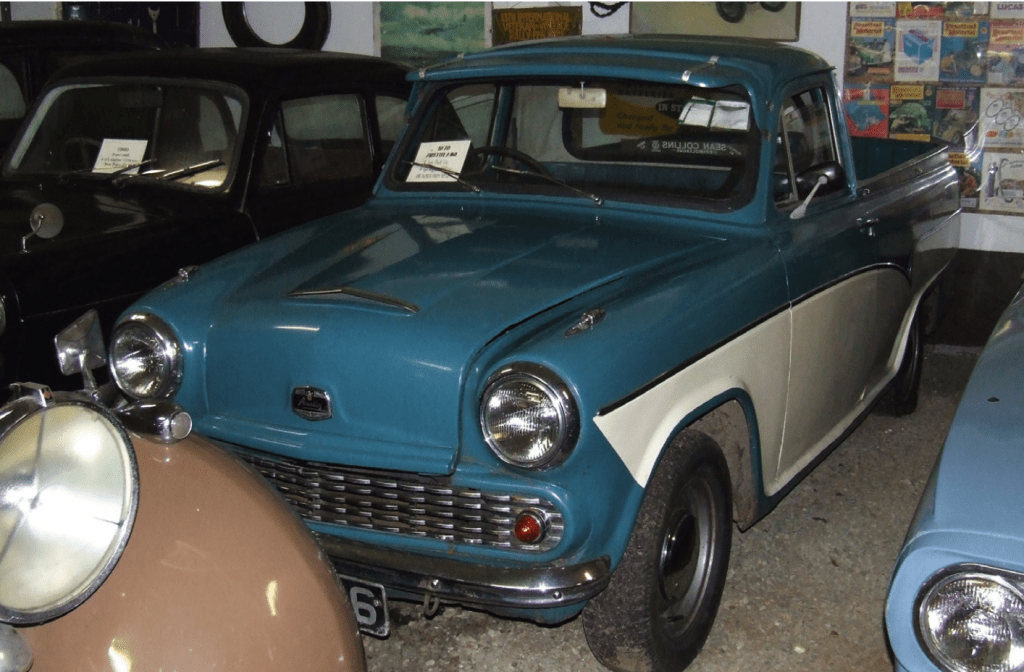 As a motorsport fan I was attracted to a DKW in rally spec, which Trevor tells me is an original Ballincollig-built car that was actually rallied by Jim Hennessy (owner of the assembly plant in Ballincollig) who was part of a 3-car team that competed in the Circuit of Ireland and a few other Irish rallies. The car was given to the museum in the 1970s in a very poor state, and it had to be completely restored. John points out that a DKW owner from Germany, who often visits, had given him a number plate with the letters 'DKW' on it; he went on to tell me that the man called last summer in his own DKW, driven all the way from Germany, and he expects to see him again this summer.
The one-owner 1970 Austin A60 pickup on display was bought new in Cork by a Skibbereen farmer. Trevor tells us that "he had sides on it and used it to bring calves to the mart. I think he may have been a bachelor, as the passenger side looks as if it was never used. The underneath had been covered with burnt oil, and this helped to prolong its life". It recently featured in a German film that was shot locally, and has also been used as a workhorse by the Mitchells before its restoration. The Austin was actually often used to tow in and collect other cars, and was also used during the building of the museum itself. Now it has retired to an easier way of life. When John started out the collection he said he would be happy to have one Rolls-Royce; he has surpassed this figure a long time ago, with four now on display and a few more waiting to be restored. He has now rephrased it to "I would like one of each model!" The example on display in the centre of the main room is an impressive 1939 Rolls-Royce, which is one of only 490 models coach-built by Thrupp & Maberly. This was the first car that the Mitchells imported, and was found in a very poor state on its side in a scrap yard in London. They have no great history on it, but they suspect it was used in a film as it was full of bullet holes and looked as if it had been crashed. They contacted Rolls-Royce, who had a record of its first owner but lost track of it during the war. Joan tells us that bringing it home was another experience; they were coming toward Swansea with the Rolls behind a Range Rover on an A-frame when the jeep and trailer jack-knifed on a twisty road, and it was the luck of God that saved them from going over the edge of a drop…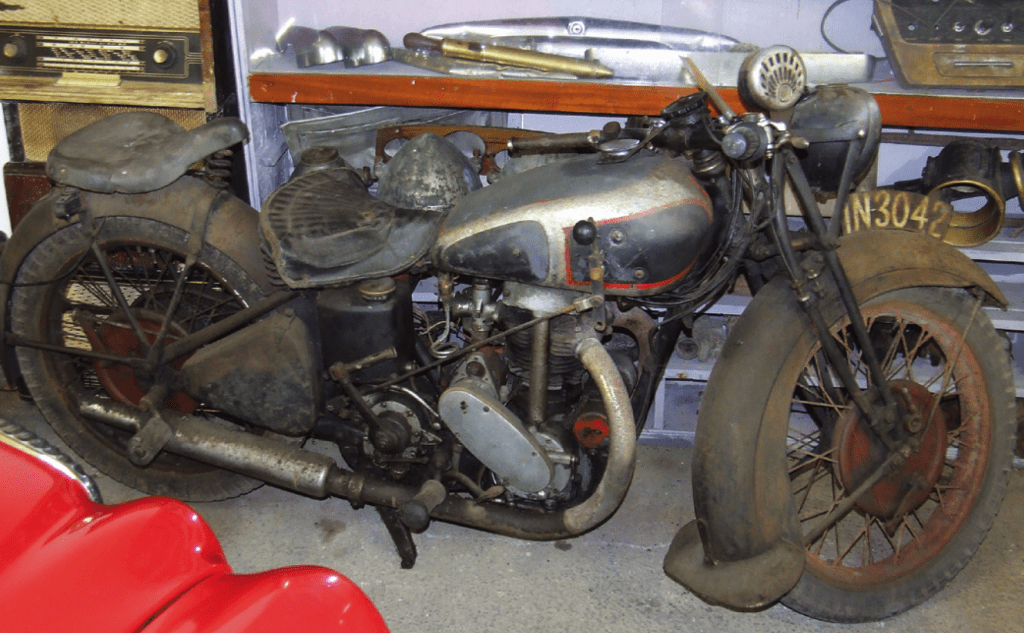 Like any museum it's not just about the cars, and the walls are adorned with old signs and memorabilia. One rarity is an old petrol globe in the shape of a Shamrock with the name 'Lobitos' on it; they know nothing about it other than it was a petrol company. My daughter Emma took a great interest in it, and looked forward to doing some research on the company. John also pointed out that many people have given him number plates from all over the world. As we move on, John points out an interesting 1963 Vauxhall Victor belonging to an old lady in Cambridge in England; "we are minding it for her, as she owns it from new." I asked how this came about, and John told me that this couple used to visit Ireland regularly in the car on their holidays, and always called to the museum. After her husband had a stroke the woman asked the Mitchells to mind the car for them, and the couple would take it out when they were over here on holidays. John says "she is coming over this summer, and she will take it out for a drive". It's also interesting that the couple bought it new, and it was their first and only car!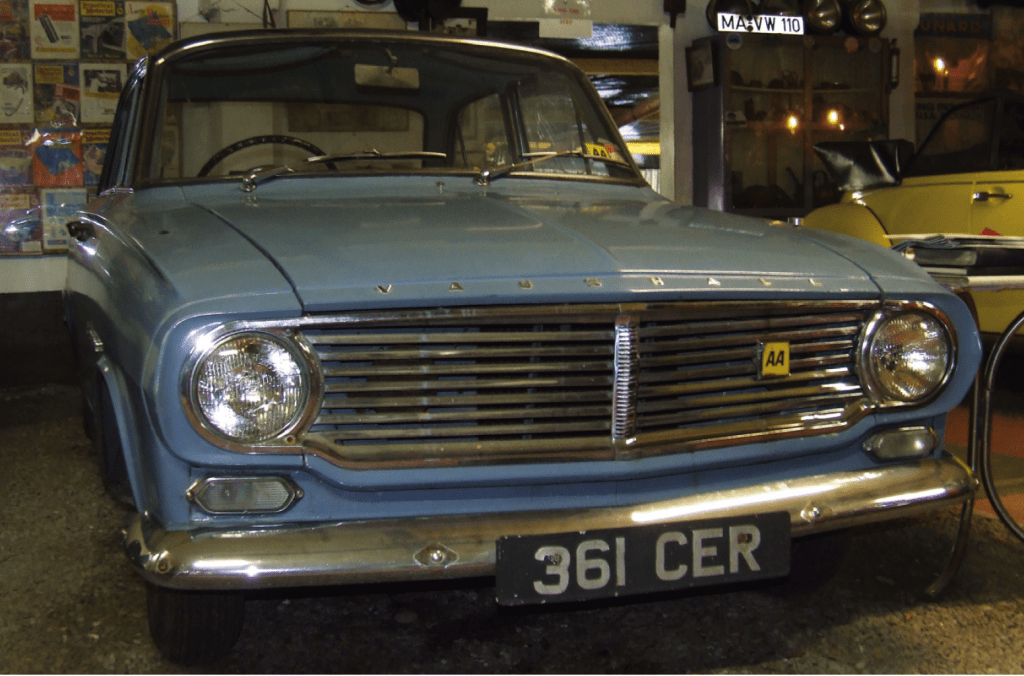 A 1936 Irish-built Adler was one of the worst cars they found; it had no roof, no floor, no glass, the engine was dismantled and it was found in a quarry in Wexford. Joan says that the pictures are misleading as it was a lot worse than it looked, and it was 15 years before they started to restore it. This was a very advanced car for its time with front-wheel drive and rack and pinion steering. Most parts were sourced in Germany, and anything that could not be found was made. Over two years were spent restoring this particular car, but it seems that there would often be a few restorations ongoing at the same time.
Off to another room, and Emma takes a shine to the little 1931 Wolseley Hornet Special. John points out that it's Trevor's car, and he built it from a burnt-out wreck when he was only 16. It has a Morris 8 engine, gearbox and chassis, and he made up the bodywork in aluminium. He reports that "it's great fun to drive; I am a bit bigger now than I was then, but I still squeeze into it for an occasional spin". A works Rudge Special bike with a 500cc single-cylinder engine hasn't been on the road since the mid-forties, but it looks well in its unrestored condition and they intend to leave it so. It's an Irish bike on a Kerry registration, with one owner from new. It is started now and again and given the occasional run, and Joan points out that they could have sold it thousands of times. Another car of interest is one of the Trabants that were used by U2 as part of their stage during their 'Zoo TV' world tour.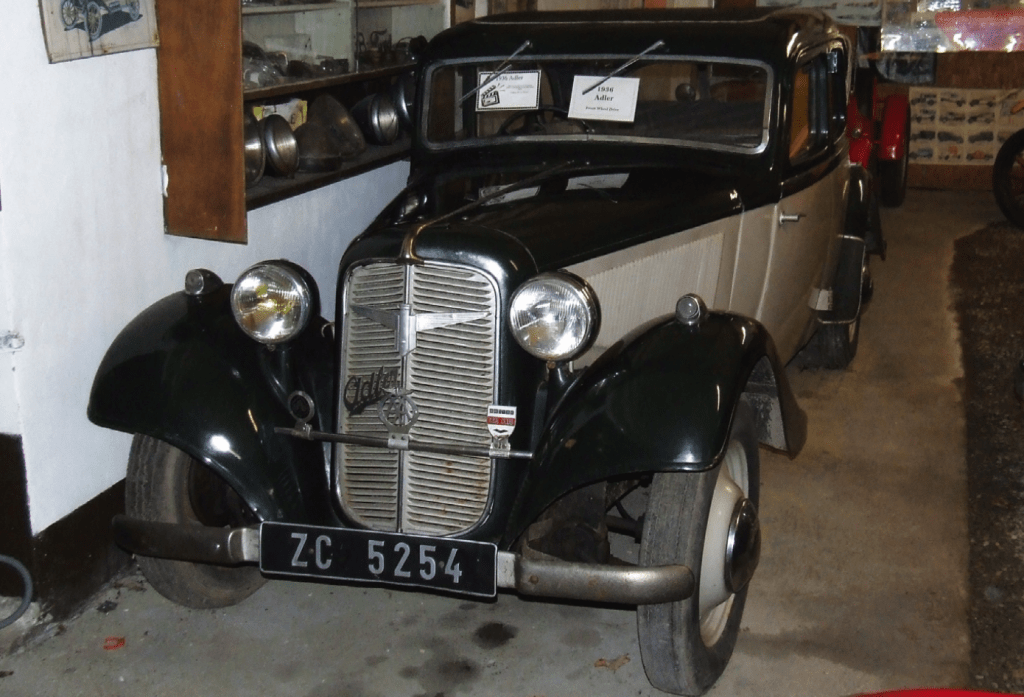 We were then brought to the workshop area, which isn't part of the museum but is where every car is restored and maintained, with the current project being a convertible Rolls. It's a full time job just to maintain the current collection, let alone increase it. The family currently have a large number of future restoration projects, so the collection on display will be constantly changing. Yet again I found that I could write pages and pages on this fantastic haven for car lovers, but don't have the space to do so. As I headed for home I was full of admiration for the Mitchells, who are preserving our heritage with no help from our government. Again I think it's important that clubs and enthusiasts support the Mitchells in their quest, and even if you have been to the museum before you are due a return visit; believe me you won't regret it. If you're looking for somewhere to have a run or a club bus tour, then Kerry is the place. I really enjoyed my visit and the welcome the Mitchells extended to us, and to hear the story behind each car is a great personal touch. I wish them well in the future, and I will be back to visit in the near future. We don't have many places like this in Ireland, so please support them as best you can.
---
For more details on the Kilgarvan Motor Museum, call 064 6685346 or see www.kilgarvanmotormuseum.ie or their Facebook page.
---
Originally published in the July 2008 issue of Irish Vintage Scene
Words & Photos by Tom Heavey