It's summertime, and that means only one thing; a classic soft-top in which to enjoy the previous rays. This issue we take you through the pitfalls of one of the most popular and affordable classic sports-convertibles of all; the legendary MGB.
Words and photos by Andrew Pollock

This article ran in issue 6 of Retro Classics Magazine in 2012; all information was correct at time of going to press.
The MGB hardly needs an introduction, but for those who've been living under a barrel for the last fifty years here's a brief synopsis. Launched in 1962 as a replacement for the endlessly pretty MGA, the MGB picked up on where that car left off, but with more of an eye on practicality and comfort. Even though it was a smaller car externally it boasted a roomier interior, as well as proper wind-up side windows and a more user-friendly hood. Under the bonnet was a gutsy 1,800cc B-Series OHV on twin-SU carbs, good enough for almost 100bhp, and most also had an overdrive function on their four-speed gearbox for relaxed cruising. The early cars are marked out by their chrome grille and bumpers; the grille was changed for a black plastic item in 1969, with the bumpers being changed for much-derided black rubber items in 1974, which saw the model out to its eventual end in 1980. While the hard-topped MGB GT is arguably more practical on an everyday basis than the drop-head roadster, seeing as its summertime we're concentrating on the latter for now.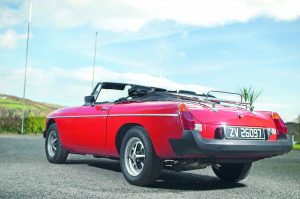 BODYWORK
As with most classic cars, bodywork repairs will outweigh the cost of mechanical repairs, particularly so with the MGB as the engine and running gear are so simple and durable. To provide valuable stiffness to the monocoque the B has a quite elaborate and strong sill arrangement, which basically provides the link between the front and rear of the car. The outer sill you see along the bottom of the door is only the beginning, as inside that is a strong inner sill, with a reinforcing plate running between the two. A corrugated 'castle rail' runs along the bottom of the inner sill to provide further strength. This setup often rusts from the inside out, meaning that if you can already see surface rust on the outside the inners could already be in very poor shape, so this area needs careful inspection. The area where the wiper panel meets the top of the front wings is also a giveaway area for inner corrosion problems, as are the door pillars and lower jacking points. As the rear suspension is carried on leaf springs it's crucial that the mounting points for these are in sound order. The floorpans and boot floor can also rot out due to water ingress, so check these thoroughly. All panels are available for the model though (including complete new bodyshells if you're feeling flush) and are generally inexpensive, although replacing the sills won't be cheap or easy.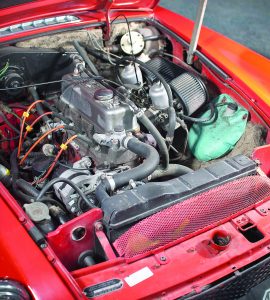 ENGINE
The 1,789cc B-Series is all cast iron and therefore a heavy old lump, but is strong, having changed from three to five main bearings very early in the MGB production run. The overhead-valve head reportedly copes well with unleaded fuels, but the odd drop of additive does it no harm in the long run. Valve clearances can wander relatively quickly, so it's wise to keep these well-adjusted for optimum running; this is a straightforward process. The twin SU carbs provide good power (around 90bhp) but, as with most twin-carb setups, they need to be kept in balance. Fuel consumption isn't amazing at sub-30mpg with a light right foot, but the optional overdrive gearbox helps on longish runs. The usual indicators of a worn engine should be watched out for, i.e. excessive crankcase breathing, overheating, rumbling from the bottom end and thick residues in the oil or rocker cover. Being an older design it will more than likely have a few oil leaks, but these shouldn't be excessive. Oil pressure should be around 50psi at cold idle for a decent engine, dropping when warm but still reading around 50 when driving. Service parts are cheap and widely available, and electronic ignition kits bring benefits to starting and running quality.
TRANSMISSION
While overdrive was only ever listed as an option it seems to be quite unusual to find an MGB without it nowadays. It's certainly a feature worth having, as it drops the engine revs in both third and fourth to reduce fuel consumption and wear and tear. Like the engines themselves, the gearboxes are generally tough and will cover high mileages once they aren't abused and are given decent quality oil. Noticeable whirring/groaning sounds while driving can indicate a worn box, but many can make noise for years before giving any trouble. The shift isn't particularly quick, but it should be smooth and precise; the B has a pleasingly short shift when operating properly. Likewise the rear axle is tough when properly lubricated, and any problems will be clearly audible.
SUSPENSION/BRAKES
The coil-sprung wishbone front suspension is carried entirely on a crossmember separate to the body, the upper link of the suspension being made up of a lever-arm shock. While these are a prehistoric throwback today, they can still work acceptably once they are properly filled with oil and aren't excessively worn. Telescopic shock conversion kits are available for the front and back of the MGB, and make a huge difference to the handling although they can make the ride quite stiff, so be sure to do your homework on the shock specs beforehand if you're not building a performance-minded example. There are plenty of bushes in the suspension, and these need to be in good order or rattles and play will result. New rubber or polyurethane bushes are widely available and pretty straightforward to fit. The rear suspension is simply a live axle with leaf springs, so this couldn't be any simpler to check or work on. The rack-and-pinion steering follows modern practice and is generally trouble free, as are the front disc and rear drum brakes.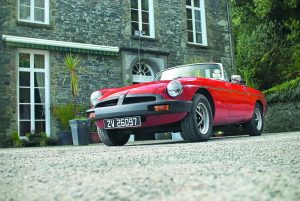 INTERIOR
If you find an otherwise good MGB with a tatty interior don't disregard it, as most of the parts are still available new or secondhand if needed. While the dashboards and door panels are pretty tough, the original cloth seats fitted to seventies cars can wear badly, but there are a multitude of new seats and covers available to sort this. Many cars will also have had sports steering wheels added, which make the drive more sporting but can also make the steering quite heavy at low speeds. In typical BMC fashion there is often a bundle of wiring hanging out from below the dash, but once all gauges and warning lights are operating there isn't really much else that can go wrong. Being an open-topped car it has to be borne in mind that the car could have been caught out in a rain shower at some time in its life, so watch out for water damage to the instruments and trim. The hood, obviously, is a pretty crucial element of the car both for appearance and practicality, but again these are actually quite reasonable to replace (approx €300 for a new item) and so shouldn't put you off an otherwise good car.
CLUBS
For all things MGB on these shores, the club to talk to is the MG Enthusiasts' Club of Ireland, an active bunch with a wealth of knowledge available on the various MG models. Find them online at www.mgireland.com.