To mark the fiftieth anniversary of the Manta A, Opel has built a one-off electric example that combines modern tech with classic styling. The Manta GSe ElektroMOD reflects the growing trend of transforming classic cars into 'Resto-mods' with modern components and powertrains. The all-electric Manta GSe is the first electric resto-mod by Opel, who have replaced the original four-cylinder engine with an electric motor producing 144 bhp and 225 Nm of torque. The Manta GSe retains the original four-speed gearbox, allowing drivers to manually change gears, or alternatively, just engage fourth gear and drive automatically.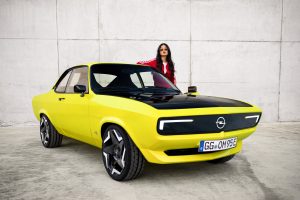 Although the one-off Manta GSe has not been subject to WLTP type-approval testing, its 31kWh lithium-ion battery gives it a range of around 125 miles, and like the current Opel electric range it also features regenerative braking to improve range. Charging takes place through a 9kW on-board charger, with a full charge taking just under four hours to complete.
Although instantly recognisable as a classic, the Manta GSe features Opel's latest design elements, including a 'Pixel-Vizor' stretching across the entire width of the front – the Pixel technology allows it to issue messages, followed by the silhouette of a manta ray gliding past. The front end also features LED daylight running lights, while the iconic circular rear lights come with a striking three-dimensional LED design. The yellow paintwork is contrasted by the signature black bonnet, with the wheel arches housing specially designed 17-inch Ronal alloy wheels.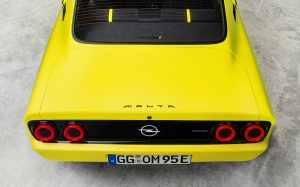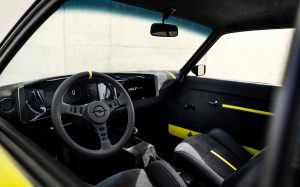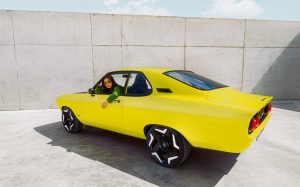 Stepping inside, the classic round instruments have been replaced by the Vauxhall Pure Panel, with two driver-oriented 12-inch and 10-inch digital displays. The sound system has also been modernised with a new unit from the legendary Marshall brand. The sports seats come with yellow details, while the steering wheel is a Petri three-spoke wheel reworked by Opel to feature a yellow marker in the 12 o'clock position for an added sporty touch.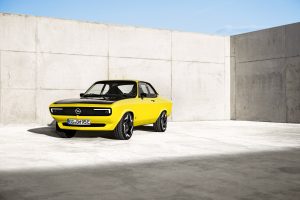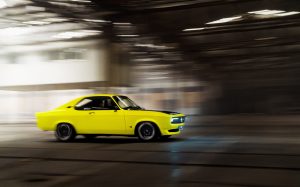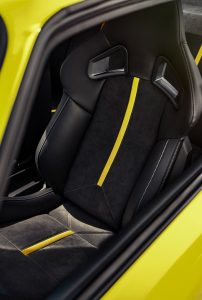 While we can't see the Manta GSe progressing past a one-off, it's an interesting melding of old and new, and is a nod to the ever-growing trend for modernising classic cars with electric drive-trains and technology. Given the choice between a modern EV and a converted classic, we here at Irish Vintage Scene certainly know which we'd prefer…
By Andrew Pollock, Editor