Issue 188 IVS & Issue 44 RC
€10.99
Description
IRISH VINTAGE SCENE ISSUE 188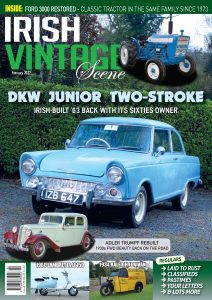 We kick off a new year with our February 2022 issue, on the cover of which is an Irish-assembled DKW Junior that has recently been restored by one of its previous owners from back in the late sixties, none other than John Mitchell of Kilgarvan Motor Museum in Co. Kerry – this 1963 Junior is one of DKW's famous two-stroke, front-wheel-drive models, and returned to John in need of a serious amount of work after many decades of deterioration. Coincidentally this month, our second featured car is another unusual front-wheel-drive from Germany, this time a 1935 Adler Trumpf 1.7-litre that was tracked down in Holland by a life-long fan of the marque, and brought to his home in Co. Wexford for what turned out to be an epic, 6.5-year restoration project.
Our tractor feature this month outlines the heart-warming story of a sixties Ford 3000 tractor that's been a treasured part of a Co. Tyrone family since the early 1970s, and which has been recently returned to its former splendour. Our two-wheeled feature tells the story of the restoration of a 1960 Lambretta Li 150 to nothing short of concours condition, while our commercial feature is without doubt the most unusual van we've ever seen, a three-wheeled V-twin Raleigh Light Delivery Van from the mid-1930s that was something of a landmark in its locality for decades.
RETRO CLASSICS ISSUE 44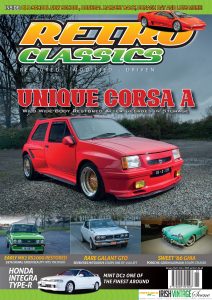 The January to March 2022 issue of Retro Classics is now on sale at good newsagents nationwide, or direct from us by ordering online with FREE POSTAGE. As always, we've a diverse selection of fast classics for you to peruse, with this issue's cover going to probably the wildest-looking Opel Corsa A in the country, thanks to its unique wide-arch bodykit. We also feature an extremely Colt Galant GTO from the seventies, a sweet and subtle VW Karmann Ghia, a just-completed concours-level Mk2 Escort RS2000 and a mint example of the modern classic that is the DC2 Honda Integra Type-R.
With a detailing guide to help you wash and clean your classic without doing more damage than good, a look back at the quirky car ads of decades past and a return to event reports at last (this time including the Old School New School Meet, MacMillan Car Show, Classic Wheels Ireland Show, Tollymore MG Rover Day, the Rally Déjà Vu Donagh Day and a roundup of ICCR racing at Mondello), there's plenty to get your teeth into in this issue of Retro Classics, so don't miss out – get your copy at any good newsagent, order a digital edition or click here to order a copy online, with FREE POSTAGE on the island of Ireland!