Issue 200 IVS & Issue 48 RC
€10.99
Description
IRISH VINTAGE SCENE ISSUE 200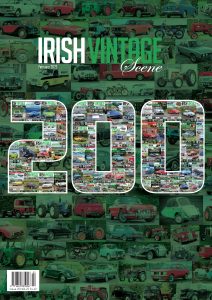 As you might guess by our one-off commemorative cover, this month marks a very special milestone at Irish Vintage Scene, as it's our 200th issue of the magazine! That's right, it's been 200 issues since Irish Vintage Scene first hit the shelves in June of 2006, and it goes without saying that we are looking forward to the next 200. Our main feature car this month is a very special Mk1 Austin Mini 850 assembled in Dublin in 1964, which has been in the same extended family since it was eighteen months old and has recently been rescued from decades in storage to take to the roads again. Our second classic car is another cherished machine, a 1979 Opel Ascona B 2.0SR bought by its owner out of nostalgia for the five Asconas owned by his father back in the seventies and eighties.
Our tractor feature this month is a change from the norm as it focuses on a rare example of the Thwaites company's very first dumper from the early 1950s, which was used on its owners farm for feeding calves many years ago before ending up sitting in the briars. However, in more recent years its rarity was recognised by its owner after reading a magazine article on the model, and it's been restored to fine order. Our featured motorcycle is a stunning Honda CD175 from Limerick, and a classic Volvo F12 truck rounds off our varied stories this month. All of the usual favourites are in there too, plus a mega giveaway to celebrate our 200th issue, so don't miss out – get your February 2023 issue of Irish Vintage Scene at any good newsagent, or order it here with FREE POSTAGE!
RETRO CLASSICS ISSUE 48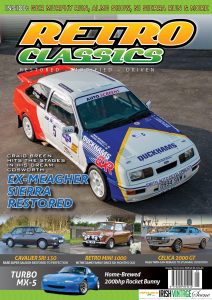 The January to March 2023 issue of Retro Classics is now on sale at good newsagents nationwide, or direct from us by ordering online with FREE POSTAGE. As always, we've a diverse selection of feature cars in this edition, topped by our cover car, which is one of the best-known Irish rally cars of the nineties – D934 SVW is the three-door Ford Sierra Cosworth campaigned in the early nineties by the late, great Frank Meagher, and which gained legendary status when it beat the 4×4 competition to win the 1992 Circuit of Ireland. It's just been restored for its new owner, Craig Breen, and made its debut at the recent Historic Rally of the Lakes in Killarney.
Further into the mag, we also feature a wide-arched Mazda MX-5 with home-built turbo conversion, a stunning Toyota Celica RA28 from the seventies, a concours-level Vauxhall Cavalier SRi 130 and a 1979 Mini that's been in the same family since it was six months old. With a detailing guide on how to deal with car interior disasters, safely clean alloy wheels, a look back at the quirky car ads of decades past and reports from the Gerary Murphy Memorial Run, NI Mourne Ford Sierra Run, the ALMC Sports Car Show, Stormont Classic Car Show, Carlow Vintage & Classic Motor Show, the Ulster Rally and a roundup of the Historics and Modifieds in the Irish Tarmac Rally Championship, there's plenty to get your teeth into in this issue of Retro Classics, so don't miss out