Issue 202 IVS & Issue 49 RC
€12.50
Description
IRISH VINTAGE SCENE ISSUE 202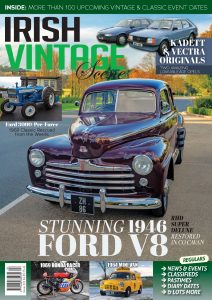 Fronting the April 2023 issue of Irish Vintage Scene is a really stunning motor car, a 1946 Ford V8 Super Deluxe that's special for two reasons – firstly it's just been restored to absolutely top-shelf condition, and second it's an original right-hand-drive example, like those that could be found here in Ireland back in their day due to being produced in limited numbers at Ford's Marina plant in Cork city. Its professional restoration wasn't easy or quick, but it's been totally worth it for its owner, who owned one of these RHD V8s himself back in his younger days. Our second car feature moves forward in time many decades to tell the story of two classic Opels of the same colour that are amazingly original survivors that have never been restored – both this 1979 Opel Kadett D and Opel Vectra A have very low mileages covered, and are owned by two ardent Opel fans that will ensure they remain in this amazing condition into the future.
Our tractor feature this month looks at another Ford product, this time a 1968 3000 Pre-Force that was saved from a very sorry wreck, sitting in a scrapyard in two halves with its engine missing. Thanks to the help of many friends, its owner has brought it back to as-new condition over the last couple of years. Our motorcycle feature delves into the unique history of a 1969 Honda CB250 nicknamed Tiddles, which over its lifetime has been transformed into a potent 350cc, 130mph racer that has topped the podium on several occasions. Rounding out this issue, our commercial feature showcases a beautiful 1964 Mk1 Mini Van that's been restored and rebuilt as a replica AA van by a Co. Sligo enthusiast, in memory of his father's forty-year career as an AA patrolman.
RETRO CLASSICS ISSUE 49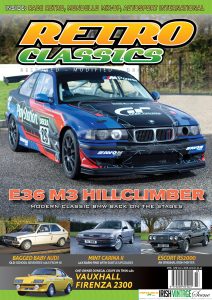 The April to June 2023 issue of Retro Classics is now on sale at good newsagents nationwide, or direct from us by ordering online quickly and conveniently. Once again we've a diverse selection of feature cars in this edition, headed by our cover car, an E36 BMW M3 that's gone from one of the most potent nineties coupes on Irish roads to a full-on sprint and hillclimb competitor. Since 2015 it's tackled stages and courses from Donegal to France, and has proven extremely reliable despite its relatively high mileage and occasional excursion into the scenery!
Further into the mag, we also feature an immaculate and extremely original Mk2 Escort RS2000, a seriously eye-catching Vauxhall Firenza 2300 droop-snoot that was bought new by its Donegal owner in 1974, a rare little Audi 50 on air-ride and BBS wheels and a lightly-modified Toyota Carina that was unearthed after seventeen years off the road, in excellent condition and with very small mileage on the clock. With a detailing guide that debunks some of the most notorious internet hacks, a look back at the often-quirky car ads of decades past and reports from Autosport International, Mondello Mix-Up, Cars & Coffee North East, Race Retro, Edgewood Automotive Cars & Caffeine, the Brekkie Roll VW Meet and a roundup of the last Precision Graphics Future Classics Championship, there's plenty to get your teeth into in this issue of Retro Classics, so don't miss out.