Issue 197 IVS & Issue 47 RC
€10.99
Description
IRISH VINTAGE SCENE ISSUE 197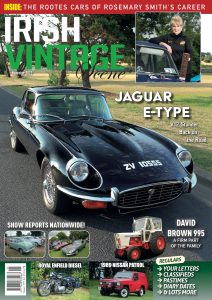 Sitting proudly on the cover of our November 2022 issue is a classic that needs little introduction – the Jaguar E-Type has been turning heads and winning trophies since its introduction in 1961, and while this stunning V12 Series III comes from a later stage of the model's life, it's still very much a thing of beauty following plenty of work by its owner. Our second car feature this month is very special, as we meet up with the legendary Rosemary Smith and some of the competition cars she's most associated with, to relive some of her past glories.
Our tractor feature this month is the tale of a cherished David Brown 995 that was restored using input from both sides of the Atlantic Ocean, our featured motorcycle is a real oddity in the form of a diesel-powered Royal Enfield Bullet, and our commercial feature tells the story of a 1989 Nissan Patrol 3.3 that spent its working life with the Tullamore fire service, before being saved from an uncertain fate by one of its serving fire-fighters.
RETRO CLASSICS ISSUE 47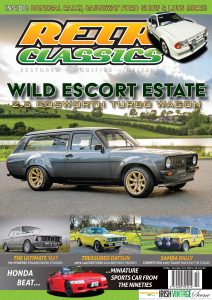 The October to December 2022 issue of Retro Classics is now on sale at good newsagents nationwide, or direct from us by ordering online with FREE POSTAGE. As always, we've a fascinating line-up of machines for you, headed up by the unique machine on the cover – this once-unassuming Ford Escort Mk2 estate has been the subject of a long rebuild by its owner, and now packs a full-house 2.5 Cosworth, sequential gearbox and all the other toys you can think of. Elsewhere in the magazine we take a spin in the smallest sportscar ever in the shape of a modified Honda Beat, tell the story of a cherished Datsun 140J built as a very special birthday present, a stunning BMW 2002 with M3 power and a historic Talbot Samba rally car with a poignant backstory. With a professional's guide to quick show detailing, and reports on Classic Fest, Nenagh Classic Car Show, the Causeway Coast Ford Fair, Donegal International Rally, VAGE Show & Shine, DB on the Quay, Old School New School and the Armagh City Car & Bike Show, it's another bumper issue, so don't miss out – get your copy online, with FREE POSTAGE on the island of Ireland!