Issue 198 IVS & Issue 47 RC
€10.99
Description
IRISH VINTAGE SCENE ISSUE 198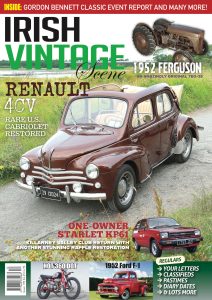 The beautifully quirky classic on our cover this month might be something of a French legend, but this particular example was actually sourced from the United States – this well-restored 1953 Renault 4CV Cabriolet is a dream find for its Renault-mad owner as it was built in the same year he was born, and brings back fond memories of time spent around his uncle's 4CV back in the 1960s. Our second car feature this month is the story behind a true barn-find, a sought-after 1982 Toyota Starlet KP61 that has been restored by the ever-active Killarney Valley Classic & Vintage Club from Co. Kerry at their weekly 'vintage shed' men's shed. This immaculate classic will be raffled off for charity on the 24th of November, but tickets are on sale right up to the draw date, so don't delay if you'd like to be in with a chance to win!
Our tractor feature this month is the tale of a charmingly original 1952 Ferguson TED 20 that had lain unused for many years before being picked up at a UK auction by an Irish enthusiast during lockdown, our featured motorcycle is a hot-rodded Dot Villiers trial-bike powered by a bespoke 360cc engine created by its owner, and our commercial feature tells the story of a simply stunning 1952 Ford F-1 pickup from Cork.
RETRO CLASSICS ISSUE 47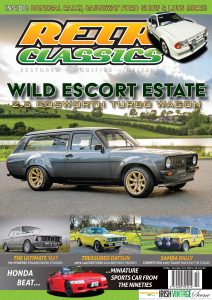 The October to December 2022 issue of Retro Classics is now on sale at good newsagents nationwide, or direct from us by ordering online with FREE POSTAGE. As always, we've a fascinating line-up of machines for you, headed up by the unique machine on the cover – this once-unassuming Ford Escort Mk2 estate has been the subject of a long rebuild by its owner, and now packs a full-house 2.5 Cosworth, sequential gearbox and all the other toys you can think of. Elsewhere in the magazine we take a spin in the smallest sportscar ever in the shape of a modified Honda Beat, tell the story of a cherished Datsun 140J built as a very special birthday present, a stunning BMW 2002 with M3 power and a historic Talbot Samba rally car with a poignant backstory. With a professional's guide to quick show detailing, and reports on Classic Fest, Nenagh Classic Car Show, the Causeway Coast Ford Fair, Donegal International Rally, VAGE Show & Shine, DB on the Quay, Old School New School and the Armagh City Car & Bike Show, it's another bumper issue, so don't miss out – get your copy online, with FREE POSTAGE on the island of Ireland!