Issue 201 IVS & Issue 48 RC
€10.99
Description
IRISH VINTAGE SCENE ISSUE 201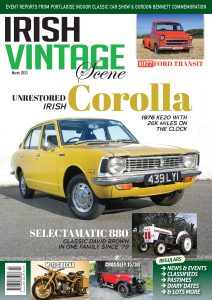 Gracing the cover of the March 2023 issue of Irish Vintage Scene is an amazingly original survivor from Ireland's days of Japanese car assembly – this Toyota Corolla KE20 was sold new in Dublin in 1976, has only covered 26k miles and has spent most of its life in storage, after the owner of its original dealership bought it back in the late seventies. It's never needed restoration outside of some paint and a new pair of front wings, and represents a true glimpse back to how these now-rare cars were when new. In complete contrast, our second car couldn't be any more different, a 1926 Crossley 15/30 tourer that was sold new in Australia and was pieced together from hard-to-find spare parts during an epic restoration in the seventies and eighties. It now calls Ireland its home, and is still well able for the open road as it approaches its 100th birthday.
Our tractor feature this month relates the story of a David Brown 880 Selectamatic that worked hard on the same Co. Cork farm since 1979, but over the last ten years has been completely restored from very poor condition to the beautiful result you see here. Our motorcycle feature delves into the rather complex history of the BMW R71-based Soviet M-72 built from the 1940s onwards, and our commercial feature showcases a totally unique 1977 Ford Transit Mk1 that's gone from camper to tipper to one-off custom pickup over its life, and is now a true show-stopper.
RETRO CLASSICS ISSUE 48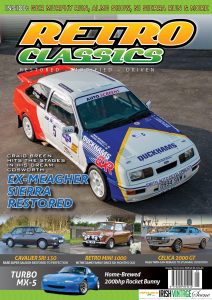 The January to March 2023 issue of Retro Classics is now on sale at good newsagents nationwide, or direct from us by ordering online with FREE POSTAGE. As always, we've a diverse selection of feature cars in this edition, topped by our cover car, which is one of the best-known Irish rally cars of the nineties – D934 SVW is the three-door Ford Sierra Cosworth campaigned in the early nineties by the late, great Frank Meagher, and which gained legendary status when it beat the 4×4 competition to win the 1992 Circuit of Ireland. It's just been restored for its new owner, Craig Breen, and made its debut at the recent Historic Rally of the Lakes in Killarney.
Further into the mag, we also feature a wide-arched Mazda MX-5 with home-built turbo conversion, a stunning Toyota Celica RA28 from the seventies, a concours-level Vauxhall Cavalier SRi 130 and a 1979 Mini that's been in the same family since it was six months old. With a detailing guide on how to deal with car interior disasters, safely clean alloy wheels, a look back at the quirky car ads of decades past and reports from the Gerary Murphy Memorial Run, NI Mourne Ford Sierra Run, the ALMC Sports Car Show, Stormont Classic Car Show, Carlow Vintage & Classic Motor Show, the Ulster Rally and a roundup of the Historics and Modifieds in the Irish Tarmac Rally Championship, there's plenty to get your teeth into in this issue of Retro Classics, so don't miss out