Issue 207 IVS & Issue 50 RC
€12.50
Description
IRISH VINTAGE SCENE ISSUE 207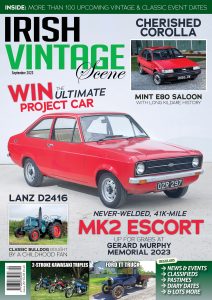 Gracing the cover of the September 2023 issue of Irish Vintage Scene is a rather unique story. We don't need to tell you how sought-after and valuable the Ford Escort Mk2 has become, particularly the two-door models with their motorsport connotations, but the example on our cover this month is not only an unrestored, never-welded example with 41k on the clock, but it's also a raffle prize to be won at this year's Gerard Murphy Memorial Classic Run & Show in Enniscorthy on the 1st of October. Our second featured car is another once-common family motor that's now highly collectable, a Toyota Corolla E80 from 1986 that's remained in its home county of Kildare all its life.
This month's featured tractor is a mighty Lanz Bulldog, a 24-horsepower D2416 bought by a childhood fan of the model, while our commercial vehicle feature looks at the iconic Ford Model TT truck, in this case one that was rebuilt from a bare chassis found as part of a demolished wall! Rounding off our features for this month, our motorcycle story sees us visit a collector and restorer of three-cylinder two-stroke Kawasakis of the 1970s, from Mach I 250 to Mach III 500. Lots of the usual favourites are in there too, including a look back on our own Classic Fest show in Galway Racecourse in July, so don't miss out – get your September 2023 issue of Irish Vintage Scene.
RETRO CLASSICS ISSUE 50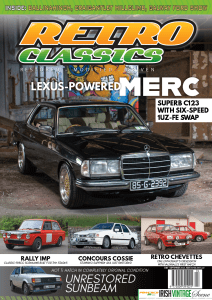 The July to September 2023 issue of Retro Classics is now on sale at good newsagents nationwide, or direct from us by ordering online quickly and conveniently. Once again we've a diverse selection of feature cars in this edition, not least our cover car, a Mercedes C123 Coupe that's not only gone through a full-on, bare-shell restoration at the hands of its enthusiastic owner, but also has had a four-litre quad-cam Lexus 1UZ-FE V8 grafted into the engine bay! Not a straightforward conversion, it required a steering rack conversion and some clever wiring, but the result is a very potent but still refined classic Merc that sounds amazing.
Further into the mag, we also feature a period-perfect rallying Hillman Imp that's decades in the making, a just-restored Ford Sierra Sapphire Cosworth that's probably the very best we've ever seen, a pair of very retro Vauxhall Chevettes from Northern Ireland and a Talbot Sunbeam Ti that has the most unique backstory we've ever heard! With a detailing guide to keep your pride and joy shining at the summer shows, a look back at the often-quirky car ads of decades past, and reports from Galway Ford Show, Craigantlet Hillclimb, Ballynahinch Classic Car Display, the MAAC All-American Car Show, London Classic Car Show, Wexford Spring Challenge, Limerick Cars at the Cathedral and the Causeway Coast Ford Fair at Portrush, there's a whole lot packed between the covers of this issue of Retro Classics, so don't miss out – get your copy at any good newsagent, order a digital edition or click here to order a copy online!