Issue 208 IVS & Issue 51 RC
€12.50
Description
IRISH VINTAGE SCENE ISSUE 208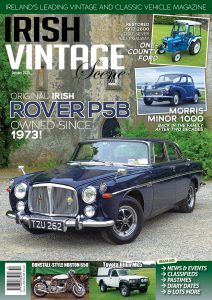 The cover feature of the October 2023 issue of Irish Vintage Scene tells the story of a true survivor, a stately Rover P5B that's been in the same Dublin family since 1973, at which point it was only six months old. In that time it has been stolen twice and had the odd prang, but was always cared for by its owner and remains a very handsome and usable machine today. Our second featured car is another once-common family motor that's now highly collectable, a Morris Minor 1000 that recently returned to its long-time former owner after 22 years apart.
This month's featured tractor is a Ford 2600 tractor that's been restored to absolutely stunning condition by a very enthusiastic young owner, after it was gifted to him by a relative after its long working life. Our commercial vehicle feature looks at a recently restored example of one of the most famous pickup trucks of all time, the Toyota Hilux, while rounding off our features for this month is the story of a unique Dunstall-style Norton 650 motorcycle that is half race bike, half work of art. Lots of the usual favourites are in there too, so don't miss out!
RETRO CLASSICS ISSUE 51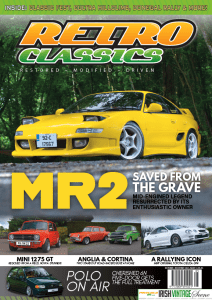 The October to December 2023 issue of Retro Classics is now on sale at good newsagents nationwide, or direct from us by ordering online quickly and conveniently. As always, we've combed the island for some of the most interesting classic and retro machines, starting with our very eye-catching cover car. It's hard to believe now, but about a year ago this Toyota MR2 was sitting in a scrap pile as a parts car, with no engine or gearbox, missing components, faded paint and a rotted sill! Only after a change of heart by its owner did its fortunes turn around, resulting in one more of these mid-engined legends being returned to the road.
Further into the mag, we also feature a Mini 1275 GT that's decades in the making, a beloved VW Polo that's gone from learner car to show stopper, an unrestored Toyota Celica GT4 and a lairy pair of hot Fords – a 1700 crossflow Anglia and ST170-powered Cortina – both built at home. Reports in this issue come from Classic Fest 2023, the Donegal International Rally, Cultra Hillclimb, Here Comes the Sun, Carlow Vintage & Classic Motor Club's Oak Park Show, the Clonmel VCC Car Show and the Celica Ireland Birthday Meet at Slane Castle, along with our regular detailing guide and a look back at the often-quirky car ads of decades past, so don't miss out!