Fast and luxurious but controversially styled and wildly expensive when new, only 500 examples of the Jensen CV8 were built between 1962 and 1966, so you're not exactly tripping over them at classic shows today, no matter what part of the world you're in. So, when offered an autumnal spin in Justin Furnell's beauty, I jumped at the chance.
They say that beauty is in the eye of the beholder. They also say that time heals. Bringing these two observations together rather neatly sums up the Jensen CV8. One of the fastest cars you could buy when released in 1962 to a fascinated public, the CV8 bore a family resemblance to its predecessor, the 541, particularly from the side, but up front it was all change with radical new frontal styling and a whopping 5.9-litre (later 6.3-litre) Chrysler V8 in place of the 541's straight-six Austin engines. This was a true "gentleman's express" and no mistake, with an interior cocooned in wood and leather, an automatic transmission as standard, and four-wheel disc brakes to keep tabs on the 140mph top speed. Exclusivity was a given, thanks to a price in the region of £3,500stg when launched (an E-Type Jag was just over £2,000) and the kind of thirst for fuel that could alarm the most frivolous of playboys, despite the use of a fibreglass and aluminium body.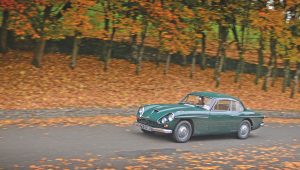 However, there were to be two nails in the CV8's coffin that would see only 500 examples built in all. The first was the styling, which was variously described as controversial, divisive and even downright ugly – the main culprit was the sharply-slanted four-headlamp nose, which didn't go as planned at the design stage when the transparent covers that were supposed to cover the lamps had to be dropped at the eleventh hour. The second, ironically, was the CV8's refined and sporty replacement, the Interceptor, penned to perfection by Vignale and still held aloft today as one of the most handsome grand tourers of all time. Such was the Interceptor's popularity and acclaim that the poor old CV8 instantly looked even more awkward and dated, and so in the couple of decades that followed their values and following took a nosedive. Today, you're far more likely to see an Interceptor than a CV8 at a classic show, even though the former's steel body was decidedly rust-prone.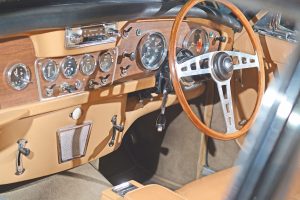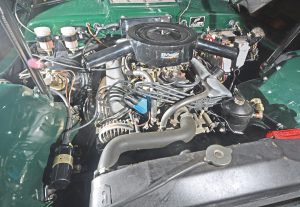 All that said, time has changed perceptions of the CV8. Nowadays it's rightly seen as a rare and distinctive V8 GT with strong mechanicals and chassis, and its styling is more seen as part of its character. Justin Furnell from Co. Limerick has being flying the CV8 flag for ten years now, ever since picking up the 1963 Mk1 model you see here in the UK. Originally registered 5008 DF, it was bought new by a member of top brass at Spirax-Sarco Ltd, and used until 1968. According to the documentation that came with the car it didn't seem to have the most auspicious of beginnings: "it was in and out of the garage in the first few months with minor faults" Justin explains. "In 1966 it was fitted with the later Mk3 dual braking system, had a replacement rear axle and a radiator." The second owners also seem to have done a lot of work on the car, before passing it on again in 1972 to a chap who worked in the film set industry, resulting in it appearing in the background of a car chase in an episode of The Sweeney! The car was stored for some seven years in that man's ownership, and it only emerged again in 1992 when it was sold to a Jensen specialist, who in turn supplied it to the previous owner before Justin.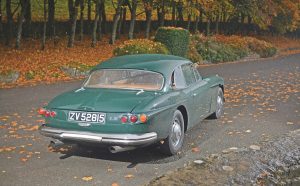 What attracted Justin to this CV8 was its recently-restored condition – the previous owner had completed a body-off restoration, but had only done 800 miles in the car due to a couple of niggly but game-stopping faults. "The brakes would come on by themselves, causing the fluid to boil and seals to melt, resulting in a total loss of brakes" Justin outlines. "With 300bhp, it is easy to keep driving! Also, the car was near impossible to start again once warm." However, as no stranger to classics, with the restorations of an MGB and Triumph TR4A under his belt, he was happy to take on the Jensen as a work in progress, and soon got to the bottom of things. The brake problem turned out to be nothing more than the shaft between the master cylinder and servo being a few millimetres too long, while resetting the float height in one side of the carburettor solved the hot-starting issue. Justin's gone further into the car though, rebuilding the rear axle bearings that had been damaged by the hot brakes, fettling the front and rear springs to improve the ride, and de-rusting and sealing the fuel tank. As he's not shy about driving his classics a lot, he's also added a number of upgrades that don't outwardly spoil the look or character of the CV8, namely adjustable Spax rear shocks, Coopercraft four-pot front brake calipers to replace the old Dunlop items, new brake discs all round, polyurethane suspension bushings, a variable-speed fan controller and an upgraded ignition system centred around an FBO Mopar distributor and ceramic-booted HT leads, necessary because of their close proximity to the exhaust headers. "Most of these CV8s are non-standard, but it makes the car better able to cope with today's motoring" he reasons.
As mentioned, Justin doesn't simply polish and pamper his classics, and you may well have seen this CV8 at any show around the country over the last decade. On the day of our shoot I was quick to accept his invitation for a spin to the picturesque Lough Gur, and jumped into the "first-class carriage" luxury of the passenger seat. A typical damp Irish autumn day, the roads were greasy and replete with fallen leaves, and a couple of quick stabs of the throttle quickly showed us that the big V8 Jensen wasn't going to get many of its ponies onto the road, with the rear wheels coaxed into wheelspin with amusing, but refined, ease. Having originally been unimpressed with the lack of sound from the 361 cubic-inch Chrysler, Justin has fitted a larger-bore exhaust system with wrapped headers, which now sounds just perfect for this luxury GT – by no means raucous or coarse, but with that deep bass rumble that you almost feel more in your chest than hear with your ears. The car certainly feels very together and planted on the road; a fibreglass-bodied 54-year-old car with a big V8 and a separate chassis sounds like a recipe for rattles, squeaks and flexing, but I found it taut and comfortable, testament to Justin's constant quest to improve its driveability (for example, he's considering changing the front poly suspension bushes back to rubber as they are possibly contributing to a little too-much understeer). With the automatic Torqueflyte transmission eagerly lunging through the gears this feels every inch the kind of capable cruiser that could swallow whole continents on a long run, yet the interior brings you right back to the sixties, or even the fifties, with its flat dash strewn with instruments and toggle switches. Indeed, the spindly and almost effective windscreen wipers would probably be the most serious hindrance to progress, at least on a day like this. In 2017 it's very impressive; in 1963, sharing the road with Ford Anglias, VW Beetles, Morris Minors and post-war bangers, it must have been epic.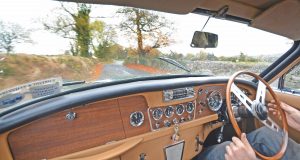 "It's the only British V8 car I've ever wished to own" Justin explains as we swing back into his driveway after a very enjoyable blast through the golden countryside. "It always attracts a lot of interest as people either don't know what it is or have never seen one, as only 500 were ever made." All I know at this stage is I want one, so what do you need to look out for? "A sound chassis is essential, because if it needs major surgery the body has to come off" he advises. "Also, find someone who has good knowledge of fibreglass. Join the Jensen Owners Club; you'd be surprised what's available for these cars, and you'll find recommendations for upgrades, plus you'll also find out whose parts bins Jensen raided to build them!" It might have split opinion back in '62, but today you'd be hard pressed to find someone that wouldn't fall for this gentlemanly express.
---
1963 Jensen CV8 MK1 – Quick Spec
Years Produced: Oct 1962 to October 1963
Body Type: Fibreglass two-door, four-seat coupe on separate chassis
Engine: 5.9-litre overhead-valve Chrysler V8
Transmission: Three-speed Torqueflite automatic (rare manual also offered)
Front Suspension: Independent double-wishbone with coil springs
Rear Suspension: Live axle with leaf springs
Power Output: 305bhp
Top Speed: 136mph
---
Words & Images by Andrew Pollock
This article was originally printed in our December 2017 magazine; all information was correct at the date of original publication.