Upcoming events listed in Irish Vintage Scene magazine:
22nd to 24th April
Imp Club in Ireland weekend in Sligo; for details, call John Sheppard on 087 9883450.
23rd & 24th April
Crosshaven Veteran, Vintage & Classic Motor Club's annual weekend away run to The Park Hotel, Dungarvan, Co. Waterford, with registration on Saturday 23rd at the square, Crosshaven, Co. Cork at 9.30am; for details, call James O'Keeffe on 087 1208515 or Mark Ginn on 087 2650898. For hotel reservations, call 058 42899.
24th April
Duhallow Vintage Club run from Castletownroche, Co. Cork in aid of Mercy Hospital Children's Cancer Ward, with sign on at Blackwater Castle from 10.30am to 12pm, subject to public health guidelines. Cups and trophies presented on the day; for info, call Paul on 086 8437904 or Pat on 087 2252554.
24th April
Wicklow Vintage Club Annamoe Annual Vintage & Tractor & Car Run, starting and finishing at Annamoe Community Hall, Co. Wicklow, A98 EH04 with refreshments and raffle afterwards; for details, call Alec Wolohan on 087 0521020.
24th April
WVVMC Pre-'55 Run, Galway; for further information, call Victor Andrews on 087 9881036.
24th April
Irish Model T Ford Club picnic run, meeting at 10.30am at Adare Machinery, Croom, Co. Limerick and returning at 5pm; for details, call 086 8325769.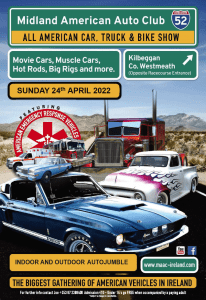 24th April
Midland American Auto Club's All-American Show 2022, opposite the racecourse in Kilbeggan, Co. Westmeath from 11am. Admission €10 per adult, with free entry for accompanied children under 14. This year's event honours the emergency services with a fire engine from New York; for more info, see www.maac-ireland.com, Facebook or Instagram. To book a trade stand, please call Joe on 087 2388400.
24th April
RIAC Cars & Coffee at the RIAC premises on 34 Dawson St, Dublin 2, D02 RF90 from 10am to noon. Tea/coffee and pastries available at €5 per person; for details, call Holly on 01 6775141.
24th April
Bandon Vintage Club vintage car, tractor and motorbike display at Bandon GAA grounds, Co. Cork from 10:30am to 1:30pm, followed by picnic run in aid of Cancer Care Mercy University Hospital, Cork; for details, call Declan on 087 7614425.
24th April
Roughty Valley Vintage Club tractor run from Kilgarvan Village, Co. Kerry; for details, call Trevor on 086 8928769, James on 087 9853091 or Gavin on 087 2428831.
24th April
Ballinasloe & District Vintage Club road run for all vintage and classic vehicles, meeting on Main St, Ballinasloe, Co. Galway; for details, call 089 4440418.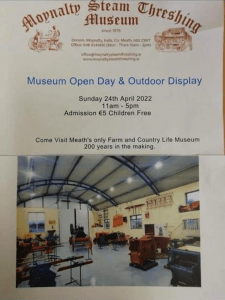 24th April
Open day and outdoor display at Moynalty Steam Threshing Museum, Moynalty, Co Meath, A82 C6K7, from 11am to 5pm. Admission €5, children free; for further information, call 046 9244810 (Mon – Thurs, 10am – 2pm) or see www.moynaltysteamthreshing.ie.
Click here if you want to list your own event.
---
Full list of this year's events is available in the Irish Vintage Scene magazine. Buy the new issue in print or digital using the links below.

---
IRISH VINTAGE SCENE ISSUE 191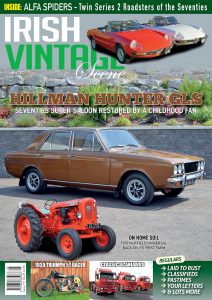 The cover of our May 2022 issue showcases a now-rare, top-of-the-line Hillman Hunter GLS, a luxurious and potent saloon in its day thanks to its twin-carbed 1,725cc Holbay-tuned engine. This one's recently been restored by a life-long fan of the model, as his father bought an identical car brand new in 1973. Our second car feature brings us another sporty pairing, this time two very original Series 2 Alfa Romeo Spiders owned by a former rally driver.
Our tractor feature this month looks at a Nuffield DM4 from 1957 that has spent almost all of its life on one farm, while our two-wheeled feature tells the story behind a very racy 1939 Triumph with a competition background and a multitude of performance modifications. Rounding off the features in this issue, our commercial feature goes to a stunning trio of classic Scania V8 trucks – a 141, 142 and 143 – that are shown with pride by a Dublin-based haulage company.
All of the usual favourites are in there too, so don't miss out – purchase your May 2022 issue of Irish Vintage Scene right here with FREE POSTAGE on the island of Ireland!