Upcoming events listed in Irish Vintage Scene magazine: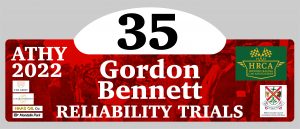 1st to 3rd July: Historic Racing Car Association of Ireland's 1st Gordon Bennett Reliability Trials, open to any type of pre- 1940 vehicle, based at Athy, Co. Kildare; for details, email [email protected] com or call 087 1720009.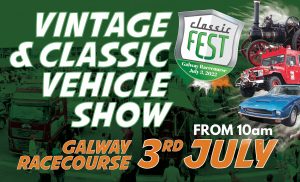 3rd July: Classic Fest 2022. It's back: Irish Vintage Scene's vintage & classic show in Galway Racecourse. For 2022 it's a one-day show, all exhibits pre-2000 are welcome, with free personalised goodie pack for all pre-registered exhibits. To register, go to www.irishvintagescene.ie. Club and trade stands can also register online.
3rd July: Rally Stages Revisited; for details, call Donie Lucey on 086 8545873.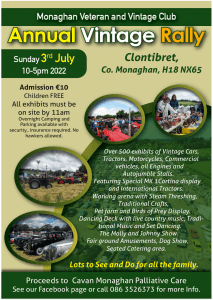 3rd July: Monaghan Veteran & Vintage Club's Annual Rally at Clontibret, Co. Monaghan, H18 NX65; for details, call Robert on 086 3526373 or see their Facebook page.
3rd July: Garaden fete and vintage show at Rathfreagh Cheshire Home, Newcastle West, Co. Limerick, V42 RW63, with music and stalls, for more info, call Catherine on 069 83294 or Helen on 069 83281.
3rd July NOTE CORRECTED DATE: David Brown Tractor Rally at Griffin's Garden Centre, Dripsey, Co. Cork, P12 PP79, in aid of the Irish Community Air Ambulance. All David Brown tractors welcome, and trailer parking provided. All spectators welcome; for details, call 086 8435645.
POSTPONED UNTIL AUGUST 28th: Donegal Vintage & Classic Car Club's annual run. Venue to be confi rmed; for details, call Eunan Kelly on 087 2366924 or Donal McGettigan on 087 9370679.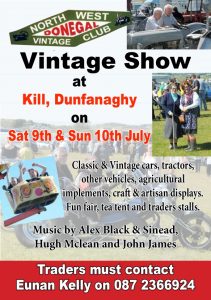 The Carrigart Vintage Rally due to take place in Carrigart Co Donegal has had a change of venue to Dunfanaghy Co Donegal the date remains the same. See flyer attached.
Click here if you want to list your own event.
---
Full list of this year's events is available in the Irish Vintage Scene magazine. Buy the new issue in print or digital using the links below.
---
IRISH VINTAGE SCENE ISSUE 193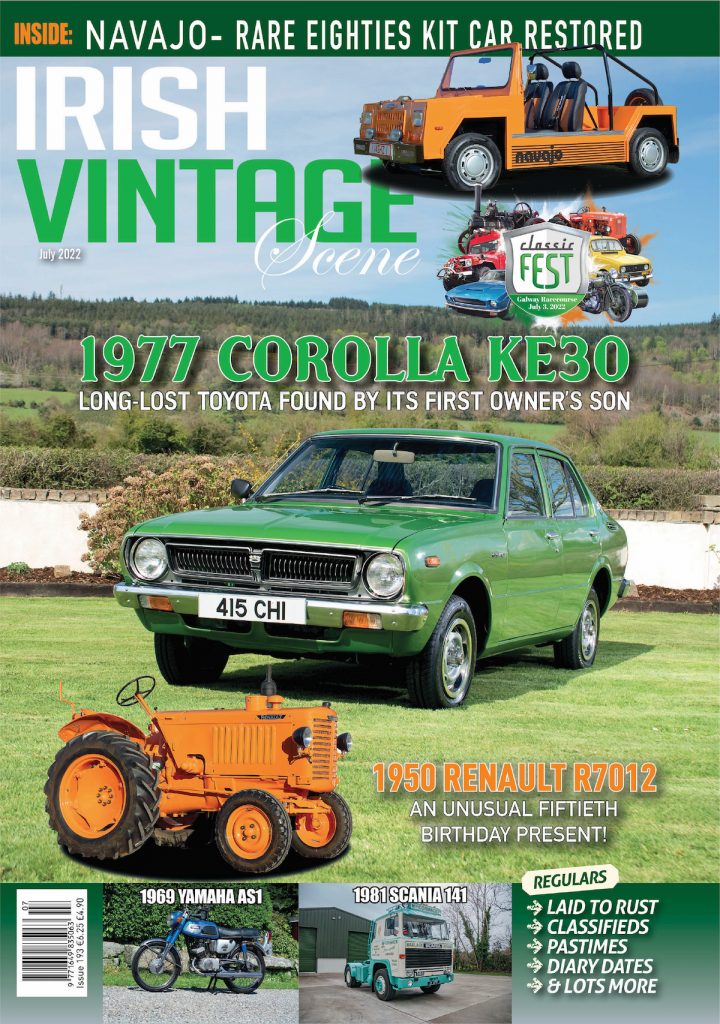 The cover of our July 2022 issue goes to a heartening story for anyone that's been searching for a long-lost car from their past. This Toyota enthusiast had been looking to buy a Corolla KE30 due to fond memories of the one his father bought new in 1977, and unwittingly managed to buy that very car after it had been on the missing list for over forty years! Now fully restored, unlikely to ever leave his family again. Our second featured car is a real rarity, one of just twelve Langridge Navajo kit-cars sold in the mid-eighties and is just fresh out of a comprehensive rebuild in Northern Ireland.
Our tractor feature this month tells the story of a 1950 Renault R7012 that was a surprise birthday present for its owner, who now uses it for vintage ploughing matches. Our motorcycle feature outlines one fan's love for his very original 1969 Yamaha YAS1, and our commercial feature showcases a Scania 141 and Volvo F10 owned by a Longford family steeped in haulage.
All of the usual favourites are in there too, so don't miss out – buy your July 2022 issue of Irish Vintage Scene right here with FREE POSTAGE on the island of Ireland!