Upcoming events listed in Irish Vintage Scene magazine:
16th July: Retro Classic Car Show at Rossinver Community Centre, Co. Leitrim, F91 NY6V, starting at 11am. Entry €20 per car, in aid of Rossinver Youth Project CLG, registered charity number CHY1812; for details, call 071 9832970.
16th July: Munster Vintage Motor Cycle & Car Club's 65th Cork Veteran Run, starting at Keary's BMW, Little Island, T45 DX63, with registration from 9.30am; for more details, call Alan on 085 7399549 or email [email protected]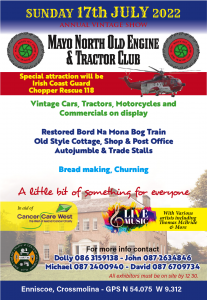 17th July: Mayo North Old Engine & Tractor Club's annual vintage show and field day at Enniscoe, Crossmolina, Co. Mayo; for details, call John on 087 2634846 or Frank on 087 9852826.
17th July: Donegal Vintage & Classic Car Club Bundoran Show at the West End Car Park, supporting Discover Bundoran; for details, call Donal McGettigan on 087 9370679 or Eunan Kelly on 087 2366924.
17th July: Ballyfin Vintage & Veteran Club's annual rally & threshing day at Ballylusk, Ballyfin, Co. Laois; for details, call Pat on 087 7824481.
17th July: Knockbridge Vintage Club road run from Knockbridge, Co. Louth; for details, call Richard on 087 9763355 or see the club Facebook page and website.
17th July: Duhallow Vintage Club's Joe Weathers Memorial Tractor Run from Meelin Village, Co. Cork; for details, call Pat on 087 2252554 or Rose on 087 2262223.
17th July: Meath Vintage Group's Spark Plug Run, open to petrol or TVO tractors only; for details, call Bartle Browne on 087 2516771.
17th July: Yesteryear Motor Club meet at Scanlon's Yard car park, Dungarvan, Co. Waterford, X35 NT68 at noon. All cars welcome; for details, call Noel on 087 9700720.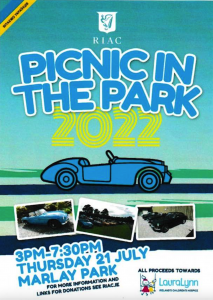 21st July: RIAC Picnic in the Park at Marlay Park, Dublin from 3pm to 7.30pm, with all proceeds going to Lauralynn Children's Hospice; for details, email peter. [email protected] or [email protected]
Click here if you want to list your own event.
---
Full list of this year's events is available in the Irish Vintage Scene magazine. Buy the new issue in print or digital using the links below.

---
IRISH VINTAGE SCENE ISSUE 194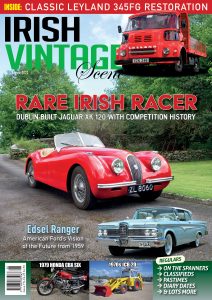 The cover of our July 2022 issue goes to a heartening story for anyone that's been searching for a long-lost car from their past. This Toyota enthusiast had been looking to buy a Corolla KE30 due to fond memories of the one his father bought new in 1977, and unwittingly managed to buy that very car after it had been on the missing list for over forty years! Now fully restored, unlikely to ever leave his family again. Our second featured car is a real rarity, one of just twelve Langridge Navajo kit-cars sold in the mid-eighties and is just fresh out of a comprehensive rebuild in Northern Ireland.
Our tractor feature this month tells the story of a 1950 Renault R7012 that was a surprise birthday present for its owner, who now uses it for vintage ploughing matches. Our motorcycle feature outlines one fan's love for his very original 1969 Yamaha YAS1, and our commercial feature showcases a Scania 141 and Volvo F10 owned by a Longford family steeped in haulage.
All of the usual favourites are in there too, so don't miss out – buy your July 2022 issue of Irish Vintage Scene right here with FREE POSTAGE on the island of Ireland!