Upcoming events listed in Irish Vintage Scene magazine:
10th to 12th June: Irish Veteran & Vintage Car Club International Gordon Bennett Rally for cars up to 1930; for further details, see www.ivvcc.ie.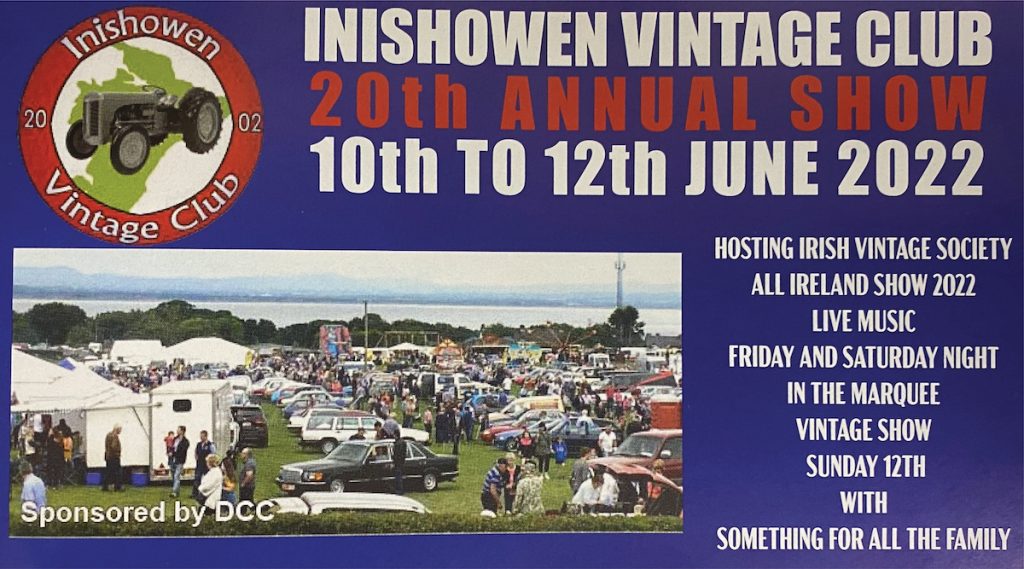 10th to 12th June: INISHOWEN VINTAGE CLUB 20th ANNUAL SHOW, hosting Irish Vintage Society All Ireland Show 2022, for more details call Noel on 086 6062038
11th June: Donegal Vintage & Classic Car Club Kerrykeel Show at Kerrykeel Village, in conjunction with North West Donegal Vintage Club; for info, call Michael Whoriskey on 086 3709117 or Eunan Kelly on 087 2366924.
11th & 12th June: Aherla & District Vintage Club High Nelly run on Sat at 7pm followed by dog show at 8pm and karaoke night in Hickey's Bar, Aherla, Co. Cork at 10pm. Classic car and tractor Run on Sunday morning, with registration from 10.30am in Hickey's Bar; for details, call Adrian on 086 3559680.
12th June: Duhallow Vintage Club run from Cois Abhann, Freemount, Co. Cork, subject to public health guidelines, with sign-on from 10.30am to 12pm; for details, contact Pat on 087 2252554, Rose on 088 2262223 or John on 087 2989277.
12th June: North East Vintage Car Club memorial run from the Valley Inn, Dunleer, Co. Louth, with further details to follow; for info, call 087 7512712.
12th June: Wicklow Vintage Club's Hannah O'Byrne Memorial Vintage & Classic Vehicle Show & Family Fun Day from 11am at the Rathdrum Rugby Grounds, Rathdrum, Co. Wicklow, A67 X045; for details, call James on 086 1030761.
12th June: Tullow Vintage Club's annual show at Rathwood Home & Garden Centre, Tullow, Co. Carlow; for details, call Marie on 087 7619492 or Michael on 087 2675661.
Click here if you want to list your own event.
---
Full list of this year's events is available in the Irish Vintage Scene magazine. Buy the new issue in print or digital using the links below.

---
IRISH VINTAGE SCENE ISSUE 193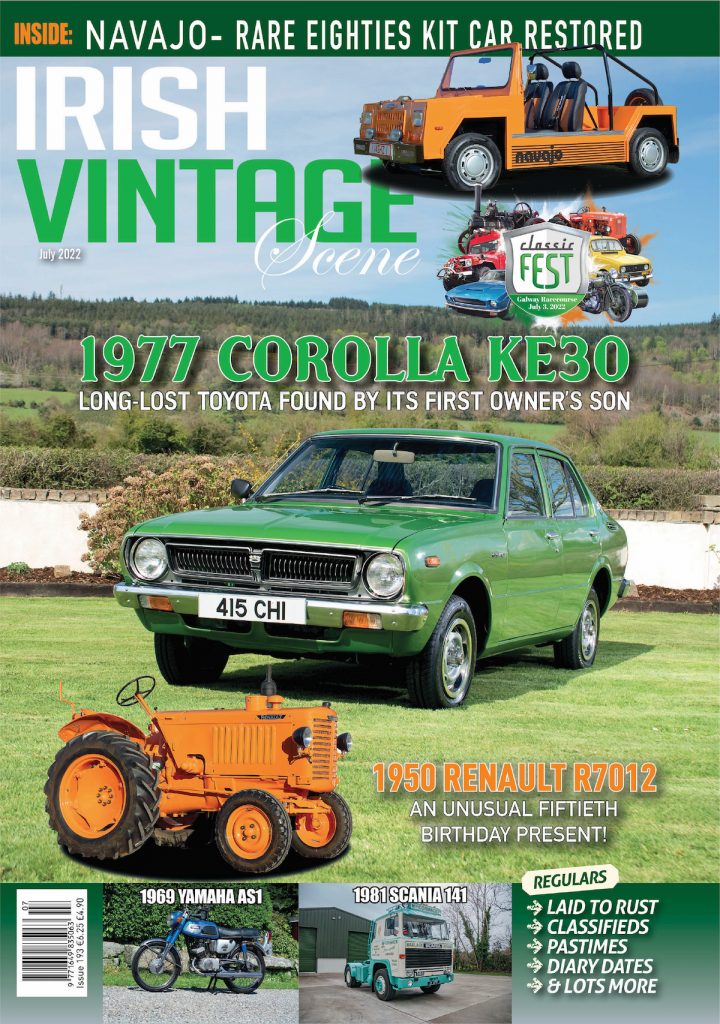 The cover of our July 2022 issue goes to a heartening story for anyone that's been searching for a long-lost car from their past. This Toyota enthusiast had been looking to buy a Corolla KE30 due to fond memories of the one his father bought new in 1977, and unwittingly managed to buy that very car after it had been on the missing list for over forty years! Now fully restored, unlikely to ever leave his family again. Our second featured car is a real rarity, one of just twelve Langridge Navajo kit-cars sold in the mid-eighties and is just fresh out of a comprehensive rebuild in Northern Ireland.
Our tractor feature this month tells the story of a 1950 Renault R7012 that was a surprise birthday present for its owner, who now uses it for vintage ploughing matches. Our motorcycle feature outlines one fan's love for his very original 1969 Yamaha YAS1, and our commercial feature showcases a Scania 141 and Volvo F10 owned by a Longford family steeped in haulage.
All of the usual favourites are in there too, so don't miss out – buy your July 2022 issue of Irish Vintage Scene right here with FREE POSTAGE on the island of Ireland!