Upcoming events listed in Irish Vintage Scene magazine:
22nd May: North Galway Vintage & Heritage Club's Mega Autojumble & Club Vintage Display in Glenamaddy Equestrian Centre, Glenamaddy, Co. Galway from 9am. Traders by invitation only; for details, call Danny on 086 8510445, Ted on 087 2724963 or Peter on 086 2478129.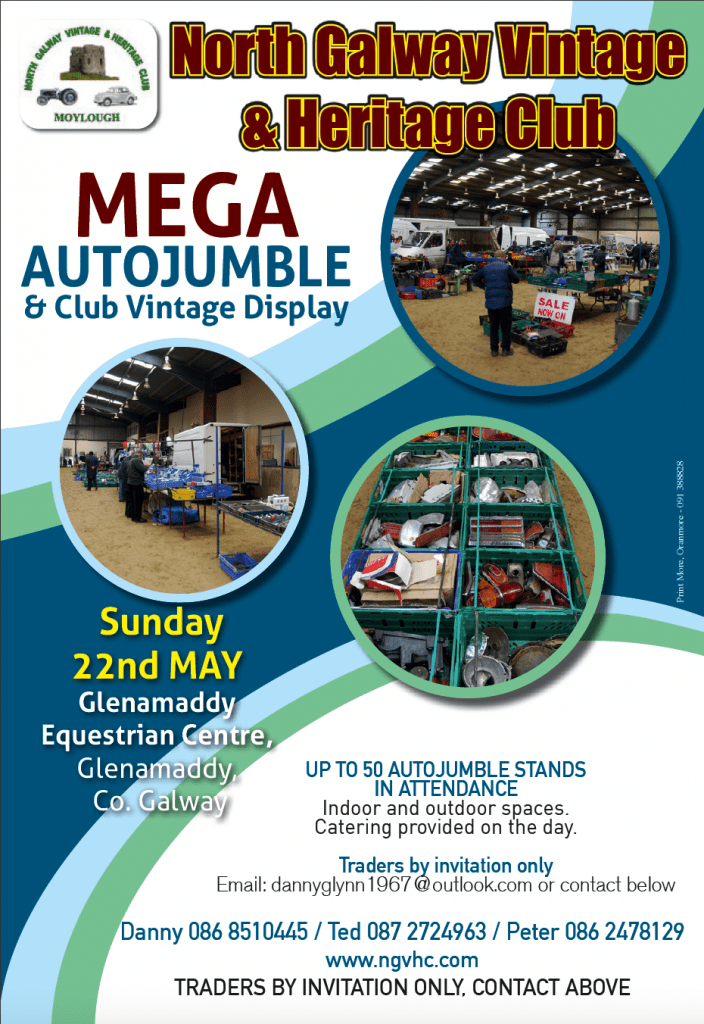 22nd May: Irish Model T Ford Club spring run from the craft centre, Knocknaveigh, Virginia, Co. Cavan, A82 V0P1, with light refreshments at 10.30am; for details, call 086 8325769.
22nd May: West Cork Vintage Club's annual vintage run, starting from Clonakilty Railway Village at 12.30pm. All vintage and classic cars welcome; for more details, call Anthony on 086 3566629.
22nd May: Knockaderry Charity Vintage Road Run, in aid of Milford Care Centre, starting from Halla Mor, Knockaderry, Co. Limerick. Registration from 11.30am, and €20 per vehicle; for more details, call 083 8003900 or 086 8846478.
Click here if you want to list your own event.
---
Full list of this year's events is available in the Irish Vintage Scene magazine. Buy the new issue in print or digital using the links below.

---
IRISH VINTAGE SCENE ISSUE 192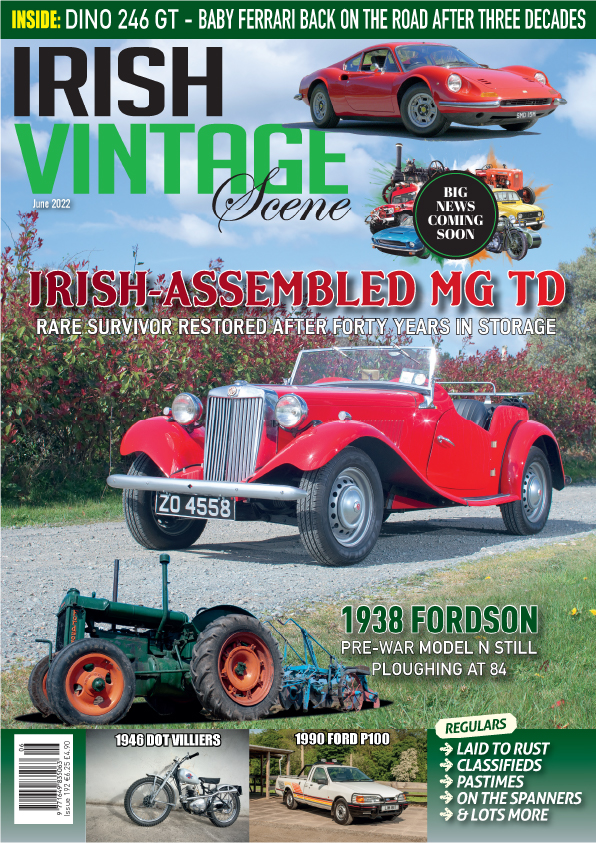 The cover spot of our June 2022 issue goes to a beautiful rarity in the form of a Dublin-assembled 1952 TD, which had lain as an unfinished project for many decades following the tragic passing of its owner. It's recently been restored, and is now back on the road in the summer sunshine. Our second car story outlines the efforts that one enthusiast went to in order to recommission a Ferrari Dino 246 GT after several decades in dry storage.
Our tractor feature this month looks at a 1938 Fordson Model N that, despite its great age, is still a regular entrant in ploughing competitions and is a source of great enjoyment for its owner and his young daughter. Our motorcycle feature outlines the restoration of a rare 1940s rigid-frame Dot Villiers trials bike that was sourced as a project from the Dot factory itself, and our commercial feature showcases the stunning result of a full restoration on a Ford Sierra P100 pickup that's been with one family since new.
All of the usual favourites are in there too, so don't miss out – buy your June 2022 issue of Irish Vintage Scene right here and receive it before it's in the shops, with FREE POSTAGE on the island of Ireland!