Little Wonder from Down Under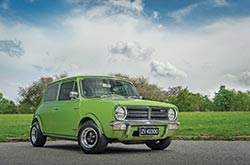 At first glance Shay Martin's Mini Clubman looks much like any other well-restored beauty, but closer examination will reveal a whole host of unusual features that mark it out as an Australian-built model rarely seen in the Northern Hemisphere.
Life Begins at 65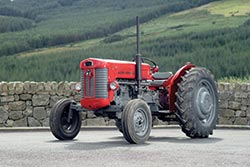 Despite the massive popularity of the marque in this country you don't come across many examples of Massey Ferguson's 65 at the vintage shows, as when new they were considered a large and expensive machine in comparison with the evergreen 35. Seamus Maguire's restored '64 is therefore a rare treat.
Mister Popular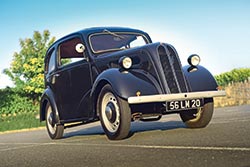 All iterations of the Ford Popular/Anglia have been massive successes for old Henry, but the so-called "sit-up-and-beg" 103E and E494A models are remembered by several generations for their loyal service in the austerity of the post-war era. Andy Farrell's is one of these treasured examples.
Freshly Brewed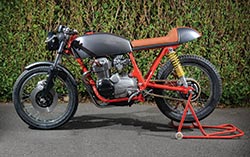 The café-racer genre of motorcycle customisation is one that's been around since the sixties, but has enjoyed a huge resurgence in recent years. The venerable Honda CB family of four-cylinder bikes has become a popular basis, and when they look as good as Ben Doran's example, you can see why.
The Roving Eye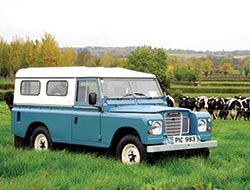 December 2015 saw the end of an era with the termination of production of the Land Rover Defender, a vehicle that can draw its lineage right back to the original Land Rover Series 1 of 1948. The classic Land Rover models are both collectable and highly practical, as this fine Series 3 attests.

SHOW REPORTS….COUNTRYWIDE
Citroen 2CV Rally 2015

WWCVVC Baltinglass Classic Run

Blessington VCMC 30th Anniversary Autumn Run

Broomhill Vintage Club Autumn Festival

Causeway Coast Truck Fest

DeCourcey Harvest Day 2015

Bray VCC's 7th Annual 'Original Garden of Ireland Run'

IJDC Weekend in West Cork

South Donegal Vintage & Heritage Club's Rose Duffy Memorial Show

Debra Ireland Classic Car Show & Family Day

The 16th Annual Mountbellew Vintage Rally

60th Annual Cork Veteran Car & Motorcycle Run

Ballinakill Vintage & Classic Owners Club Indoor Motorshow

Swords Classic Car Sale, Show & Autojumble

Dalkey Vintage Festival

WVVMC West Run

Ted's Opel/Vauxhall Run
Regulars
News & Events The latest developments from all over Ireland and abroad.
Diary Dates The most comprehensive list of upcoming events in Ireland.
Club Scene A dedicated section open to every club in Ireland to promote itself and its events.
Your Letters Have your say and get it off your chest; this is your place to say what you really think.
Laid to Rust A monthly pictorial of vehicles that are rusting away in the peace of our countryside.
Past Times Ireland's best-known motoring historian, Bob Montgomery looks back at motoring and motoring events in the early days.
Model Scene News from the ever-growning world of model collecting.
Tales From Over the Water The often offbeat stories of our roving overseas reporter, Roger Hamlin.
Retrospect A page of old and nostalgic motoring photos sent in by our readers.
Classifieds Looking for a classic? Well this is Ireland's only dedicated marketplace.
Behind the Wheel Dick Byrne looks back at his memories of motoring in the last century.