Economy Drive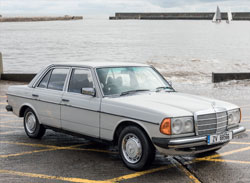 When Paul Clarke decided that his Mercedes 230E was a little too fond of petrol to be used as regularly as he'd like, the pragmatic engineering of these cars meant that, instead of selling up and buying another, he had a diesel engine from a 240D swapped in instead. The result has carried him over 12,000 trouble-free miles already, with many more to come.
The Townie Tractor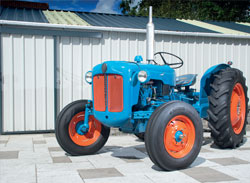 After it fi nished its working life in 1984, the Kinane family's Fordson Dexta spent thirty years in the briars, slowly dissolving into the ground. However, despite looking like a prime candidate for Laid to Rust, it's now been restored and is doing the rounds at the vintage shows, and still in the same family.
French Fancy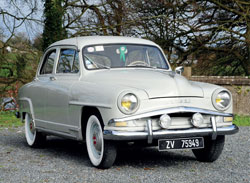 Although sold in Ireland in decent quantities in their day, most mentions of Simca these days will elicit a blank stare, as the marque's been dormant since the 1980s. This Aronde Elysee from 1956 is an amazingly original and unrestored example that's recently arrived on Irish shores.
The Mother of Invention 2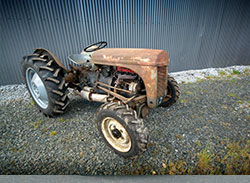 In last month's issue we featured Dan O'Connor's Commerpowered Ferguson 20, an example of how an owner's ingenuity can yield a unique but effective result. Well, we've another unique grey Fergie for you this month, built up with odds and ends to become a really handy turf tractor on the bogs of Co. Kerry.
On Yer Bike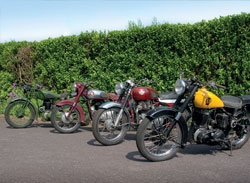 You never really know what's lying behind any garage door. Tucked away in Dan O'Connor's garage is not only a lovely collection of classic British machines, but also keepsakes from a two-wheeled motorsport career of some note, which hark back to a very diff erent time in motoring, and in our country.
Sign of the Thames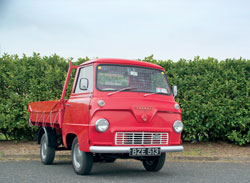 Produced from 1957 to 1965, and precursor to the Transit, Ford's Thames 400E, known in Ireland as the Thames 800, was a hugely popular model and was part of our streetscapes for a good twenty years. Today they're a rare sight, and Tommy Smith and his friends put in a lot of graft to get this pickup back on the road in such beautiful condition.
SHOW REPORTS….COUNTRYWIDE
Galway Auto Meet
WVVMC Frank Mullan Run
GOIVCC Scottish Trip
Carrickmacross Easter Sunday Vintage Run
Spring Challenge 2019
Swords Spring Classic Car Sale, Show & Autojumble
Regulars
News & Events The latest developments from all over Ireland and abroad.
Diary Dates The most comprehensive list of upcoming events in Ireland.
Club Scene A dedicated section open to every club in Ireland to promote itself and its events.
Your Letters Have your say and get it off your chest; this is your place to say what you really think.
Q&A Each month we pitch a motoring question at Irish Vintage Scene's regular contributors.
Laid to Rust A monthly pictorial of vehicles that are rusting away in the peace of our countryside.
Past Times Ireland's best-known motoring historian, Bob Montgomery looks back at motoring and motoring events in the early days.
Model Scene News from the ever-growning world of model collecting.
Gerry's Gems Motoring historian Gerry Barrett's monthly look at some of his vintage and classic favourites.
Tales from Over the Water Clare-man PJ Francis shares with us his old vehicle adventures in the United States.
Retrospect A page of old and nostalgic motoring photos sent in by our readers.
Classifieds Looking for a classic? Well this is Ireland's only dedicated marketplace.
Behind the Wheel Dick Byrne looks back at his memories of motoring in the last century.