Leading from the Front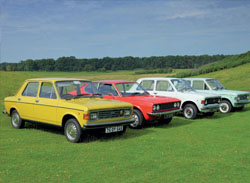 Renowned motoring journalist and author L. J. K. Setright once wrote that the Fiat 128 was, "the most important and influential car since Ford furnished motoring to the masses". Likewise, motoring writer Jamie Kitman described it as, "the pioneer of all small cars we drive today." Fifty years on, the 128 is almost forgotten, except for a few brave enthusiasts whose devotion to the marque keeps us reminded of what a splendid little family car it was.
Brennan's Best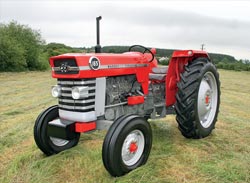 One of the original 'Red Giant' range launched by Massey Ferguson in the mid-sixties, the 165 might not have been as numerous in Ireland as its little brother, the 135, but is equally recognised and cherished today. The Brennan brothers' beauty has just emerged resplendent from a full restoration.
Blackbird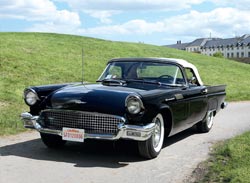 Hailed by many as one of the most attractive and elegant American cars of all time, the '57 Thunderbird was Ford's retort to Chevrolet's Corvette before morphing into a much larger, less sporting car in the years that followed. You don't come across them often on this side of The Pond, and Marie Cunningham's black beauty shows us what we've been missing.
Industrial Revelation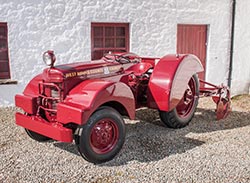 Just when you thought you'd seen every possible variant of the evergreen Ferguson TE20 platform, serial Ferguson collector and restorer Raymond Browne rolls out his stunning and rare TEP 20, which is bristling with unusual features.
Black Beauty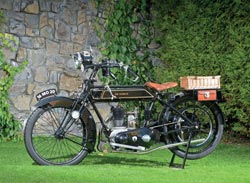 Acclaimed as some of the very fi nest motorcycles available in their time, the Sunbeam motorcycles of the 1910s to late 1930s had a fi t and finish that was matched only by their engineering and performance. Brendan Kelly's 1916 3.5hp is still as effective a mode of transport today as it was over a century ago, following the completion of its restoration in the mid-1990s.
The Long Haul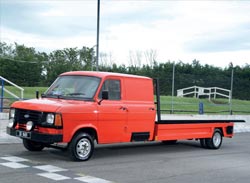 An icon of modern commercial transportation, the Ford Transit has appeared in a myriad of different formats and variants over its almost 55-year existence, from ice-cream van to mobile crane. However, few could beat Paddy Keating's 1986 crew-cab recovery truck for sheer impressiveness, as it was custom-built to his very own requirements.
SHOW REPORTS….COUNTRYWIDE
Cultra Ferguson Working Day
Classic & Old Skool Show
Shane's Castle Steam Rally
Skerries 100 Road Races
The 40th Charleville Show
Kilkenny Motor Club Show
Beaulieu International Autojumble
AMS Vintage & Steam Woodworking Show
The 55th National Steam Rally, Stradbally
Regulars
News & Events The latest developments from all over Ireland and abroad.
Diary Dates The most comprehensive list of upcoming events in Ireland.
Club Scene A dedicated section open to every club in Ireland to promote itself and its events.
Your Letters Have your say and get it off your chest; this is your place to say what you really think.
Q&A Each month we pitch a motoring question at Irish Vintage Scene's regular contributors.
Laid to Rust A monthly pictorial of vehicles that are rusting away in the peace of our countryside.
Past Times Ireland's best-known motoring historian, Bob Montgomery looks back at motoring and motoring events in the early days.
Model Scene News from the ever-growning world of model collecting.
Gerry's Gems Motoring historian Gerry Barrett's monthly look at some of his vintage and classic favourites.
Tales from Over the Water Clare-man PJ Francis shares with us his old vehicle adventures in the United States.
Retrospect A page of old and nostalgic motoring photos sent in by our readers.
Classifieds Looking for a classic? Well this is Ireland's only dedicated marketplace.
Behind the Wheel Dick Byrne looks back at his memories of motoring in the last century.