Angle of Attack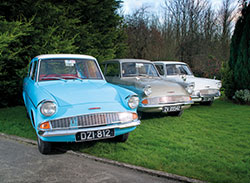 As we bid farewell to 2019, we look back on one of the most talked-about automotive anniversaries of the year: the Ford Anglia 105E is sixty years young, and to mark the occasion we meet up with two passionate fans of the model to chat about their pride and joy.
The Forde Dexta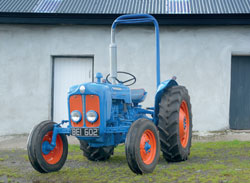 When his father traded in the family Fordson Dexta in the late seventies Vincent Forde from Sligo thought that was that. However, after an almost forty-year absence, it's been tracked down and restored to look just like it did when bought new in '62.
Farina Way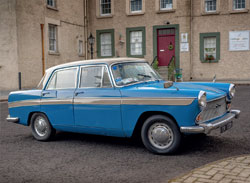 These days the Pininfarina name is most associated with expensive and flamboyant Ferraris, but in the late fifties and early sixties the famous Italian design house made its mark on a humble family saloon that could be found on every street corner in Ireland. 2019 marked the sixtieth anniversary of the Farina-styled BMC saloons, and to mark the occasion we caught up with the Irish rep of the Cambridge-Oxford Owners Club and his LHD Austin Cambridge, which might not be a concours contender but has quite an unusual history behind it.
Longford's Grand Marshall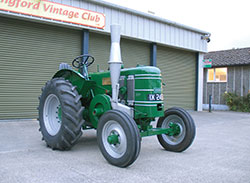 Any restoration is a challenge, but when you've a club of enthusiasts coming together it will certainly make lighter work of the project. The Longford Vintage Club recently unveiled the fruits of their recent restoration, and they have done this original Longford registered Field Marshall Series 2 proud.
Precision Instrument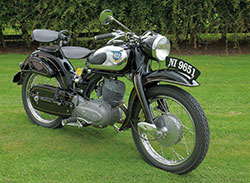 Restoration is all about the detail, and detail is what Fred Hennessy is about. Fred and his remarkable machines have been featured on these pages before, so at this stage he could merit the title of serial restorer. Not a man to content himself with getting something right, it has got to be perfect, even if that means going to extraordinary lengths. The result is a bike that is considerably better than when it left the NSU factory in Neckarsulm, Germany more than sixty years ago.
The Hi Life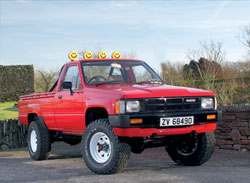 A worldwide icon of durability and dependability, the Toyota Hilux is quite possibly the most no-nonsense vehicle you could think of. Yet, today the earlier models from the seventies and eighties, and even nineties, are rapidly becoming highly-collectable classics thanks to their ever-advancing age. This Australian import is the fi nest you could hope to find anywhere.
SHOW REPORTS….COUNTRYWIDE
Ballincollig Vintage Motor Club Show
Carlow Vintage & Classic Motor Show
Tullamore Diecast, Toy & Model Show
Cork Veteran Run  GO Classic Bike Festival
Dundalk Motor Show & Family Fun Day
Cortina Enthusiasts Ireland Autumn Run
Millstreet Vintage Club Charity Truck Run
Regulars
News & Events The latest developments from all over Ireland and abroad.
Diary Dates The most comprehensive list of upcoming events in Ireland.
Club Scene A dedicated section open to every club in Ireland to promote itself and its events.
Your Letters Have your say and get it off your chest; this is your place to say what you really think.
Q&A Each month we pitch a motoring question at Irish Vintage Scene's regular contributors.
Laid to Rust A monthly pictorial of vehicles that are rusting away in the peace of our countryside.
Past Times Ireland's best-known motoring historian, Bob Montgomery looks back at motoring and motoring events in the early days.
Model Scene News from the ever-growning world of model collecting.
Gerry's Gems Motoring historian Gerry Barrett's monthly look at some of his vintage and classic favourites.
Tales from Over the Water Clare-man PJ Francis shares with us his old vehicle adventures in the United States.
Retrospect A page of old and nostalgic motoring photos sent in by our readers.
Classifieds Looking for a classic? Well this is Ireland's only dedicated marketplace.
Behind the Wheel Dick Byrne looks back at his memories of motoring in the last century.