Original of the Species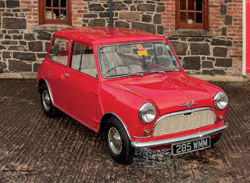 The legendary Mini might have been a runaway success in its time, but survivors of its first year of production in 1959 are few and far between. This 61-year-old stunner is the 38th- oldest Mini in existence, and is kept in tiptop shape by a former Morris apprentice.
Fully Loaded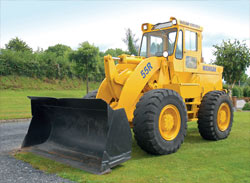 The Michigan brand has long since disappeared from earthmoving equipment, but their machines live on in the memory of many enthusiasts. Tom Butler from Co. Limerick has just restored this 1960 55R, which has worked in his locality all of its life.
T Resurrection – Part 1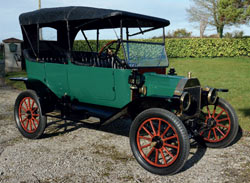 As you enter the village of Rathmolyon in Co. Meath you are met by a mural depicting the nature of the village. Prominent is a very lifelike impression of John Brady's Ford Model T featured in an early edition of Irish Vintage Scene, a remarkable Lazarus-type restoration of a car that spent much of its time in the locality. More recently, John has embarked on yet another marathon, in the form of another impressive Model T from 1914.
A Gift Horse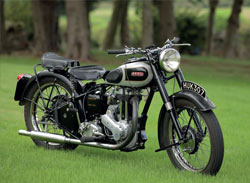 Memories of the Ariel NG that Matt McBride received for his seventeenth birthday have stayed with him all his life, and prompted a very special gift from his family for his ninetieth birthday last year.
Busy Bee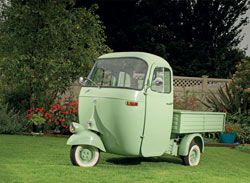 For his first full-on classic restoration, Liam Gleeson wanted to tackle something different from the norm, but small enough to be manageable on his own. He certainly found that with his 1965 Piaggio Ape, which was a Valentine's Day gift from his wife, Ger – after three years of work and much research and hard work, it's now a gleaming example of a rarely-seen commercial in this country.
Regulars
News & Events The latest developments from all over Ireland and abroad.
Diary Dates The most comprehensive list of upcoming events in Ireland.
Your Letters Have your say and get it off your chest; this is your place to say what you really think.
Q&A Each month we pitch a motoring question at Irish Vintage Scene's regular contributors.
Rusty Staples William Carson's bi-monthly trawl through his classic magazine collection.
Laid to Rust A monthly pictorial of vehicles that are rusting away in the peace of our countryside.
Past Times Ireland's best-known motoring historian, Bob Montgomery looks back at motoring and motoring events in the early days.
Model Scene News from the ever-growning world of model collecting.
Tales from Over the Water Clare-man PJ Francis shares with us his old vehicle adventures in the United States.
On The Spanners A look at the restoration projects going on in sheds all over the island.
Retrospect A page of old and nostalgic motoring photos sent in by our readers.
Classifieds Looking for a classic? Well this is Ireland's only dedicated marketplace.
Behind the Wheel Dick Byrne looks back at his memories of motoring in the last century.