One-Family Fiesta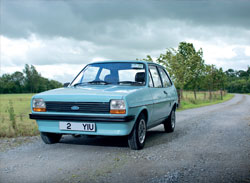 This unassuming little Ford Fiesta has been part of David O'Callaghan's family ever since it was bought new in Co. Limerick in 1981, and has survived teenage drivers and a shed roof collapse en route to its present beautiful condition.
Brown is Better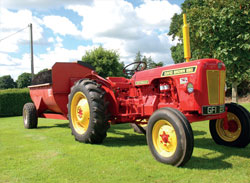 Last month we dropped in on Tom Butler to check out his restored 1960 Michigan loader, but while we were there we saw some more of his collection of classic David Brown tractors, which refl ect his long-standing love for this famous marque.
T Resurrection – Part 2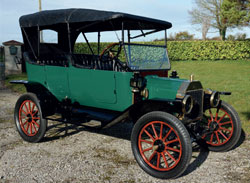 Last month we brought you the first instalment of the restoration story of John Brady's 1914 Ford Model T. This month we conclude the project work and show you the finished article, after a mammoth amount of time and effort on John's part.
Great Scot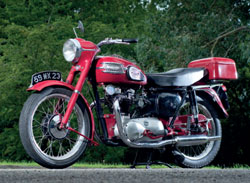 Having completed many two-wheeled trips and two-wheeled restorations over the years, life-long motorcyclist Dr Austin O'Sullivan was in the process of winding down his motorcycling activities a few years ago, but the allure of this Scottish-based '59 Triumph Speed Twin proved too much to resist. Here, Wexford-based Austin outlines his biking career and how it led up to the purchase of this very fi ne Turner twin.
Surprise Recovery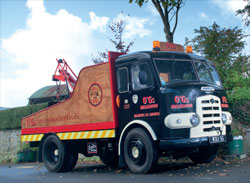 You don't come across many Commer Karrier trucks of any vintage, never mind one with an original old Limerick registration. Regular readers may recognise the reg number of this 1963 example, but not recognise the truck it's attached to. Read on for the unique story of this rare machine.
Regulars
News & Events The latest developments from all over Ireland and abroad.
Diary Dates The most comprehensive list of upcoming events in Ireland.
Your Letters Have your say and get it off your chest; this is your place to say what you really think.
Q&A Each month we pitch a motoring question at Irish Vintage Scene's regular contributors.
Rusty Staples William Carson's bi-monthly trawl through his classic magazine collection.
Laid to Rust A monthly pictorial of vehicles that are rusting away in the peace of our countryside.
Past Times Ireland's best-known motoring historian, Bob Montgomery looks back at motoring and motoring events in the early days.
Model Scene News from the ever-growning world of model collecting.
Tales from Over the Water Clare-man PJ Francis shares with us his old vehicle adventures in the United States.
On The Spanners A look at the restoration projects going on in sheds all over the island.
Retrospect A page of old and nostalgic motoring photos sent in by our readers.
Classifieds Looking for a classic? Well this is Ireland's only dedicated marketplace.
Behind the Wheel Dick Byrne looks back at his memories of motoring in the last century.