Retro Classics Issue 19 (Oct. to Dec. 2015)
€5.95
Description
The October to December 2015 issue of Retro Classics Magazine goes on sale today, and as always is packed with features and event reports from the world of classic, retro and motorsport cars in Ireland. On the cover of this issue is a Fiat 131 Abarth replica that's been grabbing attention and scooping prizes wherever it's appeared this year – built not as a rally contender but as an out-and-out show car, it's the culmination of a thirty-year dream for the owner. We also look at an upgraded example of one of the most underrated and exotic sports cars of the eighties, the Renault Alpine GTA, before stepping back to the sixties with a beautiful classic Ford Mustang coupe and a VW Karmann Ghia . On a classic competition theme we feature an MG Midget with Circuit of Ireland pedigree and a pair of hard-driven Mk1 Escort rally cars, and round off our features on a completely different tack with a surf-style Saab 95!
We have a massive amount of event coverage in this issue, the reports including the Kilbroney Vintage Show, the Gowran Park Festival of Speed, the Neal Egan Ford Show, Cultra Hillclimb, the Midlands Volkswagen Show and many, many more besides, and we also run you through the ins and outs of buying yourself a real modern classic, the Saab 900. Add to all this our Club Scene section, News & Products and Diary Dates listings and you've got another jam-packed issue.
Don't miss out; get your October to December 2015 edition of Retro Classics Magazine at any good newsagent from the 1st of October, or click on the button to buy online!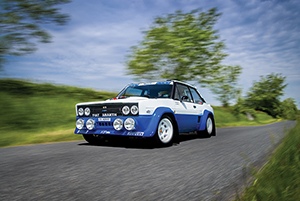 Inside Job
From scoring an unadvertised mint 131 Racing barn-find in Sicily through family contacts, to a marathon dash across Europe, to researching and building his dream car, Paul Nelson's Fiat project has all the makings of a Hollywood blockbuster.
---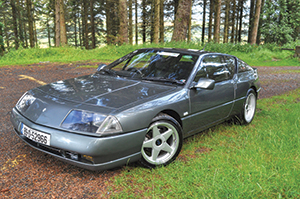 Alpine Fresh
A dramatic slice of French eighties performance, the Renault Alpine GTA remains a rare and underrated machine today. Stephen Boden's stunning uprated 3.0-litre turbo version shows the rest of us what we've been missing.
---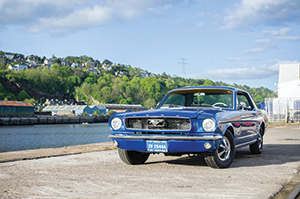 Crazy Horse
In 1961 Lee Iacocca, vice president and general manager of Ford, had an idea that would eventually instigate the famous first-generation Ford Mustang. Martin Chandley's beautiful 1966 Coupe shows us just how good an idea that was.
---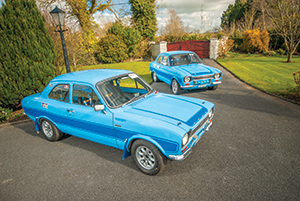 Double Duty
You don't meet many motorsport participants who view it simply as a hobby to be enjoyed every now and then. It's one of those pursuits that seems to become more of a way of life than anything else, and over his career Navan's John Farrell has certainly proven that point.
---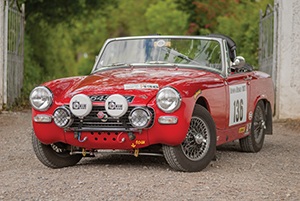 A Rallying Reunion
Having first owned this MG Midget when it was just a year old, and taken it on manys an adventure including a successful appearance in the Circuit of Ireland, Peter Morrow sold it off in 1976 and never saw it again. That was, until he came across it by chance in 2009…
---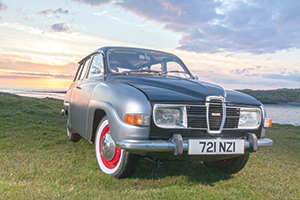 Saab's Up!
Some styles in the classic car scene are played out and even boring, as many times we've seen it all before. However we'd happily place a bet that you've never seen a Saab 95 estate done in a rat-rod surf style before…
---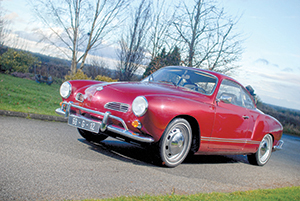 Against All Odds
If this VW Karmann Ghia had four legs and a waggly tail it would be a rescue dog, as it was abandoned by its first owners and left to sit out in the open for years. However it was adopted by a caring owner, who's been on something of a roller-coaster of an adventure with it ever since.
---
News & Products
What's new in the retro classic scene in
Ireland and beyond.
Show Reports
– Cultra Hillclimb
–  MLVW Car Show
–  BMW Classics Open Day
–  Ford RS Day, Letterkenny
–  Causeway Coast Ford Fair
–  Gowran Festival of Speed
–  Neal Egan Memorial Ford Show
–  Ballymena Carfest & Truck Show
–  The Joule Donegal International Rally
–  Porsche Club Ireland's Wild Atlantic Run
–  The 24th Irish Classic & Vintage Motor Show
AND LOTS MORE…
Retro Club Scene
Our monthly look at clubs catering for retro classic cars.
Retro Buyer's Guide
How to buy yourself a Saab 900