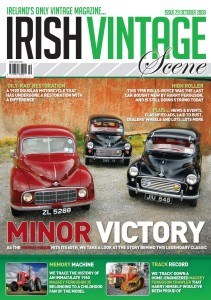 Issue 29 (October 2008)
Unavailable
October 2008, Issue 29
–       MINOR VICTORY: As the Morris Minor hits its sixtieth birthday, we take a look at the story behind this legendary classic.
–       MEMORY MACHINE: Childhood memories of the then-new Massey Ferguson 35 lad Neilie Brosnan to eventually track one down for himself, many year later.
–       OILY RAG RESTORATION: While most people restore their old vehicles to 'as new' condition, John Quirke had other plans for his 1920 Douglas 2.75hp motorbike…
–       IT'S A SMALL WORLD: Peter Moore takes us through the trials and tribulations that led him to buy his Series 1 Jaguar XJ6.
–       HIGH ROLLER: Harry Ferguson certainly knew his engineering, and was also a keen aviation enthusiast. It shouldn't come as much of a surprise, therefore, that Rolls-Royce cars found his favour, not least this Silver Wraith that he bought new in 1955.
–       TRACK RECORD: They say that necessity is the mother of invention, and this certainly rings true in the case of this unique, home-brewed Massey Ferguson 168 crawler from Co. Kerry.
–       DARTFIELD HISTORIC & TRANSPORT MUSEUM: Tom Heavey pays a visit to the Dartfield Museum in Loughrea, Co. Galway.
–       EVENT REPORTS: Event reports from the Wicklow Vintage Club, Rolls-Royce 20 Ghost Club Display, Allis Chalmers Display, Inishowen Vintage Club Rally, IVVCC North Dublin Run, Jennie Johnson Tractor Run, the Kevin Sherry Vintage Run, Lancia Club Ireland's Tour of the Lakes, Rathfredagh & Corofin Club Events, Staplestown Vintage Show, Gordon Bennett International Rally, Goodwood Revival, Ballymena Steam Rally and Fingal Vintage Show.
–       PLUS: All your monthly favourites like Dealers' Wheels, Tales from Over the Water, Ten Best, Laid to Rust, Event Round-Up, News & Events, Diary Dates, Your Letters, Pastimes, classifieds and lots, lots more!